Capstone Project Ideas for IT and IS January 2022
As the world of technology continues to evolve and expand, so too does the scope of the information technology and information systems fields. Today, many students are being exposed to the world of technology at a much younger age than in the past. Students are interacting with technology through a variety of mediums, including computers, tablets, cell phones, smart devices, the internet, and much more. It is expected that in the future, many of the current and future jobs will require knowledge of technology, and it is therefore important that students are prepared to enter the workforce as well-prepared. In this paper, we will provide some suggestions to help provide a structure for your capstone project. These suggestions stem from the many years of experience we have had with our capstone project, as well as our experiences with other capstone projects throughout the country. We hope that our suggestions will be of use to you and that the project that we describe will be successful and meaningful for you. In future blog post and articles, we will provide a more detailed discussion and description of this project, as well as some background information and resources we have found useful.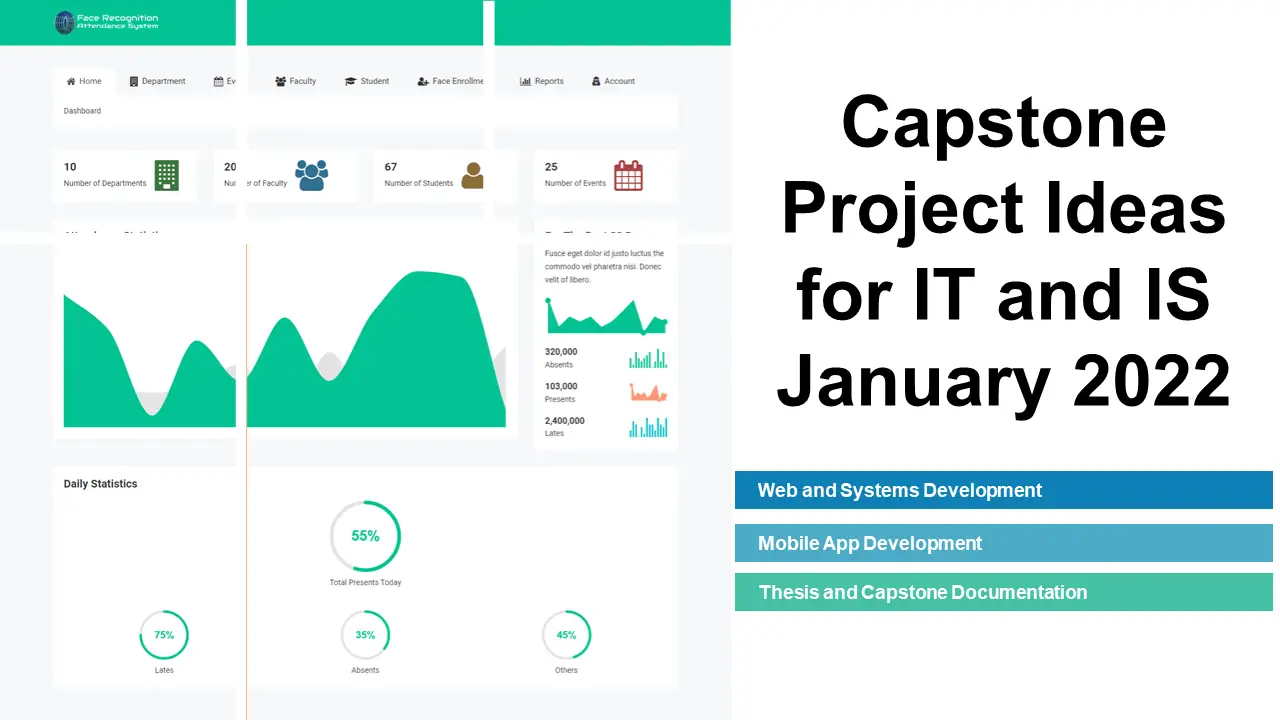 Here are the lists of Capstone Project Ideas for the month of January 2022
As we go toward a smarter, more digital society, individuals are coping by taking advantage of the opportunities presented by technology and reaping the rewards that come with them. When you live in a technologically advanced environment, one of the benefits of doing business is the ability to automate transactions. People can now complete household duties from the comfort of their own homes or with the swipe of a finger on a smartphone. Any operation or action can be completed in a matter of seconds with a few clicks. This capstone project, dubbed "Dairy Farm Management System," is responsible for the administration of a transaction involving Dairy farm transactions. Dairy Farm Management System (DFMS) is an online platform that automates the record-keeping and transaction operations in the dairy farm operation. Is an agricultural database system that serves as an alternative to or substitute for the traditional method of record-keeping, which is pen and paper, in the agricultural industry. The system was developed to assist dairy producers in keeping track of the data and transactions associated with their dairy farm. The system will specifically assist them in the following areas: (1) cow information, (2) vaccine and feed monitoring, and (3) milk and meat sales.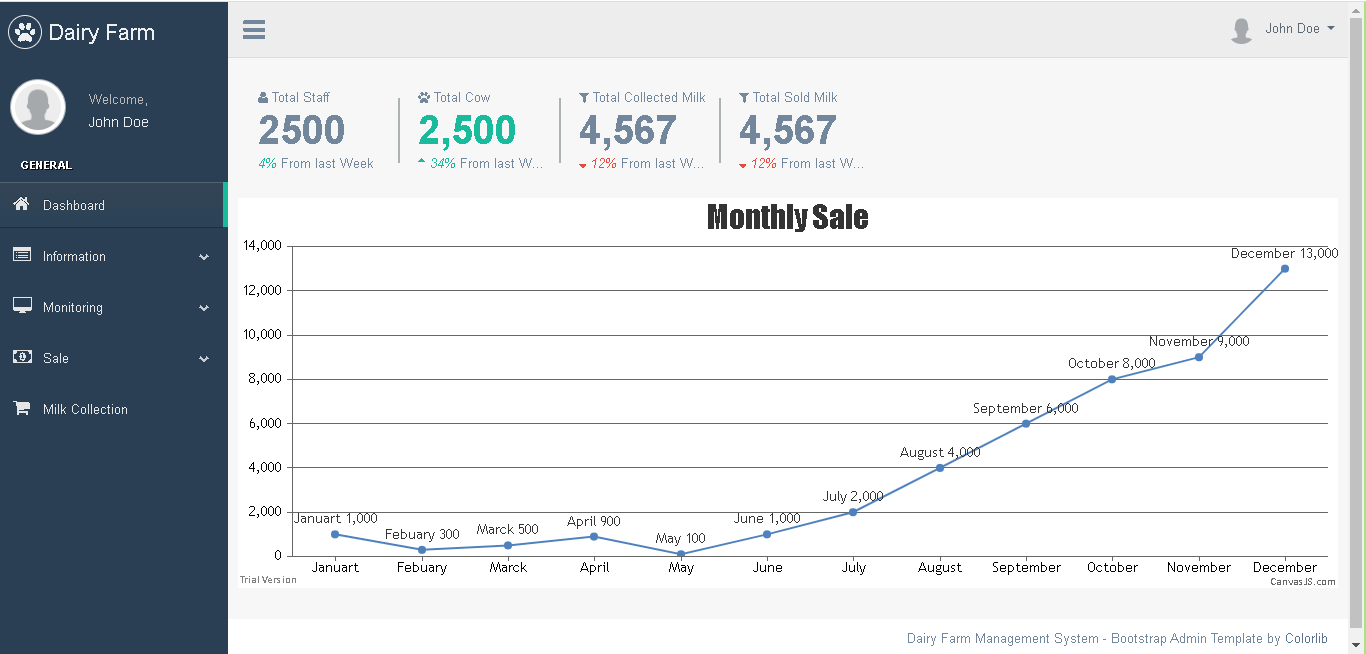 As part of the capstone project, the researcher incorporated a web-based payroll system to close a gap that occurred in the manual payroll system. In a variety of ways, data that has been streamlined and organized rapidly is useful. Integration of payroll information into an easy-to-read platform, for example, can help guarantee that everything is properly accounted for while lowering the likelihood of incorrect or missed numbers being recorded. Inconsistency, mistakes, and slow response times have all been eradicated as a result of the implementation of this web-based system for managing and computing payroll transactions. Making the data generated by the operation accountable, accurate, and secure. The system will, without a doubt, put an end to the unwelcome dispute in order to safeguard and manage the information and records of the employees. Given that the system is database-driven, the storage capacity is large and will remain secure for the foreseeable future.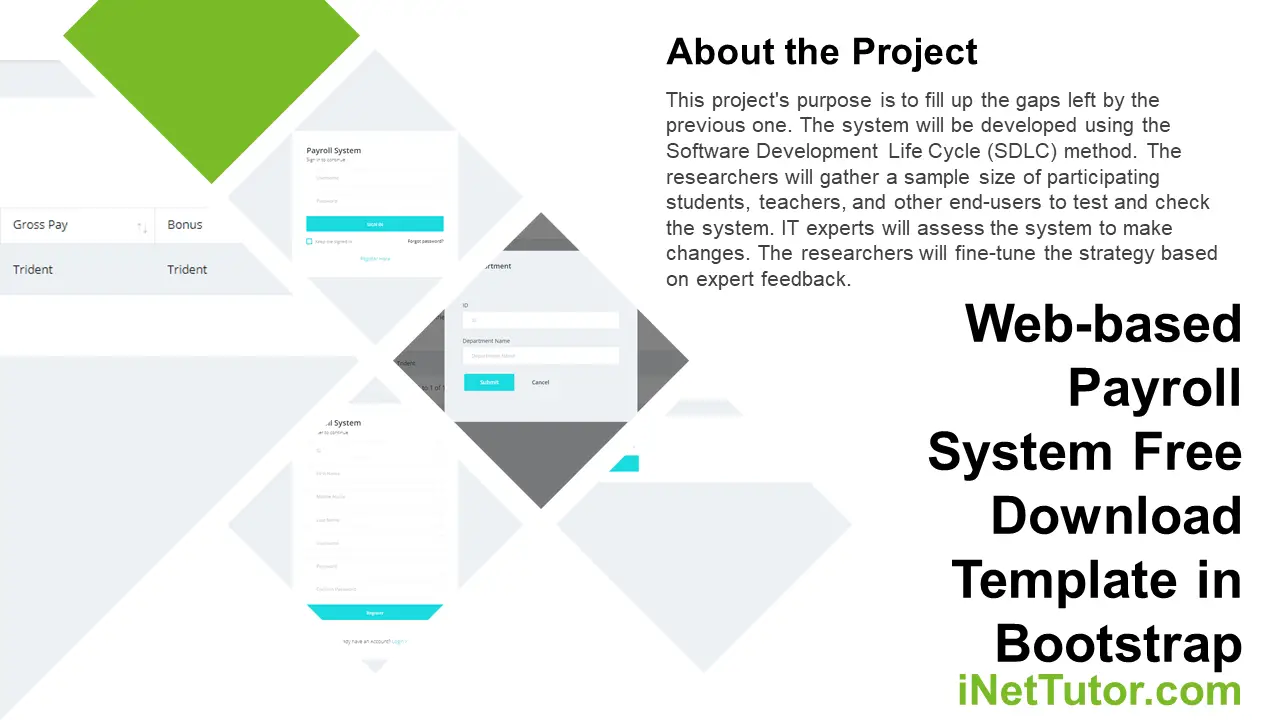 Specifically, this research is concerned with the development of a Blood Bank Management System. A major focus of the researchers' efforts is the development and implementation of a system that will electronically streamline the search for and processing of blood requests, the recording of blood information and blood unit availability, and the recording and management of blood donors and recipients. The information contained in this project will be utilized to manage blood banks, blood requests, and donations. Participants in the study will include blood banks, blood bank workers, blood donors, and hospital patients.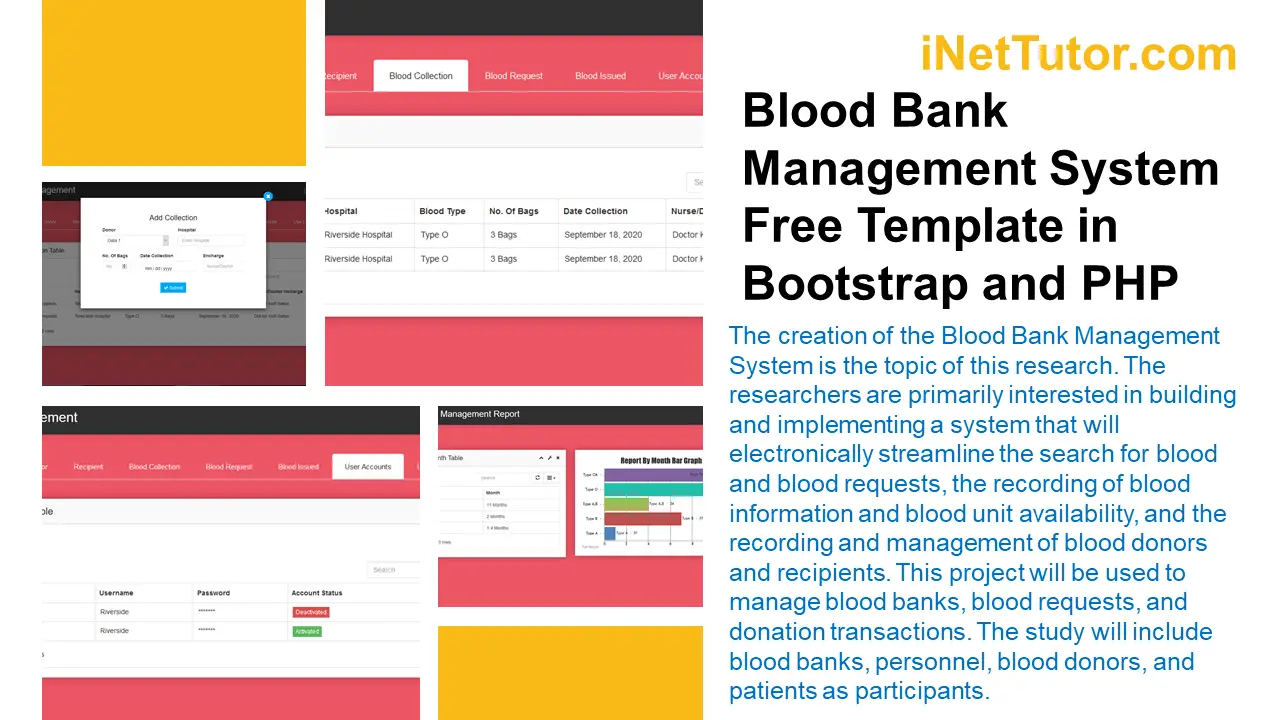 According to the concept, the project will serve as a consolidated platform for business owners and the granting office of business permits to complete the process of applying for and renewing business permits and licenses. The project would enable business owners to register with the local government and transact with them online in the areas of business permits and licenses application and renewal, among other things. Business owners would no longer be required to personally visit various offices in order to meet requirements; instead, they would simply submit their information through the system, and the business permit-issuing staff would digitally record the information about the business, assess the business, and issue the business permit to the owner. Both the applicant and the officer in charge will benefit from the initiative, which will streamline and simplify the entire process of applying for a business permit.
The practice of holding events or culminating activities in schools is not new; they are carried out to encourage pupils to participate in classroom activities as well as extracurricular activities. During school activities, students' attendance is rigorously monitored to ensure that they are present and actively participating in the activity. As of right now, the process of tracking down and recording every student's attendance is done entirely by hand, with inactivity cards and a piece of paper detailing attendance serving simply to track down and record the attendance of every student. It appears to be tiresome and time-consuming to have to redo all of this work. Errors, redundancies, and discrepancies are unavoidable when using various techniques of recording. Another issue that the student body organization or the officer in charge is currently dealing with is the consolidation of the report of the students' attendance at the various events and activities. Many students have expressed dissatisfaction with the clearing process, claiming that they were recorded absent while being present throughout the activity or that they were marked present despite being absent. Because of the unreliability of attendance monitoring reports and the unreliability of student attendance monitoring, schools require an effective system that will properly and efficiently retain records of students' attendance as well as a consolidated attendance report for all students.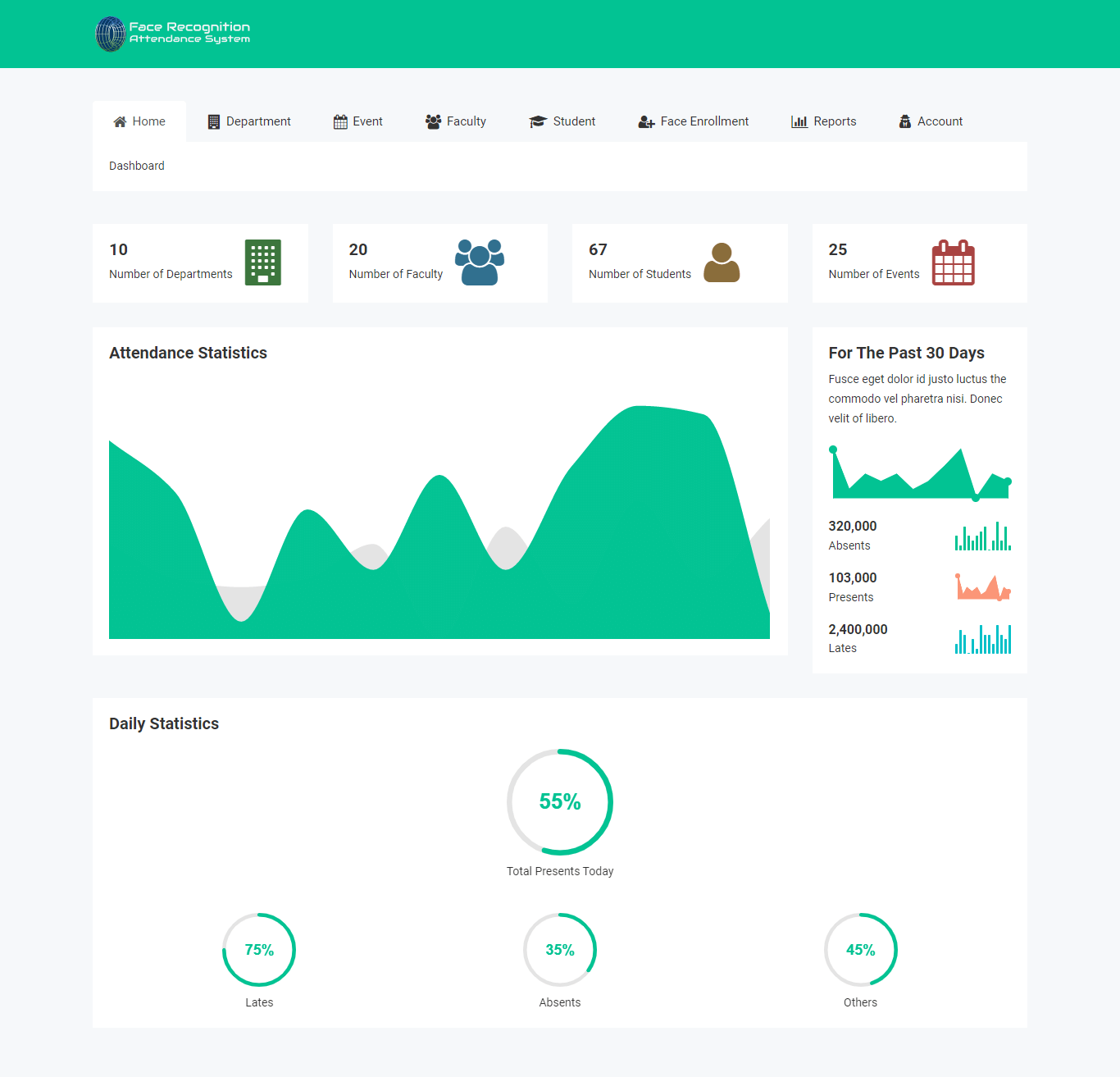 It is necessary for a restaurant chain to have access to various forms of technology or digital techniques in order to personalize operations and services for specific restaurants in order to perform and deliver excellent services to customers and gain loyal customers. If you run and advertise a restaurant solely through manual means, it could be a big nuisance. It takes time, money, and people to maximize the efficiency of operations, services, and transactions. Advertising and presenting their food becomes a challenging process if they do not have the ability to adapt to internet platforms, as they will design posters or brochures that only a small number of people in the area will be able to read, making the process difficult. There will be a jumble of information and a high risk of forgetting about the delivery, which will result in an unsatisfactory operation in terms of delivery. The reliability and efficiency of manual methods, such as phone reservations, are not as high as those of constructing a website for a single restaurant; however, with the assistance of developing a website for a specific restaurant, all of the aforementioned concerns will be handled. All of your issues will be solved by using this one solution. The proposed initiative will make use of technology to improve the efficiency with which eateries operate.
The establishment of an Asset Management System is the primary focus of the research, which will provide a good answer to the developing challenges surrounding asset monitoring in enterprises. Within an organization, only physical assets that can be physically viewed, used, and issued will be documented in the system. The system will be used to keep track of records and monitor transactions in order to improve the security and efficiency of the transactions. The implementation of the system will be the right response to the concerns that have arisen in a company about successfully assembling and recording assets while minimizing the danger of errors and blunders.
The capstone project, named "Online Real Estate System," is intended to automate the buyer-agent transaction process in real estate transactions. Real estate agents will be able to publish and market properties for sale online as a result of the aforementioned effort. Clients who are looking for property can also easily and conveniently browse for properties that they might be interested in. The aforementioned endeavor will digitally change the transactions between real estate brokers and their clients.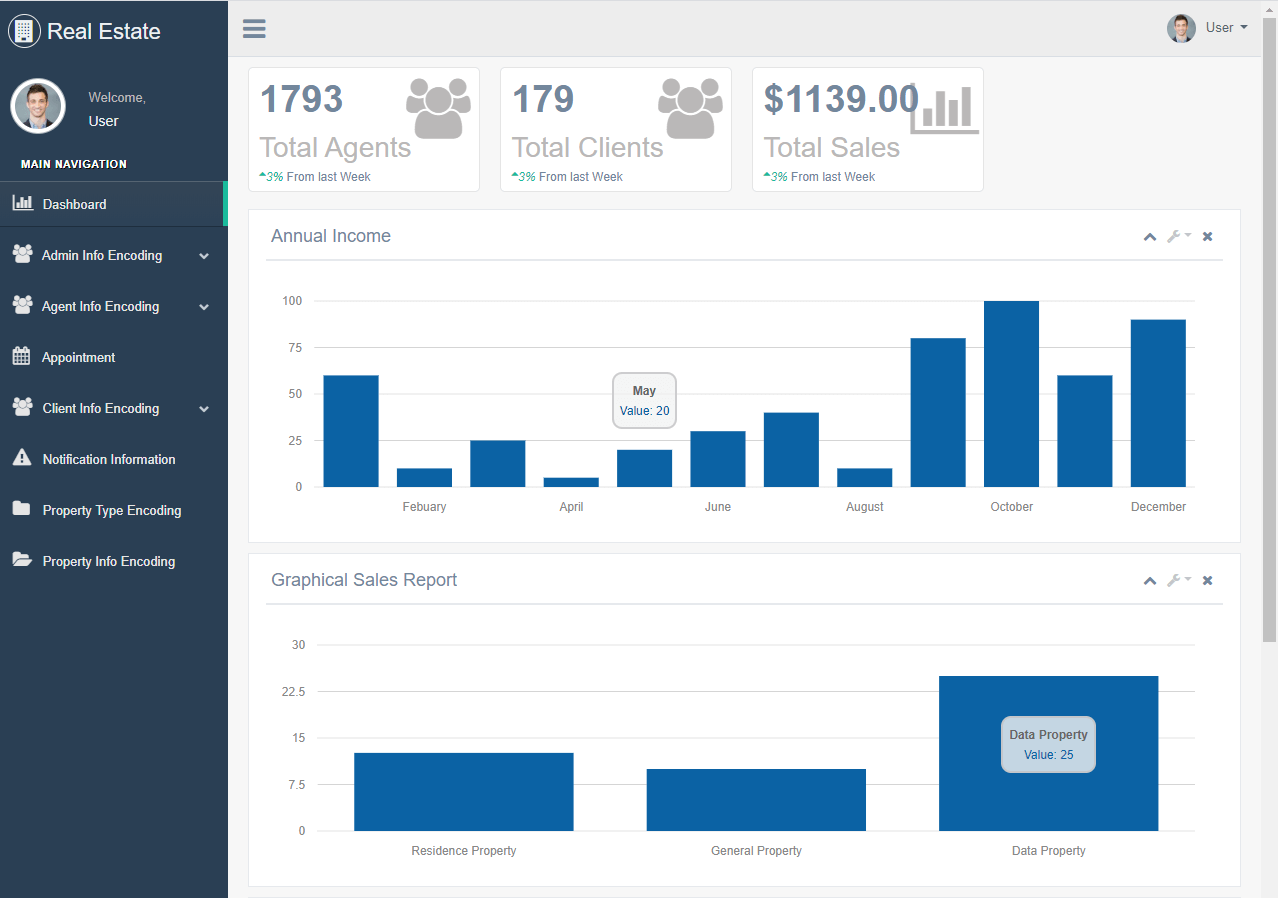 Because of the intense competition that exists today in the real estate industry, real estate organizations are always improving their marketing methods. The survival and success of a real estate company are based on the ability to generate repeat and incremental revenue from existing clients, as well as increasing revenue from new clients. They must design a marketing strategy that includes particular goals as well as a target market in order to retain and attract new clients. Real estate organizations are still on the lookout for a cost-effective marketing strategy that will enable them to contact a bigger number of potential clients and foster greater connection.
As the number of gym members has increased, gym owners and managers have found themselves confronted with increasing levels of managerial complexity. It would be the gym management who would be in charge of members, trainers, personnel, costs, payment, and all other aspects of the gym's operations. A valuable tool to assist gym owners and managers in managing their entire gym operations more efficiently is sought after by the industry. Almost everyone's objective these days is to maintain a healthy and active lifestyle. It is possible to achieve fitness and improve one's health by joining a gym, which is one of various options. A gym is a facility where you may engage in a variety of workouts and make use of a variety of fitness equipment. The benefits of coming to the gym on a regular basis include improving your cardiovascular system and building muscle, as well as losing weight, improving your mental health, and decreasing your risk of developing various health disorders. Ultimately, the purpose of this project is to develop an information technology-based system that will assist gym owners and managers in managing their entire operation. The study's overall purpose was to develop an all-in-one platform for managing gym operations. It will replace manual procedures with computerized ones, hence eliminating the necessity for manual activities. The solution will increase the gym's operational efficiency while also improving the overall customer experience for its members. The researchers will build the project in accordance with the Software Development Life Cycle (SDLC) methodology, which is currently in use. Gym owners, managers, and clients are the intended users of the system, according to the manufacturer.
In response to the aforementioned concerns, the researchers proposed that the Car Parking System be developed. The effort will address the issues and inconsistencies that were present in the old system of managing car parking places, according to the company. By utilizing the system, the parking lot administrator will be able to encode and retain records of available parking spaces, parking rates, parking time, as well as customer and vehicle information. Parking slots, parking costs, and parking length can all be tracked and managed by the administrator in order to reduce overcrowding in parking lots. It would simplify the management process while also increasing operational efficiency and the quality of services given to clients in vehicle parking areas.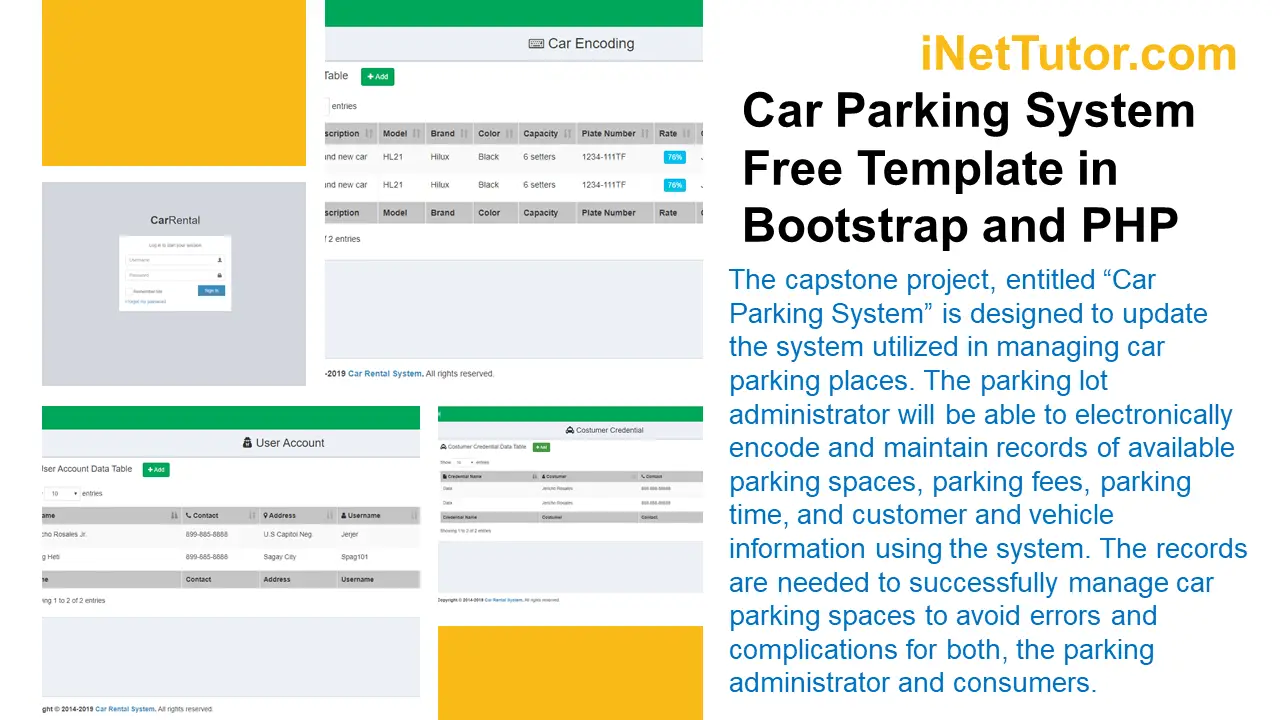 The research will focus on the development of a management system for individual and corporate end-users, which will be supported by a mobile application for each. The system's deployment is aimed at all levels of employees in the company, as well as those who are in charge of overseeing their projects, people, and time management activities. In order to improve the way a group or an individual manages their time, tasks, and work, the Management System with Mobile App Support Application was developed. When the intended end-users install the program on their mobile devices, the system makes it possible for them to manage their work in an efficient, dependable, and effective way. The system will give end-users with a comfortable, simple-to-manage, and easy-to-use environment, as well as features that will considerably improve their quality of life. When implemented as an application, the system will allow end-users to quickly access their files, works, and tasks and begin the management process without the need to learn new software. In addition, the system will be utilized to store their documents and other important information. This will be built in order to keep their information secure.
The researchers proposed an information technology-based solution to solve the issues raised above. The researchers proposed that an Online Patient Information System (OPIS) be established. It will be easier to manage patient information records if they are hosted on an internet platform. With the implementation of the system, paper-based patient information records and physical storage in hospitals will become out-dated. The accuracy of patient information records will increase as a result of this initiative. As a result of the technology, patient information will be more secure and confidential. Furthermore, it would make it easier and faster for hospitals to retrieve medical records from the database. As a whole, technological advancements will make hospital medical records management simpler and more effective.
The primary focus of this research is on the development of a centralized system for multi-branch laboratory information systems. In terms of functionality, the system is limited to storing various types of medical laboratories and providing patients with access to those laboratories in order for them to review and monitor the results in a relatively convenient manner. The system is operated by the doctors or clinic personnel, and only those who have been authorized can access it and record the precise outcome for a certain patient. The platform will be developed by the researchers in accordance with the established project requirements as well as the needs of the intended consumers. As a fixed as a flexible system, the platform has been specifically created for hospitals and medical laboratories exclusively. As a result, it is only accessible and usable by one medical laboratory, and no other. Among the system's intended users are hospital staff members, medical lab technicians, and physicians or doctors.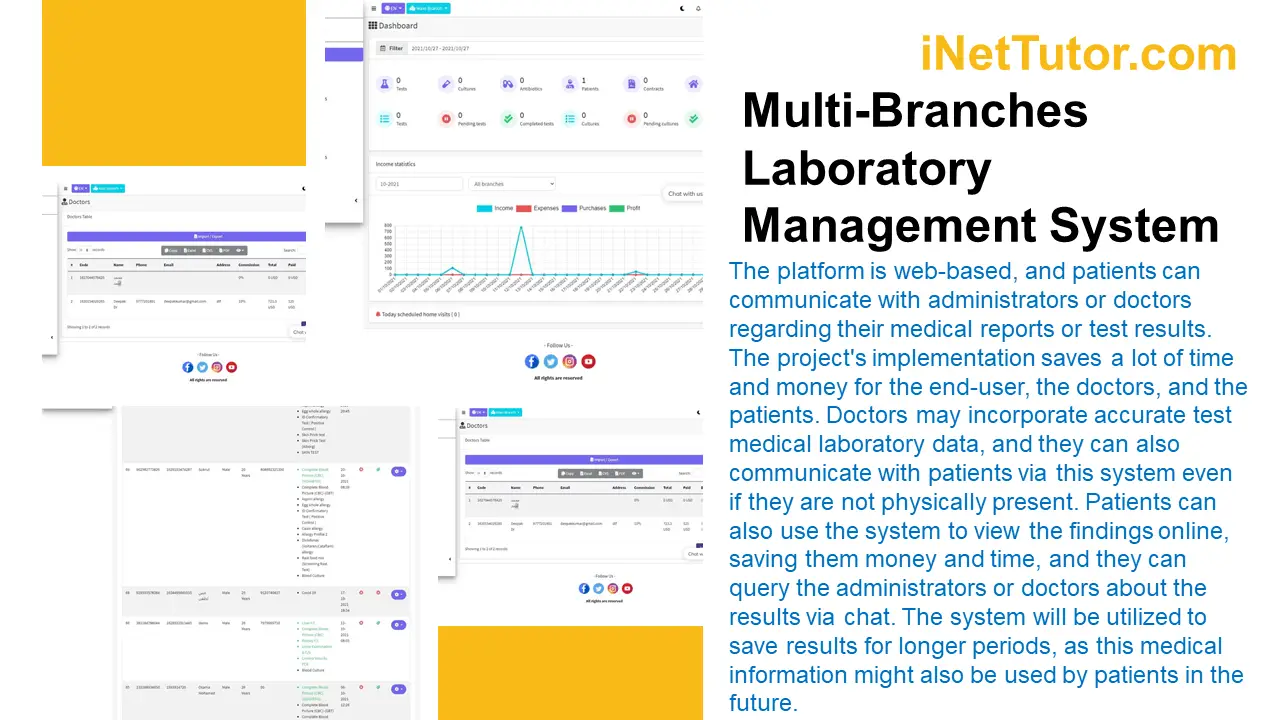 With the development of technology, tasks can be completed faster. Technological breakthroughs have impacted our lifestyles. Technology is used substantially in transportation. Nowadays, not everyone can afford a personal vehicle. Those who cannot afford rely on rental cars. Traditionally, people who want to rent a car go to car rental firms to hunt for automobiles that suit their needs, but this takes time and effort. People have less time and more jobs, necessitating travel. They need cars that will deliver them to their location quickly and comfortably. In addition, the researchers propose an IT-based solution, namely the construction of a Car Rental System. This effort will digitally transform the procedure of renting a car. Car rental companies can utilize the information system to upload car details and rental rates. The company may also upload an image of the car so clients may see it. The concept would help automobile rental companies and their customers communicate. The researchers will build the project using SDLC methodology. The researchers will present a questionnaire to help create the suggested method and assess its utility. Problems with the system will also be addressed. As a result, the system will be upgraded. The system is aimed at automobile rental firms and their customers.
Water is a basic human need. Some towns currently have water districts that serve big populations. Water is a crucial necessity; hence water refilling stations are everywhere, with severe rivalry. To be chosen, they must wow with their services. Every day, the water district manages transactions, sales, orders, and delivery for the water refilling station. Traditionally, the above tasks and processes are performed manually. The records are manually recorded on paper and physically stored. People are used to buying water refills over the phone or in person. The water replenishing station also conducts manual deliveries, thus the consumer cannot track the water's location or delivery time. The manual system bothers both management and clients. Customer satisfaction is inefficient, and management cannot maintain track of deliveries. The researchers wanted to create an online platform that would digitally alter water refilling processes. The researchers will build the project using the SDLC method. The technology is aimed at water refilling stations and their customers.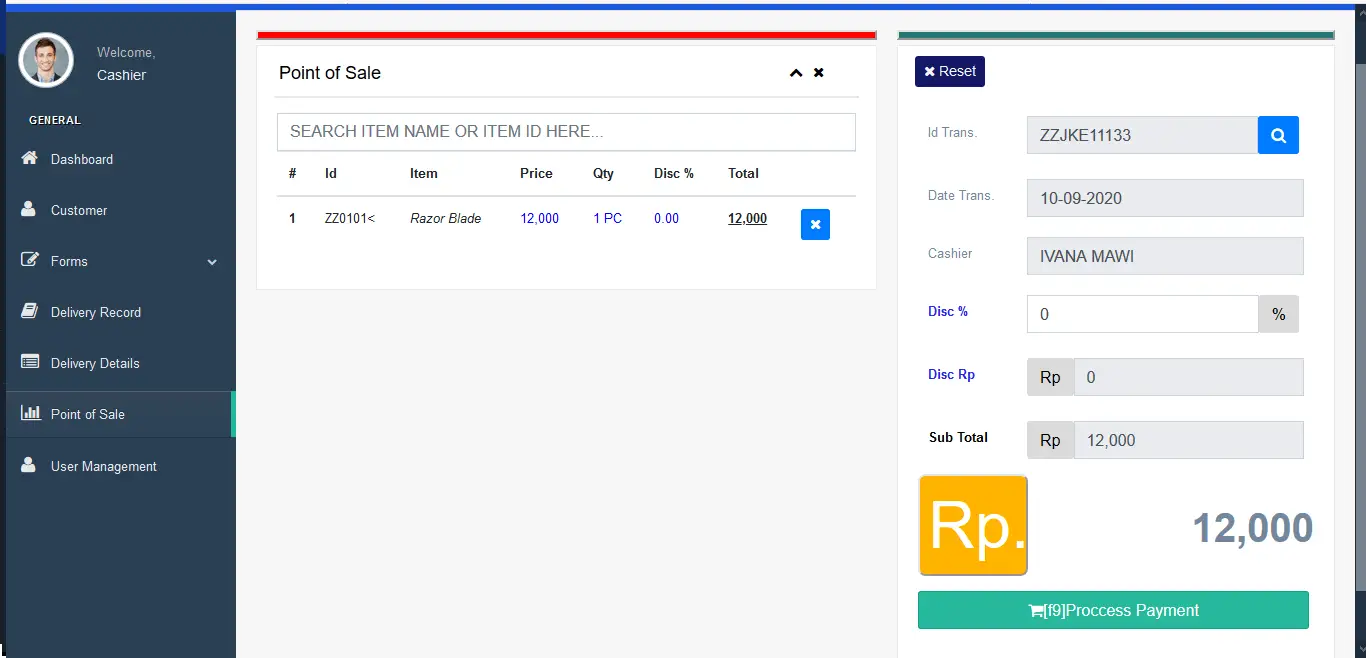 It was advocated by the study's authors that a Library System be built to solve a hole in the current library system. The recommended technology will digitally change the library' complete operation. The proposed project will allow librarians to centralize their books and other library resource information. On the other hand, the information of library customers can be captured and preserved digitally, which safeguards the data and makes retrieval easier. Library patrons' information can also be captured and stored electronically, which safeguards the records and makes retrieval easier. Android phones allow users to swiftly and simply search for and select their vital resources, saving time and making it more convenient. The web-based platform will make operations easier and more cohesive.
Technology had a vital part in the evolution of education. It revolutionized how teachers, students, and other educators collaborate. Technological advancements may disrupt traditional educational systems and learning processes. Educational institutions may use a variety of educational technology, computerized systems, and applications in teaching and school operations. Attendance monitoring is a daily task in schools. Attendance of students is a priority. Attendance is also used to track student development in class. Currently, the only way to track each student's attendance is via activity cards, which list attendance on a sheet of paper. It appears that repeating this operation will be tedious and time consuming. Errors, redundancy, and inconsistencies are inescapable. In keeping with this, the researchers sought to design a web-based attendance system to track student attendance. The system will keep track of who entered and departed school. Every day, the system will accurately track student attendance. Every day, the system generates attendance reports. The school faculty will receive reports to help track student records and make decisions. The researchers will build the project using the SDLC method. The system's target users are schools, teachers, and students.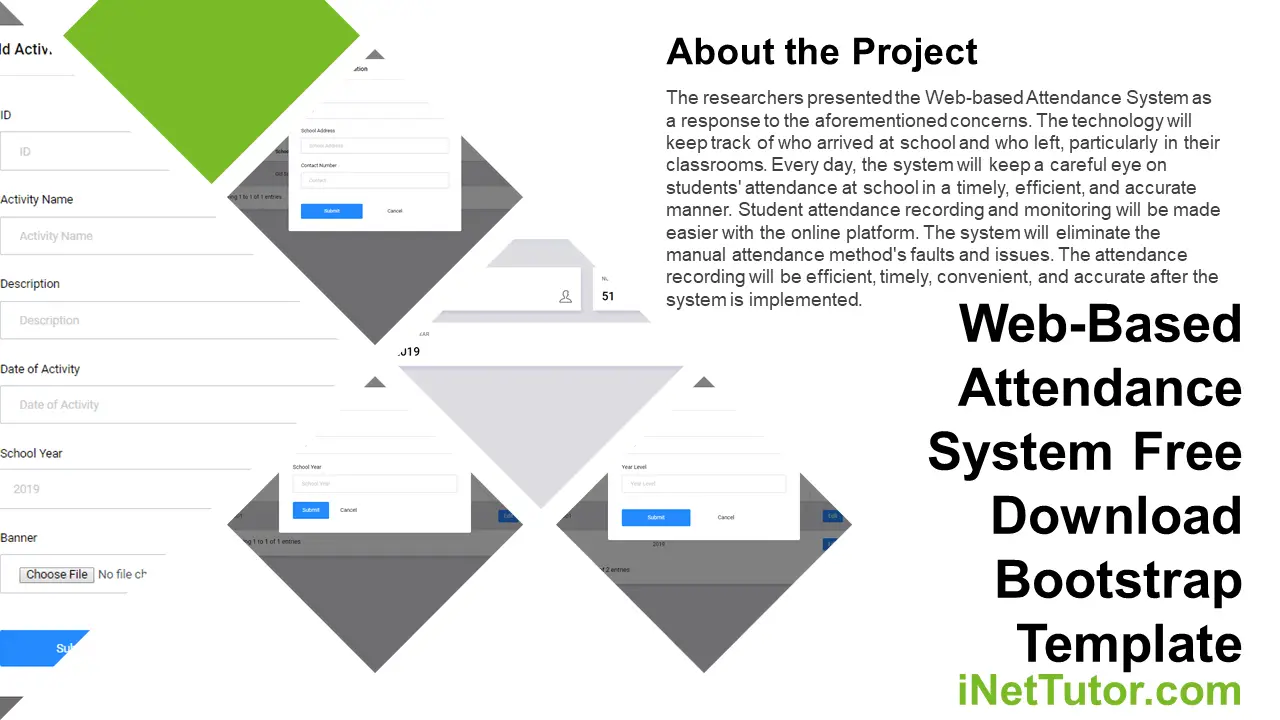 This research primarily focuses on the development of Professional Customer Relationship Management Software as a consolidated platform for service call management. PHP will be used to build the system, and it will be focused to streamlining service calls, documenting and archiving service call details, receiving and making calls, and producing income reports. Product-centric companies, technical support employees, and clients are the intended users of the system.
Because of the concerns raised above, the researchers of the study advocated the creation of an Online Job Portal as a solution. The Django Web Framework will be used by the academics to construct the aforementioned effort. Employers and job seekers will benefit from the job portal because it will make the process of posting and searching for job vacancies easier and more straightforward. Job candidates will be able to browse for positions electronically, which will be more convenient and faster than going to a physical job fair. When it comes to businesses, they will have an easier time filling in the gaps in their vacancies since they will be able to publicize job openings in a timely and effective manner, which will reach a larger pool of job seekers. The aforementioned program will make the process of posting jobs and seeking employment simple, fast, convenient, and efficient.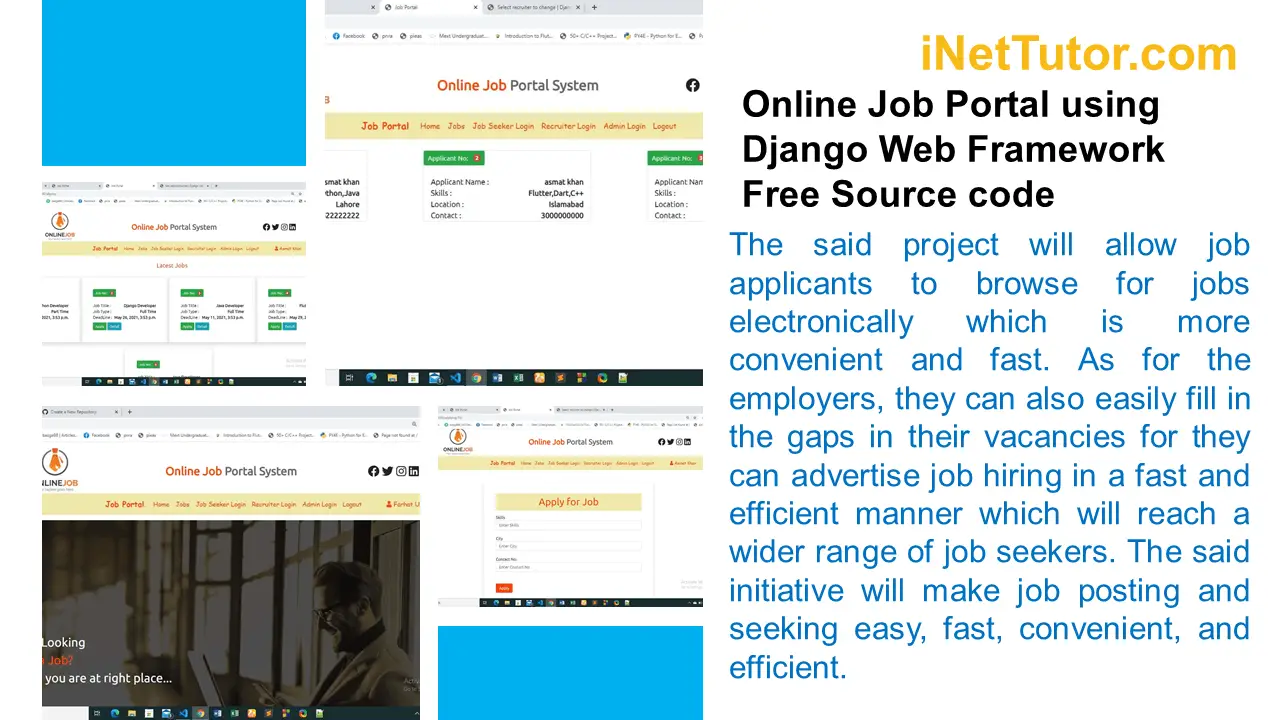 In this study, the sole focus is on the development of a web-based platform for an electronic learning system. Creating a system that will make learning easy for everyone is the primary goal of the researchers. In order to enroll in courses they desire and learn those at their own pace, students must adhere to certain requirements. Students, educational institutions, and other aspiring learners will be among those who participate in the survey.
In this project, the major goal is to develop a web-based file management system for schools and colleges that will replace manual file and record maintenance for the institution while also being reliable, efficient, and secure.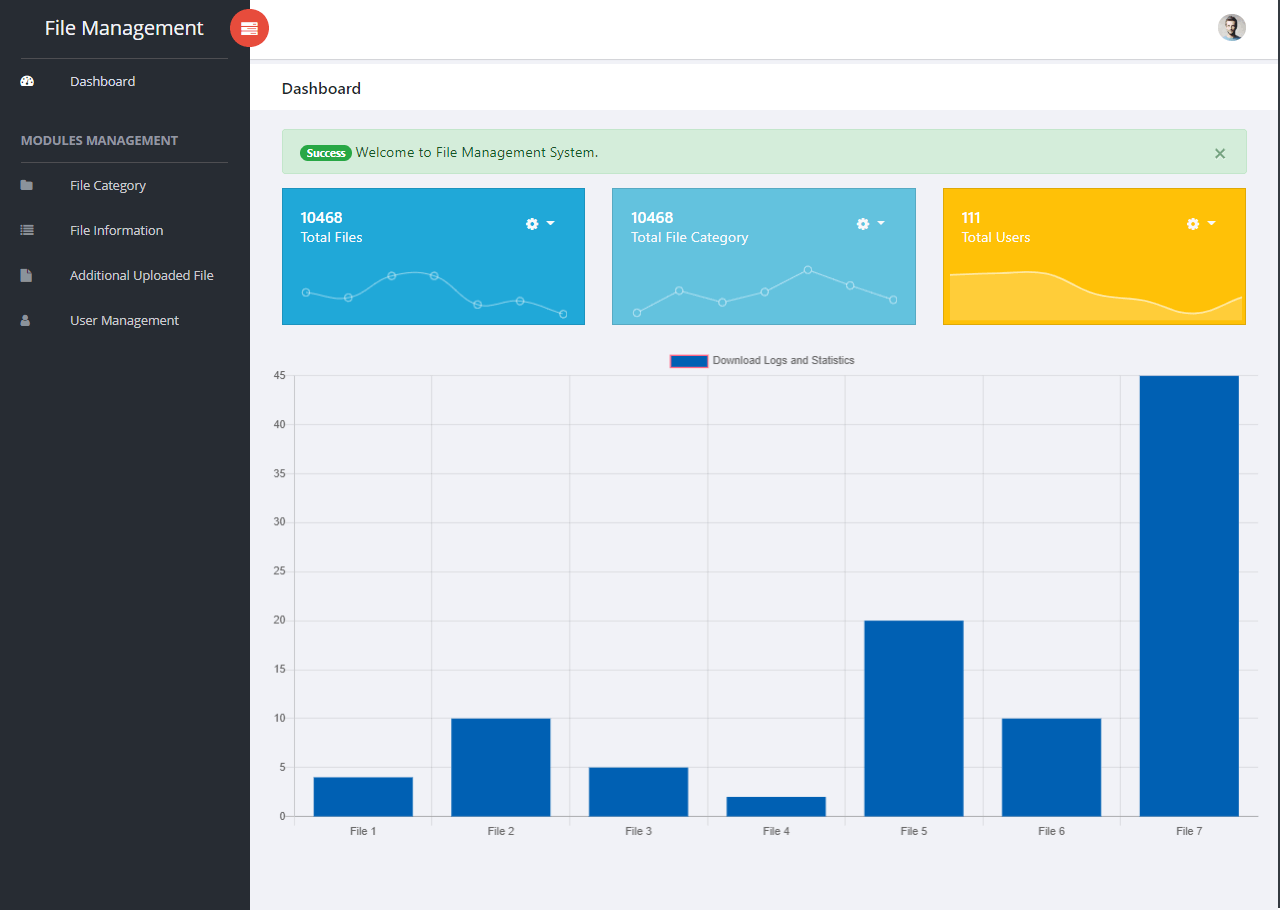 We will concentrate our attention in this lesson on the database design of a capstone project management platform. This course will concentrate on the database design of a Capstone Project Monitoring System that will be used inside a department or college program. To keep track of the projects that they are working on, teachers and students who are completing a capstone project can utilize this approach to help them stay organized. In this post, we will discuss subjects such as how to generate the tables that will be required to set up the project in question.
The development process of the Medicine Delivery Web Application is the primary topic of the research. The researchers will concentrate their efforts on establishing a platform that will advertise drugs while also providing a delivery service to the general population. A platform for the purchase and delivery of medicine by and to customers will be developed by the researchers that go beyond the physical mechanisms currently available. The system's intended users are pharmacies or any drugstores, as well as the clients who frequent them.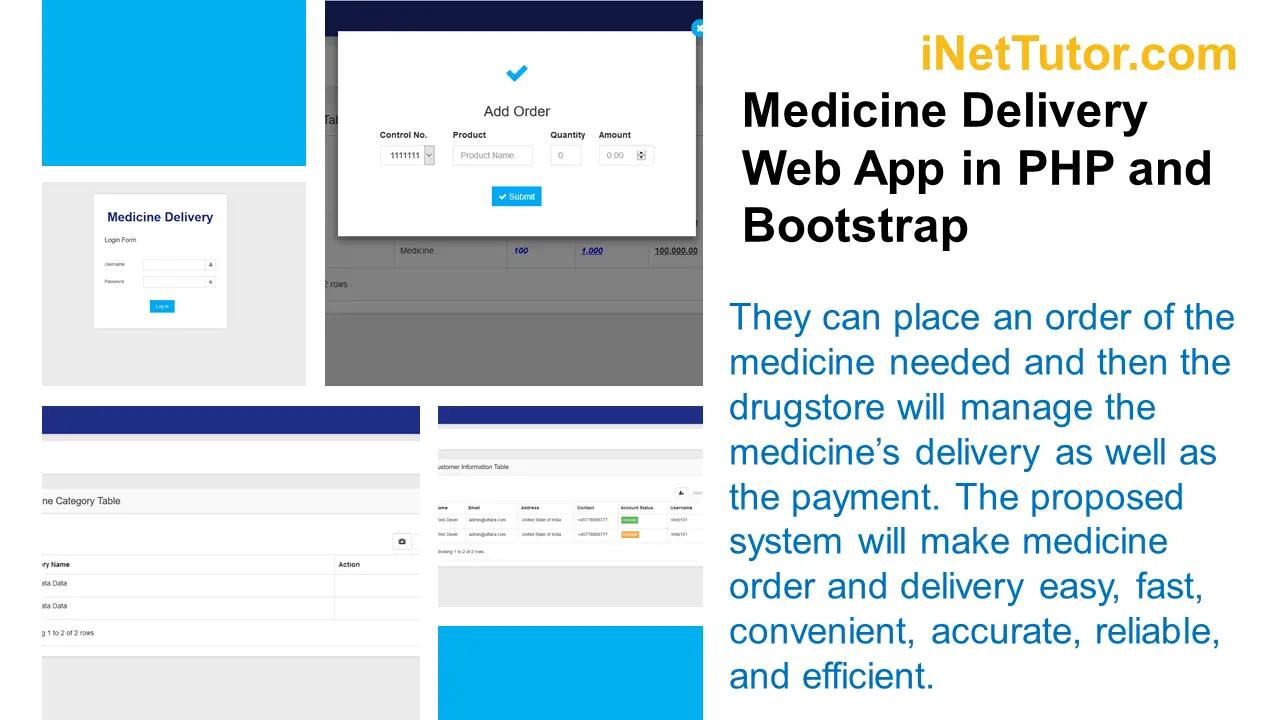 You may visit our Facebook page for more information, inquiries, and comments. Please subscribe also to our YouTube Channel to receive  free capstone projects resources and computer programming tutorials.
Hire our team to do the project.
Related Links and Articles:
List of 100 Algorithm Based Capstone Project
30 Unique Capstone Project Topics for Information Technology
Android Application Free Capstone Project
PHP MySQL and Bootstrap Capstone Projects
20+ Free Capstone Project Ideas
Free Capstone Project Ideas for IT and IS July 2021
IT and IS Capstone Project Topics June 2021
IT and IS Capstone Project Topics May 2021
Programming Tutorial and Capstone Project Ideas July 2020
IT and IS Capstone Project Ideas June 2020 Compilation