Category Archives:
PHP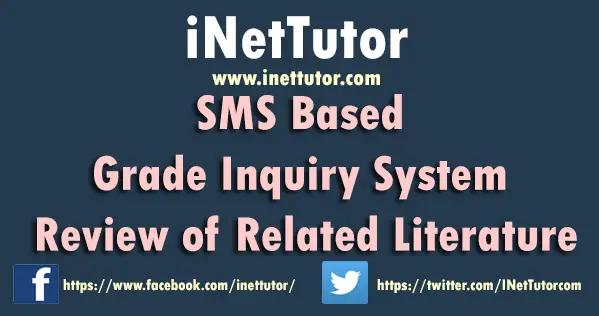 SMS Based Grade Inquiry System Review of Related Literature
REVIEW OF RELATED LITERATURE
Inquiry is an approach to learning whereby students find and use a variety of sources of information and ideas to increase their understanding of a problem, topic or issue of importance. It requires more than simply answering questions or getting a right answer. It espouses investigation, exploration, search, quest, research, pursuit and study. By inquiring, community involvement is strengthening and making them aware of what is happening in their environment. On the other hand, almost all student transactions is to get information, but their problem is the manual way of disseminating information. Currently, there are some universities and colleges which are converting their manual way and existing standalone data bases into an online based inquiry due to the reliability, speed, efficiency and more convenience of the web based inquiry method of providing information. There are other institutions that are still using not fully automated data bases in record keeping and the distribution of information. Moreover, they are still studying on developing a system that was fully accommodate the needs of the students and slowly converting the manual way into computerized data banking system. According to (Kuklthau, et.al. 2007), inquiring of grades is the most common transaction made by the students in school and it involves the performance and activities he/she attained. On the other hand, inquiry is used by the people in getting information regarding on the specific topic they wanted an answer.
Grading System Grading system is designed to provide incentive reward for achievement and assist in identifying problems of students. The grade of the student is a scale which determines students who need more improvement and require more assistance which will help teachers in guiding them towards their development. It also shows where the students excel most so they can be honed and encouraged to continue their good work improve more and aim higher. At the end, it was the reference for the judgments of whether a student can step up to a higher level of learning or remain to be polished. From these reasons, it is clearly concluded how important to it is to make sure that the grades of students are accurately calculated and safely stored in a well- founded database (Melvin, 2011). On the other hand, the grade of the students must store in the secured database for the safety and for easy retrieval of data for long term purposes. Furthermore, education is the first training ground for the students before sending it into the real world of challenge; therefore, the grades of the students must be secured wherein it is their credentials which was used for their own personal purposes in the future. According to (Sahin and Kucuk, 2013), in order for the reliability and efficiency as well as the speed to shorten the process of distribution of grades to the students, therefore, institution must provide a better way of rendering services and accommodating them well. Moreover, it creates a convenience way of providing information in which the students was more comfortable rather than in using a manual one.