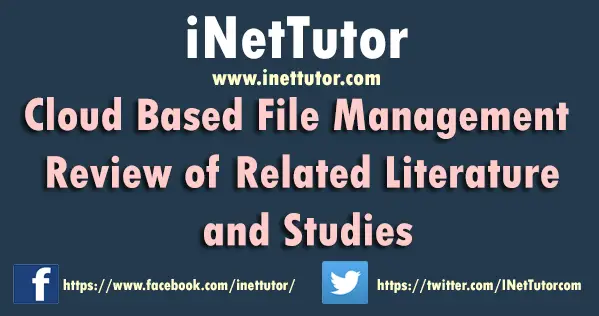 Cloud Based File Management Review of Related Literature and Studies
REVIEW OF RELATED LITERATURE AND STUDIES
            This chapter includes some important terms that are used in the study and some related studies such as books, past written thesis, journals and other significant materials which are written in foreign and local language and that can be relevant and can provide a foundation of the study. It also includes the conceptual model of the study.
File Management
            The data that we work with on computers is kept in a hierarchical file system in which directories have files and subdirectories beneath them. Although we use the computer operating system to keep our image data organized, how we name files and folders, how we arrange these nested folders, and how we handle the files in these folders are the fundamental aspects of file management. The operating system's organization of our data can be enhanced by the use of cataloging programs, which make organizing and finding image files easier than simply relying on the computer's directory structure. Another feature of catalog programs is that they can streamline backup procedures for better file protection. (Anderson & Krogh, 2015)
File Management is very important, because if they are not stored in an ordered, methodical way you may never be able to find them again. Secondly, files need to be backed up. USB's, CD's and even hard drives can become corrupted. It is also possible to delete important files by mistake – human errors occur frequently when a person is very tired – leading to the loss of that important assignment. If only there was another copy on another disk (Palmer, 2015).