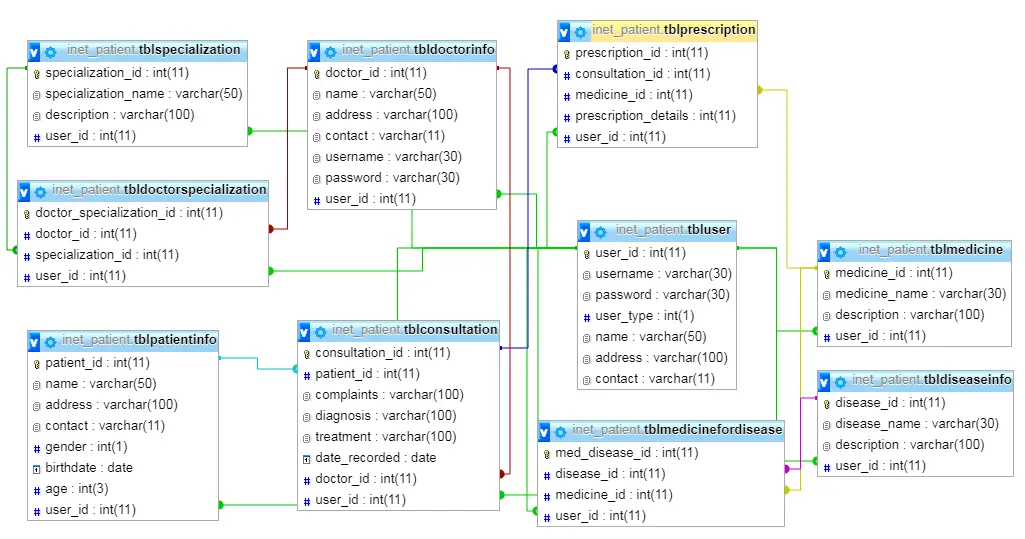 Patient Information System Database Model
This article will provide you with the list of database tables for the system entitled patient information system. The content includes the entities or columns of each table and as well as the table structure and the different constraints and relationships of the tables.
tblconsultation (consultation_id, patient_id, complaints, diagnosis, treatment, date_recorded, doctor_id, user_id)
Description: consultation table stores the information of the patient and as well as the consultation or health history, it is the compilation report for every time the patient ask the advice of his/her doctor. The table has 8 fields or entities; (1) consultation_id stands for the primary key of the table, (2) patient_id is a foreign key that links to the information of patient in the tblpatient, (3) complaints or the list of illnesses of the patient, (4) diagnosis is the initial findings of the doctor, (5) treatment refers to the initial advice of the doctor to the patient, (6) date_recorded is the date of data entry to the system, (7) doctor_id is the foreign key that links to the information of doctor in the tbldoctor, and (8) user_id the one who encodes the data to the system.
Create Table SQL Statement:
CREATE TABLE IF NOT EXISTS `tblconsultation` (
`consultation_id` int(11) NOT NULL AUTO_INCREMENT,
`patient_id` int(11) NOT NULL,
`complaints` varchar(100) NOT NULL,
`diagnosis` varchar(100) NOT NULL,
`treatment` varchar(100) NOT NULL,
`date_recorded` date NOT NULL,
`doctor_id` int(11) NOT NULL,
`user_id` int(11) NOT NULL,
PRIMARY KEY (`consultation_id`),
KEY `patient_id` (`patient_id`,`doctor_id`,`user_id`),
KEY `user_id` (`user_id`),
KEY `doctor_id` (`doctor_id`)
) ENGINE=InnoDB DEFAULT CHARSET=latin1 AUTO_INCREMENT=1 ;