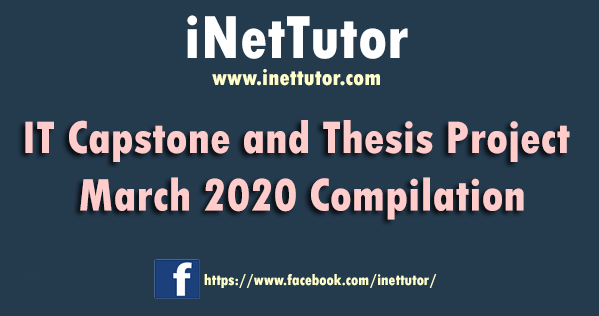 IT Capstone and Thesis Project March 2020 Compilation
The lists below are the capstone project ideas compiled by iNetTutor.com for the month of March 2020. The compilation consists of capstone proposals, completed project, database design, user interfaces and system modules that might help you in doing your capstone and thesis project.
The main goal of this study is to help end user to locate the grave of their deceased relatives without having physical map.
The capstone project also includes the following:
Introduction of the study
Objectives of the study
Significance of the study
Software Development Plan of the study
The system will be very helpful for sides, the admin and the users. The employees which are the users of the system can view their leave balances and check their co-workers day offs while they are planning for their leaves. The admin or the management also will have an access to all the employees leave balance, list of holidays, schedules of departments and workforce coverage to evaluate leave request better.
The proposed system will eliminate the manual process of keeping the exam papers. The manual system is prone on encountering errors and problems like misplacing the exam papers. The proposed system will serve as the centralized location for the exam papers.
The goal of this system is to provide a platform that could manage and monitor your health conditions. This system, will help monitor their health daily, with this, most people will surely feel healthy.
Objectives of the Study
To let the user pay bills anytime and anywhere without jumping deadlines.
To let administrators or management to have a system that will help them in bill payment transactions.
To provide a fast, accurate and reliable system.
To let user utilize a system for their fast and safe payment.
To provide a system that is very accessible by the users.
This article will list down the tables needed to develop a Point of Sale System.
This article will serve as a guide in the development of your database schema or model about a simple billing system.
The project entitled Real Estate System is an online platform that allows the owners and real estate agents to post, advertise and sell their properties. This article will help you to build your own real estate system in terms of user interfaces or form designs.
How to operate the Short Message Service Controlled Sockets
Please follow the steps on how to operate the said project.
Plug the device in the AC outlet.
Click the red switch to power-on the device.
Plug the appliances/devices you want to automate by SMS in the designated socket of the device.
Send correct SMS command to the device SIM number.
Then wait, when the device receives the command it will perform the command and send confirmation message to the remote mobile.