Category Archives:
HTML/CSS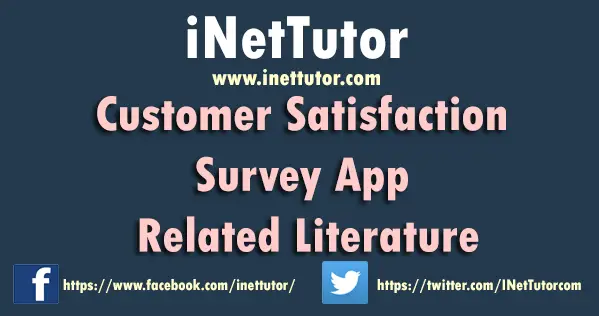 Customer Satisfaction Survey App Related Literature
REVIEW OF RELATED LITERATURE
     This chapter review different related literature on Customer Satisfaction Survey Application with reference to services and present various studies made regarding the issues related with manual Customer Satisfaction Survey.
Foreign Concept
Measuring Customer Satisfaction in Higher Education
According to the website Aldridge & Rowley (2006) states that, the students of Edge Hill University College use a questionnaire‐based survey to collect information on student satisfaction. Student responses were collected electronically through on‐screen questionnaires accessible over an intranet. Outcomes suggest that there remains some resistance to the completion of an electronic questionnaire and both paper and electronic versions are likely to continue to be necessary in order to achieve optimum response rates. These aspects have been further explored with focus groups and fed into the quality plan for the college.
Student Satisfaction of Online Courses for Educational Leadership
According to the website Sampson et al., (2010) states that, the study explored the students' satisfaction of course components: instruction, communication, assessment, leadership, teamwork, professionalism, and respect / diversity. The findings on the first cohort survey with a hybrid format of course delivery, the 2005 baseline, showed a positive satisfaction with overall means between 3.79 and 4.48 on a five point Likert-scale with a 5 meaning strong agreement with satisfaction.