Online School Documents Processing System Capstone Project
Introduction
"Online School Documents Processing System" is a capstone project intended to be an online platform in processing different school documents. Processing of school documents will be done electronically by the use of the system.
Academic institutions do have a lot of documents to process and manage such as student records, student's school forms, records of grades, records of attendance and others. Processing these documents, when done manually can consume valuable time and too much effort. Manually, these documents are produced in a hard copy and are mostly stored in a physical storage. In cases like students request for a specific document that they needed, they need to physically inquire in the schools registrar office which is a hassle for both the students and the staff in-charge.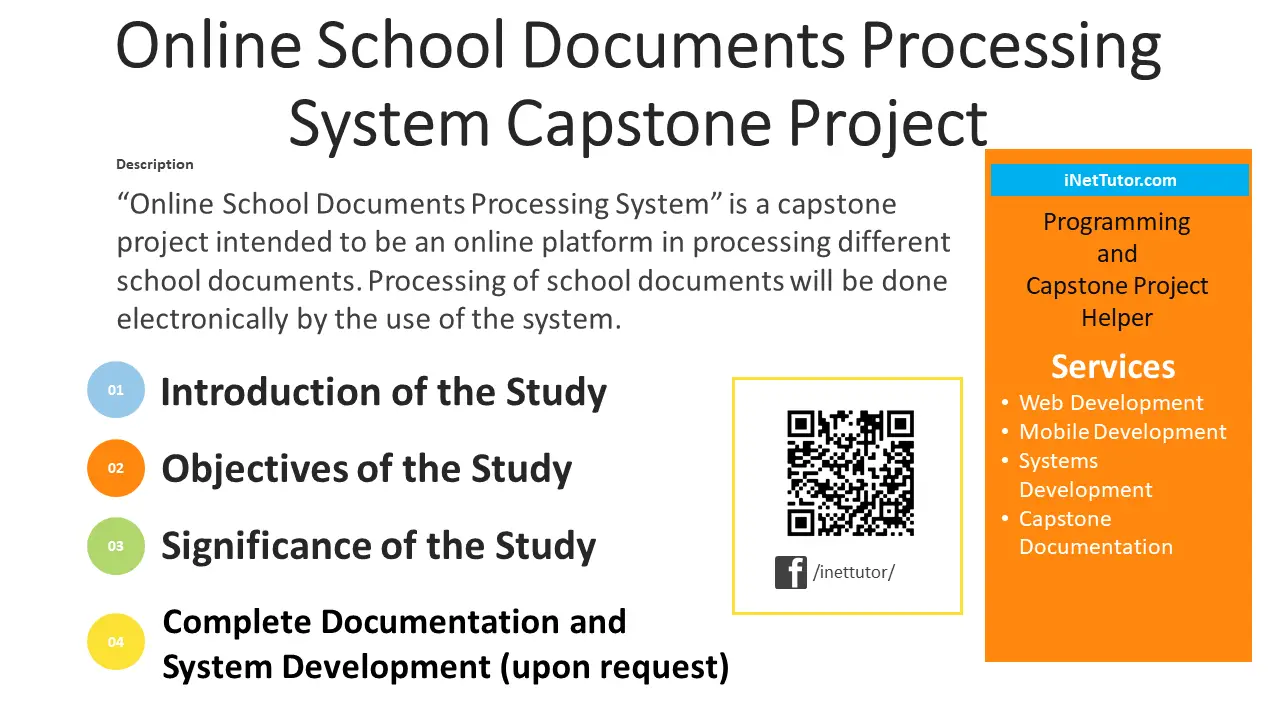 Proposed Solution
To resolve the problems mentioned above, the researchers of this study aim to develop a system that will serve as a platform in processing all school documents. The system will serve as the storage of all school related documents stored in a centralized database. The system will get rid of all the hard copies of documents and clear out tons of stuff that has taken up so much physical space. By the use of the system, the documents are process in a very timely manner and respond to school documents request in a quick efficient way.
Objectives of the Study
General Objective – the main goal of this project is to replace the manual way of processing school document in to a more efficient and effective way which is an online platform.
The specific objectives of the study are the following:
The system will be used to process all school-related documents.
To design a system that will address to request of students records virtually.
Develop a system that will serve as a repository of school documents.
To design a system will be efficient and easy to use.
Output of the project will be tested and evaluated by the IT experts and End-users.
Significance of the Study
The following individuals or group will benefit from this project:
School Personnel. The system will help lessen their workload. They won't need to spend a lot of time in processing the documents of the students.
Students. They will feel secure that their records are kept in an effective manner and the system can guarantee that if they need a copy of their documents they can easily acquire it.
Researchers. If the project will succeed, this will help them provide more solutions that will eliminate problems in manual ways.
Future Researchers. Output of the capstone project can serve as their basis in their own version of Online School Document Processing System. Documents will serve as the related literature and the system can be upgraded based on the future requirements of the institution.
Development Tools
Online School Document Processing System will be hosted in a live server or in the cloud which requires a domain name and hosting services. Primarily, the project is a web based system that will be designed and developed using PHP, MySQL and Bootstrap. Output of the capstone project will be integrated in the school website that will be maintained by the ICT personnel of the institution. In addition, a SMS or short messaging service will also be integrated for faster information dissemination. Moreover, payment option is in a form of GCash and other local money transfer services.
You may visit our facebook page for more information, inquiries and comments.
Hire our team to do the project.