Category Archives:
Visual Basic .Net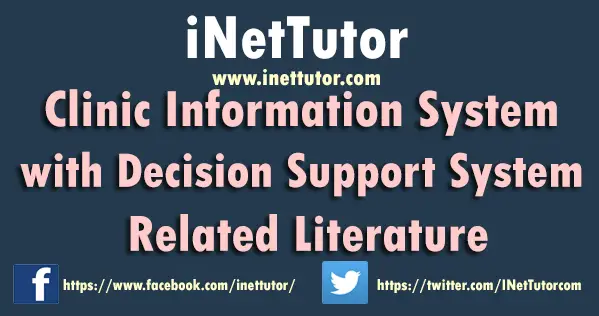 Clinic Information System with Decision Support System Related Literature
REVIEW OF RELATED LITERATURE / SYSTEM
Related Literature
Decision Support System "Evolution"
Daniel E. O'Leary
University of Southern California, Los Angeles, California
1. Introduction
Apparently, Courbon, Grajew and Tolovi (1978) were the first to use the notion of "evolution" in decision support systems (DSS).  Soon after that, Keen (1980) elaborated on key aspects related to evolution in DSS.  That research was most concerned with the notion that DSS evolve over time: the development methodology of DSS is an evolutionary one.  In a closely related set of developments, Lehman et al. (1983) appear to have been the first to use the term "evolution" in conjunction with generic computer software.  In particular, Lehman (1998) labeled software development and maintenance, as software "evolution."  He described software change and enhancement as "unending," suggesting that evolution also is unending.
1.1 Scope
DSS as a bundle of hardware, data and knowledge, user interface and software application -change and evolve over time.  As a result, the purpose of this paper is to investigate the notion of DSS evolution and DSS characteristics and component evolution.  Previous literature has primarily been concerned about the notions that DSS evolve and that methodologies of DSS development consider that evolution.  In addition, there has been some concern as to why DSS evolve.  However, there has been limited research according to how DSS actually change and evolve over time.  Accordingly, we review the previous literature on DSS evolution, according to its individual components and provide specificity for DSS evolution through those components changing over time.  In addition, we extend the notion of evolution to a more proactive perspective, aimed at management of evolution, where we try to predict and facilitate evolution as part of DSS management, rather than just passive evolution.