Category Archives:
Visual Basic .Net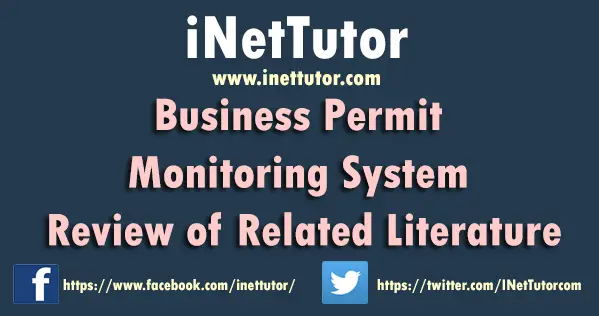 Business Permit Monitoring System Review of Related Literature
REVIEW OF RELATED LITERATURE/STUDY
RELATED LITERATURE
This section presents related literatures relevant to the study. This relevance is shown by the proponents in order to give reason and understanding of the proposition. To have a permit is important especially for businesses. . However, there are still businesses that operate without proper permission from the authority. Monitor expiring business permits and give accurate warning and notification. Every business today has a permit for their security and their business must have registered.
Related Studies
The review of the literature for this study focuses business permit to regulate safety, structure and appearance of the business community. They act as proof that your business follows certain laws and ordinances. Requirements vary by jurisdiction, and failure to comply often results in fines or even having your business shut down. Business permit (also known as mayor's permit) which must be secured by businessmen to operate legally in a locality. It is important to have a permit for their business to be secured. If the permit has going to expire you must to be renewed. Properly register all types' f business in the city. Municipalities will require businesses to obtain a simple license to operate, which can be obtained for fee.