Social Networking Application Review of Related Literature
The study entitled social networking application is a platform similar to facebook, twitter and other social networking sites. The project is focused on the establishment of connection among stakeholders of the institution (faculty, students, alumni, administrators, parents and cooperating agencies.).
REVIEW OF RELATED LITERATURE
This chapter talks about the review of related literature of the developed CAMPUS BASED Social Networking System. Concepts that focused on the development and design issues of social networking system was also discussed here, existing studies on social networking development was also presented and after every discussion of an existing study the researchers also discussed the development and design issue of the developed CAMPUS BASED Social Networking System.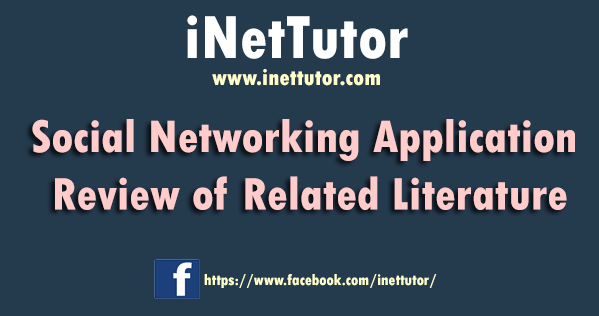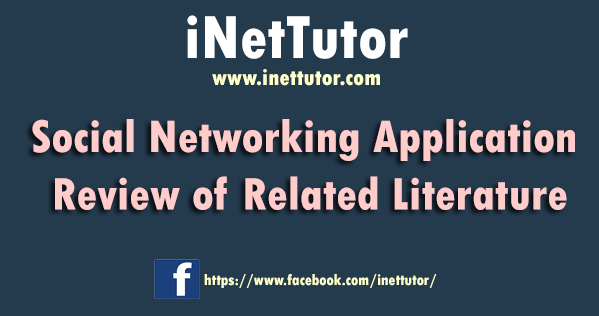 Related Concept
The concept of social networking is to connect people and deepen relationships. The aesthetics of a social networking website must be visually appealing. Colors or fonts that strain the eyes will discourage the user from spending time on the website. Unlike most websites, social networks expect the same visitors to return daily. That's why something flashy or quirky should be out of the question – choose a design that your audience will not get sick of. (http://www.instantshift.com)
Remember that with a new social networking site, new users don't have a lot of site loyalty quite yet. For this reason, you must make every action easy to accomplish. Immediately engage users by helping them find friends upon signup. Offer a variety of ways for them to search for friends: by name, email address or network. Also, provide them with the option of importing their email address book so that they can find registered friends by email address. It is also important to set up functionality directly on the social network that alerts members of any new activity that involves them. You should perform testing. With social networks, it's important to take a sophisticated approach to how you track performance: sign ups alone may not be enough. A certain landing page may lead to improved sign up rates, but those users may not necessarily turn out to be the most active or most likely to invite their friends. Do not limit your testing to sign up pages. (http://www.instantshift.com)
Social networking sites tend to share some conventional features. Users can often upload pictures of themselves to their profiles, post blog entries for others to read, search for other users with similar interests, and compile and share lists of contacts. (http://en.wikipedia.org/wiki)
Some social networks have additional features, such as the ability to create groups that share common interests or affiliations, upload or stream live videos, and hold discussions in forums. Geosocial networking co-opts internet mapping services to organize user participation around geographic features and their attributes (http://en.wikipedia.org/wiki)
Lately, mobile social networking has become popular. In most mobile communities, mobile phone users can now create their own profiles, make friends, participate in chat rooms, create chat rooms, hold private conversations, share photos and videos, and share blogs by using their mobile phone. Some companies provide wireless services which allow their customers to build their own mobile community and brand it, but one of the most popular wireless services for social networking in North America is Facebook Mobile. (http://en.wikipedia.org/wiki)
On large social networking services, there have been growing concerns about users giving out too much personal information and the threat of sexual predators. Users of these services also need to be aware of data theft or viruses. However, large services, such as MySpace and Netlog, often work with law enforcement to try to prevent such incidents. (http://en.wikipedia.org/wiki)
In addition, there is a perceived privacy threat in relation to placing too much personal information in the hands of large corporations or governmental bodies, allowing a profile to be produced on an individual's behavior on which decisions, detrimental to an individual, may be taken. (http://en.wikipedia.org/wiki)
Existing Studies/Prior Art   
Foreign Existing Studies
Myspace
Throughout 2007 and 2008, Myspace redesigned many of the features of its site in both layout and in function. One of the first functions to be redesigned was the user home page, with features such as status updates, applications, and subscriptions being added in order to compete with Facebook. In 2008, the Myspace homepage was redesigned. Myspace Music was redecorated in 2008 and 2009, making it more like an online music store similar to iTunes and Rhapsody, along with the ability to create playlists. The use of Playlist.com on Myspace was abolished after the new Myspace music was launched. Some of the classic features of Myspace music, such as the artist directory, were also abolished. (http://en.wikipedia.org/wiki/)
Bulletins are posts that are posted on to a "bulletin board" for everyone on a Myspace user's friends list to see. Bulletins can be useful for contacting an entire friends list without resorting to messaging users individually. MySpace has a Groups feature which allows a group of users to share a common page and message board. In April 2007, MySpace launched a news service called MySpace News which displays news from RSS feeds that users submit. It also allows users to rank each news story by voting for it. The more votes a story gets, the higher the story moves up the page. (http://en.wikipedia.org/wiki)
CAMPUS BASED Social Networking System has the same features to MySpace in terms of account creation; however, some features of MySpace like MySpace music and bulletins were not established in the developed CAMPUS BASED Social Networking System for the reason that it is not relevant to the users' basic needs.
Facebook
On April 5, 2008, Facebook pre-released Facebook Chat. As of April 23, 2008, Facebook Chat was released to the entire Facebook user base. Users are only able to chat with their Facebook friends and on a one-to-one basis, although a user may chat with multiple friends simultaneously through separate chat interfaces. (http://en.wikipedia.org/wiki/)
Since the website's founding, it has allowed users to send messages to each other. A Facebook user can send a message to any number of his/her friends at a time. Deleting a message from one's inbox does not delete it from the inbox of other users, thus disabling a sender to redo a message sent by him. Facebook allows different networks and groups to which many users can join. It also allows privacy settings on basis of networks. Groups are used for discussions and events etc. Groups are a way of enabling a number of people to come together online to share information and discuss specific subjects. Notifications of the more important events, for example, someone sharing a link on the user's wall or commenting on a post the user previously commented on, briefly appear for a few seconds in the bottom left as a popup message (if the user is online), and a red counter is updated on the toolbar at the top, thus allowing the user to keep track of all the most recent notifications. The poke feature is intended to be a "nudge" to attract the attention of another user. Many Facebook users use this feature to attract attention or say "hello" to their friends. The Wall is a space on each user's profile page that allows friends to post messages for the user to see while displaying the time and date the message was written. One of the most popular applications on Facebook is the Photos application, where users can upload albums of photos, tag friends helped by face recognition technology, and comment on photos. (http://en.wikipedia.org/wiki)
Some features of Facebook can be seen in the developed CAMPUS BASED Social Networking System like the Facebook Chat, Group Creation, Notifications, Image uploading and Comments Posting, in this way interaction was established. The only thing that makes the developed CAMPUS BASED Social Networking System unique from Facebook is that this system is intended to promote dissemination of CAMPUS BASED information such as the school's latest events and news and developed mainly for the collaboration of CAMPUS BASED community.
Twitter
Twitter has been compared to a web-based Internet Relay Chat (IRC) client. Users can group posts together by topic or type by use of hashtags – words or phrases prefixed with a "#" sign. Similarly, the "@" sign followed by a username is used for mentioning or replying to other users. To repost a message from another Twitter user, and share it with one's own followers, the retweet function is symbolized by "RT" in the message (2010) Twitter Features. (http://en.wikipedia.org/wiki)
In late 2009, the "Twitter Lists" feature was added, making it possible for users to follow (as well as mention and reply to) lists of authors instead of individual authors (2010) Twitter Features. (http://en.wikipedia.org/wiki)
Through SMS, users can communicate with Twitter through five gateway numbers: short codes for the United States, Canada, India, New Zealand, and an Isle of Man-based number for international use. There is also a short code in the United Kingdom which is only accessible to those on the Vodafone, O2 and Orange networks. In India, since Twitter only supports tweets from Bharti Airtel, an alternative platform called smsTweet was set up by a user to work on all networks. A similar platform called Gladly Cast exists for mobile phone users in Singapore, Malaysia and the Philippines Twitter uses bit.ly for automatic shortening of all URLs posted on its website. (http://en.wikipedia.org/wiki)
CAMPUS BASED Social Networking System is somewhat similar to Twitter in a way that Twitter provides a feature that let the user post a message to members' wall. Twitter also provides a feature that let the members send a message by the use of cellular phone, however the developed CAMPUS BASED Social Networking System did not used it.
LinkedIn
The purpose of the site is to allow registered users to maintain a list of contact details of people they know and trust in business. The people in the list are called Connections. Users can invite anyone (whether a site user or not) to become a connection.
The feature LinkedIn Answers, similar to Yahoo! Answers, allows users to ask questions for the community to answer. This feature is free and the main difference from the latter is that questions are potentially more business-oriented, and the identity of the people asking and answering questions is known.
The searchable LinkedIn Groups feature allows users to establish new business relationships by joining alumni, industry, or professional and other relevant groups. LinkedIn groups can be created in any subjects and by any member of LinkedIn. In November, 2010, LinkedIn allowed businesses to list products and services on company profile pages; it also permitted LinkedIn members to "recommend" products and services and write reviews. In January 2011, LinkedIn acquired CardMunch, a mobile app maker that scans business cards and converts into contacts. LinkedIn plans to integrate this functionality into their services in the near future. (http://en.wikipedia.org/wiki)
The purpose of LinkedIn development is to establish a network of people related to business; however the CAMPUS BASED Social Networking System was designed principally for the Institution and to the people affiliated to the school.
Hi5
In Hi5, users create an online profile in order to show information such as interests, age and hometown and upload user pictures where users can post comments. Hi5 also allows the user to create personal photo albums, play online games, and set up a music player in the profile. Users can also send friend requests via e-mail to other users. When a person receives a friend request, he may accept or decline it, or block the user altogether. If the user accepts another user as a friend, the two will be connected directly or in the 1st degree. The user will then appear on the person's friend list and vice-versa.
Some users opt to make their profiles available for everyone on Hi5 to view. Other users exercise the option to make their profile viewable only to those people who are in their network. The network of friends consists of a user's direct friends (1st degree), the friends of those direct friends (2nd degree) and the friends of the friends of direct friends (3rd degree).
In early 2010, Hi5 began to evolve from a social network into a site focused on social gaming and opened to new game developers. (http://en.wikipedia.org/wiki)
Hi5 is somewhat similar to the developed CAMPUS BASED Social Networking System in ways that the two system allow the  users to create an account and provide personal information, upload pictures, comment to the pictures and many more, the only thing that makes it different is that Hi5 focused now on social gaming while the developed CAMPUS BASED Social Networking System focused on institutional issues.
Local Existing Studies
Kaberks!
Kaberks! Is an online social networking website that allows you to connect with friends, start making friends or discover new friends and interests. Kaberks! Allow member to connect to people in their personal networks and community, creating a new online interactive resource that is based on a trusted network of friends and associates on the internet. (http://www.kaberks.com)
Members can use this abundant network to make friends, find their love ones, create blogs or events, search friends, join the forum, chat, and accomplish much more with the help of groups and individuals who they know and share the same interests. (http://www.kaberks.com)
Kaberks! not only lets you share pictures with other members, but also lets you create your own private galleries and edit, then share photographs with the persons or friends you desire. With Kaberks! rating features, you know what people think about you, they can rate each photograph in your public gallery, rate your overall profile, or even leave some comments about you. Kaberks social network is a valuable online resource that contains most of the answers members need. (http://www.kaberks.com)
Kaberks! like any other social networking system provides interaction to the users and let them create a new network of friends or to connect to their previous friends, these reasons make it a bit similar to the developed CAMPUS BASED Social Networking System, but the variation is that Kaberks! Offers a rating features that was not established in the developed CAMPUS BASED Social Networking System.
Pinoy Exchange
Pinoy Exchange (PEx) is a Filipino online message board community founded by Dr. Michael Nolledo a.k.a. "batanguliran" with help from close family members on July 12, 1999. As of September 15, 2010, PEX has 49,248,745 posts made by 391,809 members, making it the largest message board in the country by far. (http://en.wikipedia.org/wiki)
Several features of PEX are Sports Center  that is dedicated to the discussion of sports. In The Zone – Added in 2004 to cut down the large percentage of basketball threads that is used to dominate Sports Center. Host annual fantasy leagues each year with PEXFL (Pinoy Exchange Fantasy League) and B.A.N.O. (Basketball Association of New Owners) currently on its third and second year respectively, both of which are second-rate fantasy basketball leagues with incorrigible general managers. Electronic Gaming – Console wars and debates as well as arcade and PC gaming. Music and Radio – Music-related discussions. Celebrities- Forum for the latest news about local actors and actresses. TV Programs – Forum about the programs on Philippine Television. Movies – Forum about Filipino movies.General Movies and TV – Forum about the local entertainment industry. International Movies and TV – Topics on foreign films and television programs. Anime and Manga – Dwelling place for otakus or those interested in anime and manga. (http://en.wikipedia.org/wiki). Pinoy Exchange is mainly a message board that let the users post topics and messages, posts are categorized in terms of sports, celebrities, basketball associations, Filipino movies and TV programs and anime, which is different from the developed CAMPUS BASED Social Networking System that offers wider features than Pinoy Exchange when it comes to member interaction.
Mooplace
The purpose of MooPlace is to provide a facility for Filipinos from different parts of the globe to keep in touch, unite and share aspects of their lives with family, friends and loved ones. Filipino families will never be apart again as no matter where they are in the world; they can be reached easily at MooPlace.com Social Networks. Member's information is sealed and kept totally secured which can be configured privately or shared publicly need. (http://www.mooplace.com)
Explore MooPlace.com and discover an incredible number of site features that you can utilize for 100% free. There are opportunities to meet new friends, enter site competitions, play games, watch old and new movies, listen to music, upload unlimited photos, catch up with your favourite sport and generally have a good time. Your favourite TV shows from the Philippines can be viewed and don't forget to upload all your best photos for sharing with friends as you please.MooPlace.com is a family website put together by Filipino's who recognized a need. (http://www.mooplace.com)
The development of MooPlace was intended for Filipino families to keep them in touch; this system is mainly focused on offering to the users the chance to meet new entities, play games, watch movies, listen to music and even view TV shows in the Philippines while the development of CAMPUS BASED Social Networking System was intended mainly to support collaboration of CAMPUS BASED community by establishing features that let the members create their own group.
Also the dissemination of institutional information was supported by the Take Note feature of the developed social networking system.
Synthesis
The development and design concepts in establishing social networking system is not far from our study since the concept was to connect people and offer varieties of services to the user that supports member interaction, member collaboration and network expansion.
It was stated in the related concept that a social network media must be visually appealing so that visitors will get interested. The developed CAMPUS BASED Social Networking system was designed to be visually appealing by putting up flashing images that takes the attention of the viewers and encourage them to become a member of the site. This is one way of making the site frequently visited.
To maintain site patronage among members, the system must offer variety of features that deal with the users' need. The researchers answered the users' needs in terms of finding out the features that they needed the most, in this way the system will be useful to the users, thus members' patronage to the site will be achieved.
Most of the features established in any social networking sites are the creation of account wherein users provide information, users then can upload data to the account like images, music or video depending on the feature that a social media offered. To promote communication, most of social media offered message exchange, real-time exchange of messages or Chat, blogs and forums. These became so frequently used among social media today. The features established in the developed CAMPUS BASED Social Networking System were almost the same with any other social media, but there are number of features that are put up mainly to respond the needs of the users, these are the Take Note page, Hear Us, and Corner page.
You may visit our facebook page for more information, inquiries and comments.
Hire our team to do the project.