Lost and Found Information System Capstone Project
The capstone project entitled "Lost and Found Information System" is a database collection of lost and found items. The said application can be accessed by users who are looking for their lost item or personal belongings or if they want to post something that they have found. It is a web based system designed and developed using PHP, MySQL/MariaDB and Bootstrap.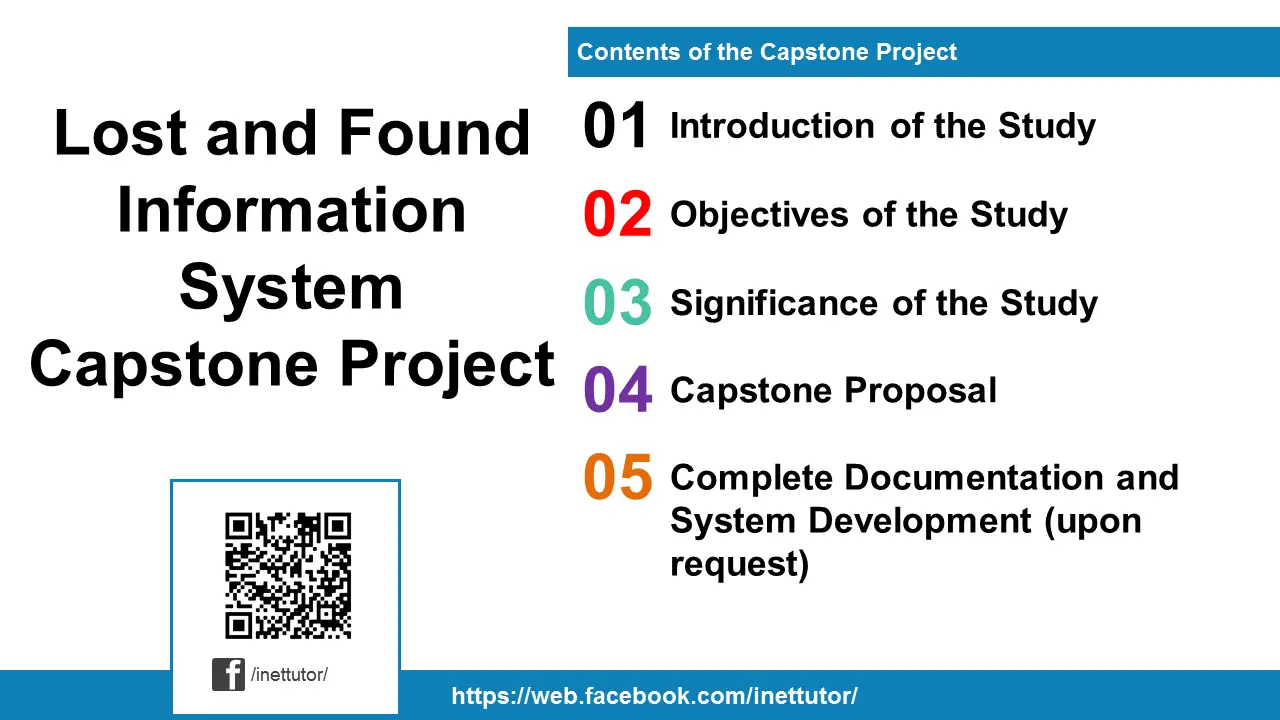 Introduction
The system is an online lost and found platform that helps in identifying, tracking, storing and returning missing properties to the rightful owners. The system will give power to the users to claim their lost property online. The system will reassure and build customer satisfaction by providing them an efficient and hassle-free transaction in claiming their missing belongings.
The Lost and Found system will improve the manual process of searching for lost properties into a fully digitized one. The manual process is seen as inefficient because there is a possibility that the manual search or transaction will cause a delay or at worst scenario, may failed. There is a big possibility that the customer will not successfully retrieve his/her belongings.
The users can utilize the system to look for their missing properties. This system is very useful in businesses in hospitality, travel sectors and other customer-facing organizations. Their customers can easily inquire them through this system about their missing belongings and then they can deliver the properties back to the rightful owners.
The researchers came up with an idea that will benefit the general public and it is in a form of this capstone project entitled "Lost and Found Information System".
Objectives of the Study
This capstone project aims to design and develop an online platform that stores and manage the records of lost and found items.
Specifically, it aims to:
The system will serve as an engine for searching lost properties.
The system will enable different businesses especially to those who are accommodating customers to identify, track and return missing properties to the rightful owners.
The system will let the users and the staff in-charge for tracking and returning the lost property communicate in a faster way.
The system will provide a transaction that will cost less money, effort and time.
To determine the level of system acceptability based on the required application functionality.
The system is easy to use, up-to-date and accessible.
Significance of the Study
Users/Customers. This will help them search their missing items easily even beyond physical search. They would likely found their belongings quickly by using the lost and found system.
Management/Staff Incharge. This would help them provide customer satisfaction by quickly responding to the inquiry of the guest or customer. It will be easier for them to attend and assist their customer's need especially in cases like tracking the missing items.
Researchers. This will teach them to value time, patience, hard works, and cooperation.
Future Researchers. This will serve as a guide or reference in their future studies on the subject matter. This will also help them to improve the proposed system.
You may visit our facebook page for more information, inquiries and comments.
Hire our team to do the project.