Web and Mobile Based Faculty Evaluation Review of Related Literature
REVIEW OF RELATED LITERATURE
This chapter presents the related literature and system that may help the researchers to develop the proposed Web and Mobile Based Evaluation for Teachers.
CLEAR South Asia Publication: Mobile-Based Technology for Monitoring and Evaluation
This publication on Mobile-Based Technology for Monitoring and Evaluation is intended to inform would-be users on technology options and enable them to benefit from real-time data sharing and analysis. It is structured as a user-friendly reference guide to enable civil society, donors and governments to understand the application and operationalization of TEME to their projects and programs. It demonstrates the latent potential of TEME to improve data quality, speed and transparency, leading to better implementation of projects, evidence-based decision making, and eventual development outcomes.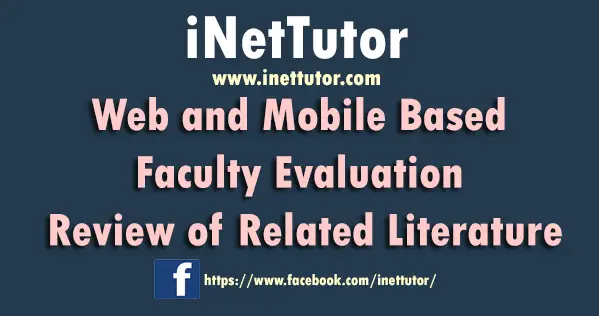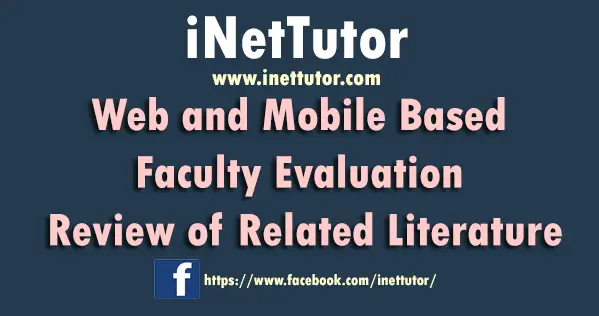 The Knowledge Product is organized into 3 sections: A Quick Start section provides pointers for researchers, project managers, and donors on the possibilities and applicability of mobile technology to their work and how to initiate mobile-based monitoring and data collection tools. The second section, on Mobile Technology Options & Opportunities, explains the various components that make up a mobile-based data collection system. It explains data collection software and transmission. It lists possible devices, features and functionalities, ranging from simple low-end phones to smart phones and tablets. The final Implementing Mobile Technology in M&E section addresses issues related to implementation, including planning time-lines, estimating costs, training field staff, and ensuring data quality and security. Using an in-depth case study, it underscores common implementation challenges and presents solutions to minimize these.
CLEAR South Asia hopes to use this knowledge product as a platform to allow first time learners to understand and exploit the potential of TEME. The Centre hopes to build on this publication by creating additional online resources and demos. A demonstration on Mobile-based M&E will be organized as part of a learning session at the CLEAR global forum in Tunisia in February 2013.
Source: http://www.theclearinitiative.org/mobile-basedtechnology.html
East Noble School Corporation and North Judson-San Pierre Schools Using Standard for Success' Online, Mobile Teacher Evaluation Software
INDIANAPOLIS (January. 17, 2014)—Indiana-based Standard for Success, an online, fully customizable educator evaluation and management software, will make its way into East Noble School Corporation (Kendalville, IN) and North Judson-San Pierre Schools (North Judson, IN). They join more than 350 schools in nearly 70 Indiana school districts that are adopting technology to create a more streamlined and efficient teacher evaluation process that aligns with staff evaluation requirements evolving across the U.S.
The platform will go into effect for the second semester of the 2013-14 school year. The districts are able to meet the requirements of more stringent teacher and principal evaluation model through Standard for Success' web-based portal accessible via a tablet or laptop. Standard for Success' software is completely mobile, which helps organize information electronically while also reducing paperwork.
With its easy-to-use interface, Standard for Success' program allows for real-time evaluation of teachers while easing the burden on administrators through its diverse management features and archives.  Teachers can chart professional development goals and division leadership can view school and division-wide summaries and drill down for specifics on particular groups – 24 hours a day, seven days a week.
Source: http://www.standardforsuccess.com/east-noble-school-corporation-north-judson-san-pierre-schools-using-standard-success-online-mobile-teacher-evaluation-software/
Mobile Web School-Parent-Teacher Interaction Portal
This project study focused on developing a mobile-web school parent-teacher interaction portal to provide parents, students, and teachers a favorable environment in communication and effective tools in managing. Parents and teachers can use their mobile phone to access the website and enjoy the system's available features. Likewise, the administrator could gain satisfaction from the functions that the system has. Rapid Application Development Methodology (RAD) was used in order to develop the system to analyze the functional requirements and to elaborate the analysis models to produce implementation specifications of the system. PHP Hypertext Processor or commonly known as PHP was the main programming language used in this study and MySQL served as the database for storing vital records on the system. Likewise, jQuery mobile gave the developer a standard set of layouts, user interface widgets, and interaction. In addition, Cascading Style Sheet (CSS) and Asynchronous Javascript (AJAX) were used. Several tools were also used in the development of the system such as VertrigoServer, starUML, and PHP designer. Fact finding instruments such as interview and observation protocols were utilized to determine the requirements of the desired application. Questionnaires were used for measuring the efficiency of the system as evaluated by the end-users. Likewise, there were some tools used in the project study. Easy PHP was the local web server to test the system, Eclipse was the main IDE for developing the system, and StarUML allowed the proponent to model the system project. Based on the ISO 9126 standard, the results of the rating given by the evaluators, the proposed system has met and satisfied all the functional requirements determined in this project study. The evaluators believed that the developed system could ameliorate the communication between parents, teachers, and students. The mobile web school parent-teacher interaction portal was designed and developed to bring to the users an online communication system with user-friendly and easy-to-use interface. With the users' high acceptance based on the tabulated evaluation, the proponent believed and is confident that this project study has satisfied its objectives and purpose. Therefore, the proponent highly recommends that the mobileweb school parent-teacher interaction portal be widely used.
Source: http://ejournals.ph/index.php?journal=MSEUFRS&page=article&op=viewArticle&path%5B%5D=6261
The TAS System:
Provides Formative/Summative approach
Quickly displays evaluation criteria
Generates numerical data and summary reports
Allows principals to measure and improve performance
Generates solid documentation of the appraisal process
TAS was developed by Employee Evaluation Systems, Inc., a leader in school employee appraisals since 1988. TAS has been professionally developed and fine-tuned to accommodate a number of evaluation criteria in an intuitive and manageable format. This research-based appraisal program was designed with the involvement of teachers and principals to ensure a useful and productive evaluation system. Currently, principals are using TAS to conduct thousands of teacher observations each month.
Source: http://www.teacherappraisalsystem.com/
Ohio Teacher Evaluation System (OTES) Overview
Ohio's new system for evaluating teachers will provide educators with a richer and more detailed view of their performance, with a focus on specific strengths and opportunities for improvement. The new  system relies on two key evaluation components, each weighted at 50 percent: a rating of teacher performance and a rating of student academic growth.
The challenge for measuring student growth is that there is not a single student assessment that can be used for all teachers. Local education agencies (LEAs) must use data from the state Ohio Achievement Assessments when available. If those are not applicable for a given subject or grade, LEAs can choose to use other assessments provided by national testing vendors and approved for use in Ohio. For subjects in which traditional assessments are not an option – such as art or music – LEAs should establish a process to create student learning objectives (SLOs) to measure student progress in those courses.
Synthesis:
Based on the above-mentioned related literatures and studies, there were several similarities with the system. Some of the studies help the researchers in engaging the different problems experienced because of waste of time and hassle. The related studies and system is very useful because it can help to analyse more and compares the existing system to the proposed one. Based on the related studies, there are problems encountered such as the manual process in which it is hassle to the part of personnel who processed the reports.
Credits to the authors and developers of the project and study.
You may visit our facebook page for more information, inquiries and comments.
Hire our team to do the project.