Gamified Learning of Life of Rizal Subject in Unity
The gamified learning of life of Rizal subject offers storyline in each adventures of a Pepe (Rizal) as it brings knowledge to the user. The application has made with a pleasing interface to entertain the gamers. The researchers made used of the role-playing game concept in order to build the game. There is a game adventure of Pepe in each level wherein each level has information about Rizal, some challenges is also included.
The gamified learning of life of Rizal subject is a Role-Playing Game (RPG) in which Pepe will be the one who will be playing the game role. The application was constructed with the used of Unity platform which is portable and easy to execute. The game was computer-based and mobile-based but the phone must run by Android Technology, the game application cannot support IOS. Directions and storyline (from basic to difficult) was given. The player needs to read each book given in the game to pass the level and proceed to the next level. It is controlled with scrollers to move the character and to read the content of books given. Each book consists of stories and writings of Jose Rizal. It consist of different game levels and some levels has integrated challenges yet limited. The game application is designed for single user only. The game level unlocked cannot be skipped but can be play back. Other features that was not mentioned is not included.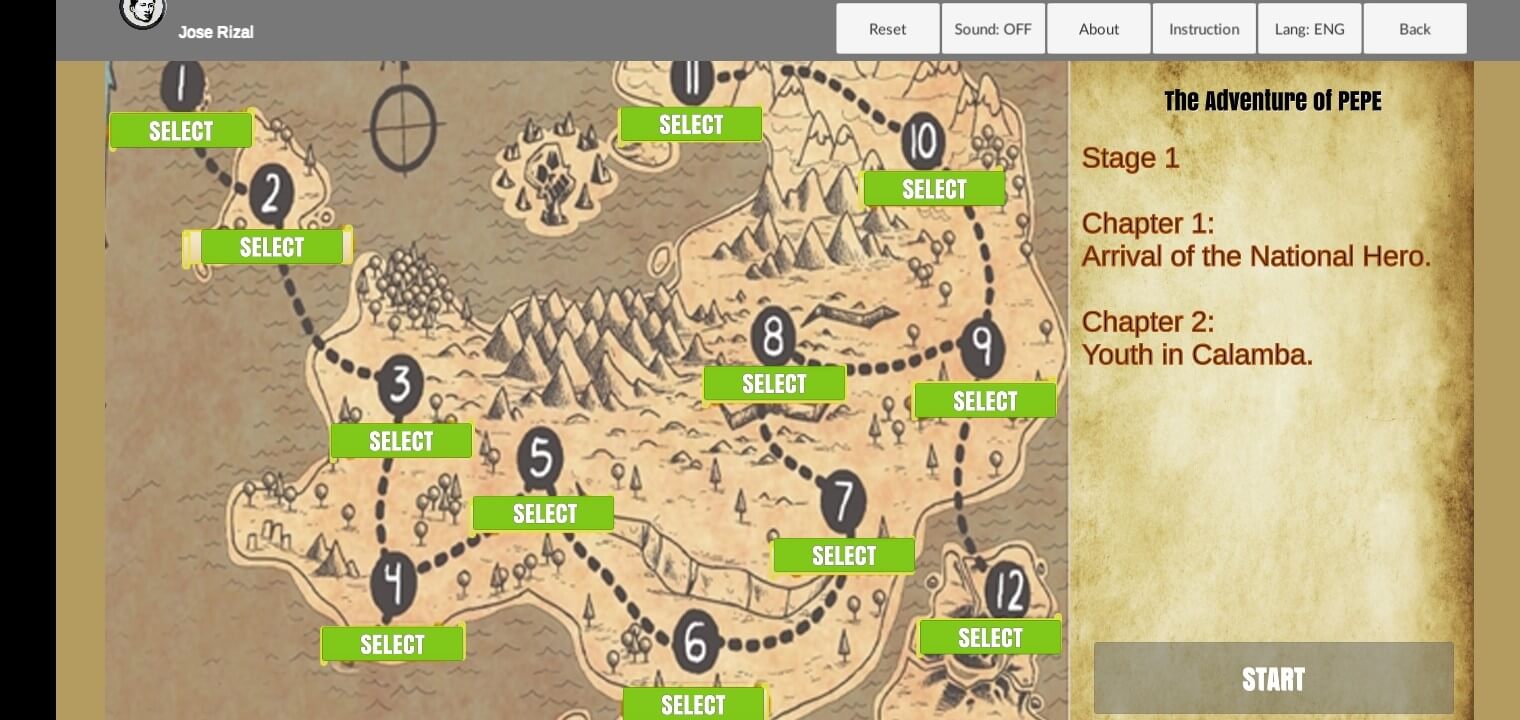 Research Instrument
The researcher's made used questionnaire as guide for surveys and interviews conducted. The questionnaire sought to answer the level of acceptability and level of satisfaction of the game developers and game players. Internet and books were used in data gathering which can contribute in the development of the documentation and system. Surfing the internet is useful to the researchers in gathering review of related literature and studies, both local and foreign. An online journal was used as reference in the progress of the research.
Development Tool:
Unity is the ultimate game development platform. Use Unity to build high-quality 3D and 2D games, deploy them across mobile, desktop, VR/AR, consoles or the Web, and connect with loyal and enthusiastic players and customers. (https://unity.com/)
Ready-made documentation and source code is available.
Credits to the developers and researchers of the project.
Contact the developers/researchers for the complete package that includes the documentation and source code.
John Lee Estrella Reyes | Facebook
You may visit our facebook page for more information, inquiries and comments.
Hire our team to do the project.