Online Platform for City Health Information System
The project entitled Online Platform for City Health Information System is a cloud based solution for archiving and record keeping of patients' health and medical information. The project was designed and developed in PHP, MySQL and WordPress. PHP and MySQL are the backend part of the project whereas the Content Management System WordPress serves as the informative frontend website.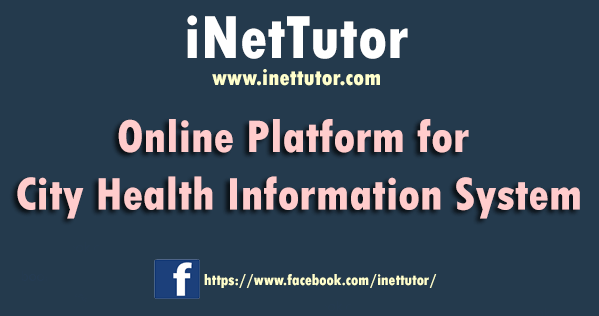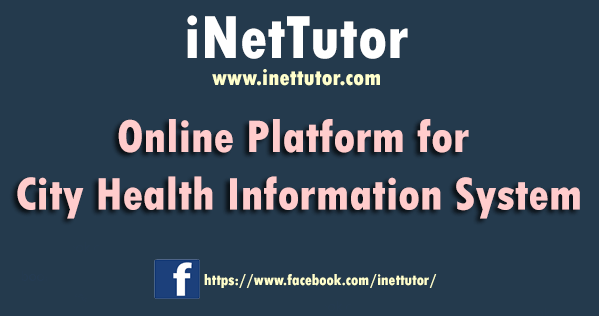 This article suggests some significant literature and studies conducted which is important in developing Online Platform for City Health Information System for some reason, deleting and adding the data will be efficient.
An Online Platform for City Health Information System is a system that will manage and collect data. The database has all information about the medical records of a patient. The system will be very helpful to provide better securities and protects data from failures and data loss and to reduce time consumption.
REVIEW OF RELATED LITERATURE
Web-based Student Management Information System
According to (S.R Bharamagoudar, Goeta R.B, SG Jotad Assistant Proffessor, Dept. of Electronics and Communication Engg, BasaveshwarEngg. College, Bagaltok, Kamataka professor, Department of Computer Science  & Engineering, GMRInstitute of technology , RAJAM, Andra Pradesh) (Volume, issue6, June 2013) the design and implementation of a comprehensive student information system and user interface is to replace the current paper records. College staffs are able to directly access all aspects of a student's academic progress through a secure, online interface embedded in the colleges website. All data is stored securely on SQL servers managed by the college administrator and ensures highest possible level of security (http://www.ijarcce.com/upload/2013/june/4shobha%20bharamaoudar-WEB%20BASED%20STUDENT%20INFORMATION.pdf).
Web-based Electronic Medical Records and Hospital    Information System for Developing Countries
According to (Thuan D. NGUYEN, MD, PhD, Hai D. Vu, MSC, John G. WEBSTER, PhD, Amt J. NIMUNKAR, PhD) (submitted: February 19, 2010 and accepted: March 16, 2011) they research hospital in Vietnam and studied patient medical information storage, management and the available it facilities. They found that moist of the hospital used manual methods for information storage and management, consisting of papers and films in booklet. Some hospitals also used personal computer to manage and print the patient data in a simple and discrete way. The test results of patients are currently written on paper from results obtained through medical devices, or printed out from them. Manual paper based storage methods. Through simple and easy to implement, cannot be used to manage large amounts of patient information (https://www. Jhidc/inex.php/article/view38/93).
A WEB-BASED MANAGEMENT INFORMATION SYSTEM FOR PHILIPPINE NATIONAL POLICE OF ANGELES CITY
According to (Bautista,LaureneMikko, Calimpus, Darell, David, Reynar, Delos Reyes, jacee) (By:Reynardavid on 5 october 2012) this proposal will enable Philippine National Police of Angeles City to have a Web-based Management Information System (MIS) that will allow authorized officers to have a tool managing their environments about their events and latest news and especially regarding about suspect profiling (https://prezi.com/emrs2zkyyhm/a.web.based-management_information_system_for_philippine.national.police_ofangelescity/).
Web-based Information System for Blood Donation
According to the corresponding author (Abdur Khan and Muhammad Shuab Qureshi) (doi: 10.4156/jdcta.vol3.issue2.khan) this research work is an attempt to practically implement the information technology in real world. This system provides multiple facilities. This system enables users to search, collect and donate blood to the patients who are waiting for the last drop of the blood and nearby to the death(www.researchgate.net/publication/220670316_web-based_Information_System_for_Blood_Dontion).
Blood Bank Management Information System in India
According to the corresponding author (Vikas Kulshres Research Scholar, Dr. sharad Maheshwari, Associate Professor) (Vol.1,issue2,pp.260-263) the blood bank management information system offers functionalities to quick access to donor records collected from various part of the country. They are providing the efficient search who needs the blood in their own city as fast as possible. Blood bank accepted the donated blood, only if donor satisfy all of the following conditions. If the donor are between age group of 18-60 years. If the donor's weight is 45 kgs or more. If the donor's haemoglobin is 12.5 gm% minimum. If the donor's last blood donation was 3 or more months earlier (http://www.ijera.com/papers/vol%201%20issue%202/012260263AF.pdf).
Web-Based PhD  Thesis Management Information System For Tripoli of Computer Technology in Libya
According to (Salaheddin S. Mohamed Sayeh 2011). This study aims to develop web-based PhD's to automatically ensure the PhD student's thesis information management in the Faculty of Technology in Tripoly. This system is often to used in educational organizations due to its effectiveness in facilitating and enhancing the monitoring of the supervision  and manage of thesis and project paper (etd.uum.my/2820/2/I.Salaheddin._S_Mohamed_Sayeh.pdf)
 Prior ArtsWeb-based Medical Data Archive System
According to (Ruofei Zhang, Mark, Zhongfei Zhang and Guangbiao Pu). This research concerns with proposing a new paradigm of managing and archiving large scale medical data. Specifically, this research demonstrates this new paradigm through a prototype web-based medical data archive system. This system allows storing, maintaining, sharing, and retrieving medical files based on the state-of-the-art multimedia database technologies and the Internet facilities. Medical files typically contain data in different modalities, such as text description (either in print-typing form of in handwriting form) even thought significant progress has been made towards archiving medical data in digital forms, there are still many medical centres or hospitals archiving medical files in the physical forms. As the population of this world increases fast, and as new medical diagnostic technologies keep being developed and applied in the clinical practice, resulting in more new modalities and increasing amount of medical data for each patient, this traditional archival system obviously exhibits several major problems in accommodating the avalanching demand for archiving and managing medical data (http://citeseerx.ist.psu.edu/viewdoc/download?doi=10.1.1.119.110&rep=rep1&type=pdf).
A Online Platform for City Health Information System
The "Web Base Nutrition Office Management Information System with Decision Support System for Escalante City" is a system that will store a large medical records of patients such as: Normal, Underweight, Severely Underweight malnourished children. Through this system it can share the information about the patient's medical records. This system provides the ranking of barangay who got a highest severely underweight malnourished children and it shares the information through internet. The final result will be recorded in city summary report on operation timbang plus.
Synthesis
A web based technology is the easiest way in viewing and sharing data and information using internet connection. It can provide the user a complete information which the user can easily view and browse through internet. An Online Platform for City Health Information System is a system that stores data and information about the patients' health. Specifically, the recorded information or data the percentage and numbers of normal, underweight, severely underweight and prevalent rate of malnourished children; and, ranking of barangay who got a highest rank of severely underweight, prevalence rate, the total number of underweight and severely underweight.
An Online Platform for City Health Information System helps to add, edit and delete patients' medical records. It is also easy to view the accomplishment report of the patient's record. The patients record's automatically back up to the database and it is secured since only the administrator is authorize to use the system.
Credits to the authors and developers of the project.
You may visit our facebook page for more information, inquiries and comments.
Hire our team to do the project.