Dictionary and Translator App Capstone Project Documentation
CHAPTER I
THE PROBLEM AND ITS BACKGROUND
Introduction
The Philippines' national language is called Filipino. On the other hand, dialects are variations of a language and, in the Philippines case, are spoken in different regions. In contrast to various languages, people speaking in various dialects (that come from the same language) can understand each other.
A dictionary is a collection of words in one or more specific languages, often listed with usage of information, definitions, pronunciations, translation, and other information or a book of words in one language. The word dictionary is usually understood to refer to a monolingual general-purpose dictionary. The dictionary is regarded as a tool that everyone uses since childhood. Its use is supposed to be familiar to all, the process of its use commonly understood.  The lexicon (or dictionary) is a collection of source words with the corresponding translation in the target language, and their features (such as part-of-speech tag, sample sentences, and semantic information). The base lexicon for the Multi-engine MT project is the dictionary of the Commission on the Filipino Language (CFL) of the Philippine government.
Translation is the communication of the meaning of a source-language text by means of an equivalent target text-language text translators helped substantially to shape the languages into which they have translated. Dictionaries and translator are most commonly found in the form of books. Many individuals rely on different gadgets or android phones for easy way of living for searching and communicating to others around the globe. Now a day's phone and other smart phones use as tool in everyday task.
Background of the Study
Talking about translation study, many people think that translation is not easy to do, because in translation there are many processes and methods. Generally, translation is known as a process of transferring a language to another. It has historic and cultural background.
In our interconnected world, FDL give the user a global mindset which is increasingly useful. Because of the widespread use of dictionaries in schools and their acceptance by many as language authorities the researcher has the idea of creating an application. FDL is an application that helps Pilipino to translate their mother tongue to other Filipino dialect for them to interpret their lingo. It enhances your knowledge to comprehend many language entities. It enables the user to explore Filipino dialect. It gives the meaning of the words and translates it to your desired language.
With the above definition in mind, the following are the major languages in the Philippines:
Tagalog – This language is the basis for the national language of the country. The previous requirement to teach and speak this language in schools nationwide resulted to the huge increase in Tagalog-speaking Filipinos. Tagalog is mainly spoken in the capital of Manila, the Greater Manila Area (or GMA) and the neighboring provinces such as Bulacan, Nueva Ecija, Laguna, Cavite and Batangas (with variations in some terms and in the accents). Not only that, one can goes to other places around the country and still be universally understood when he or she uses this language because a lot of people around the country speak and understand Tagalog.
Cebuano – This was (and still is) a major contender for the Philippine language with the highest number of native speakers (more than 20% of the entire population of the country). It is mainly spoken in Cebu, one of the most progressive cities in the country. It is also spoken in certain areas in Mindanao, including Davao, Cagayan de Oro, Butuan, Bukidnon and General Santos City.
Ilokano or Ilocano – this is spoken in the northern part of the Philippines. It is related to other languages around the world such as Indonesian, Malay, Hawaiian, Samoan, Tahitian and Chamorro (of Guam). With the spread of the Ilocano people around the country, the use of this language has spread as well.
Bikolano or Bicolano – this is the language spoken in the Bicol Region, one of the biggest regions in the country. A variation of the Bicolano language, the Bisakol language, provides a link between Bicolano and Visayan languages.
Hiligaynon or Ilonggo – A language known for its sweet intonation, the Hiligaynon language is native to more than 7 million Filipinos. In addition, an additional 4 million Filipinos know how to speak this language with a degree of proficiency. It is spoken in Iloilo, Bacolod, Panay Islands, Capiz, Antique and Aklan. It is also spoken in some parts of Mindanao such as in North and South Cotabato. , known for its melting pot of various regions and languages, also has its own share of Hiligaynon-speaking Filipinos.
Statements of the Problem
Lack of knowledge to Filipino Dialect
What is the nature and equality of the different translations currently available to readers?
What new game can be attractive to Filipinos?
Objectives of the study
Provide an advanced translation skills
It provide five different Filipino dialect
To create a new game that can be attractive for Filipinos and keep them entertained as well
Significance of the study
This study provides more educational for the Filipino. It helps the user to build and expand his/her vocabulary. It uses the words that are useful to the Filipino most especially to the students. It also has words that are essential to all ages.
This study also helps Filipino to know some rare words.  It involves mini games that can help to develop their knowledge skills, improve their spelling ability and at the same time it is an enjoyable way of learning.
Scope and Limitation
With the use of Dictionary and Translator  application created by the proponents, this will help other people in communicating with each other. It encourages the user to learn new language in their spare time and to take up opportunities.
Every translation activity has one or more specific purposes and whichever they may be; the main aim of translation is to serve as a cross-cultural bilingual communication vehicle among peoples. The Filipino Dictionary and Translator  application plays an important role as a bilingual or multi-lingual cross-cultural transmitter of culture and truths by attempting to interpret concepts and speech in a variety of text as faithfully and accurately as possible.
Parts of speech are the basic types of words that English has. It is a category of words, of which have similar properties.  It determines if the word is a noun, pronoun, adjectives, verb, adverb, conjunctions, prepositions and interjection.
Mini games wherein every level has different games like multiple choices fill in the blanks and etc. Mini games are a reviewer that helps the user to sharpen their mind and memory.. It will test their knowledge in translating the words into other Filipino dialect.
The proponent created a system has its limitation. Unlike any other translator only five (5) different kinds of Filipino languages can be used it is Tagalog, Ilocano, Cebuano, Hiligaynon and Bicolano. It consists of only 2000 words\dialect.
Definition of Terms
Terms here are conceptually and operationally defined for better understanding of the readers.
FDL
Dictionary and Translator  application – a combination of dictionary and translator
Word game – any game involving the formation or alteration or discovery of words
Online – activated and ready for operation; capable of communicating with or being controlled by a computer
Offline – the state in which a device cannot communicate with or be controlled by a computer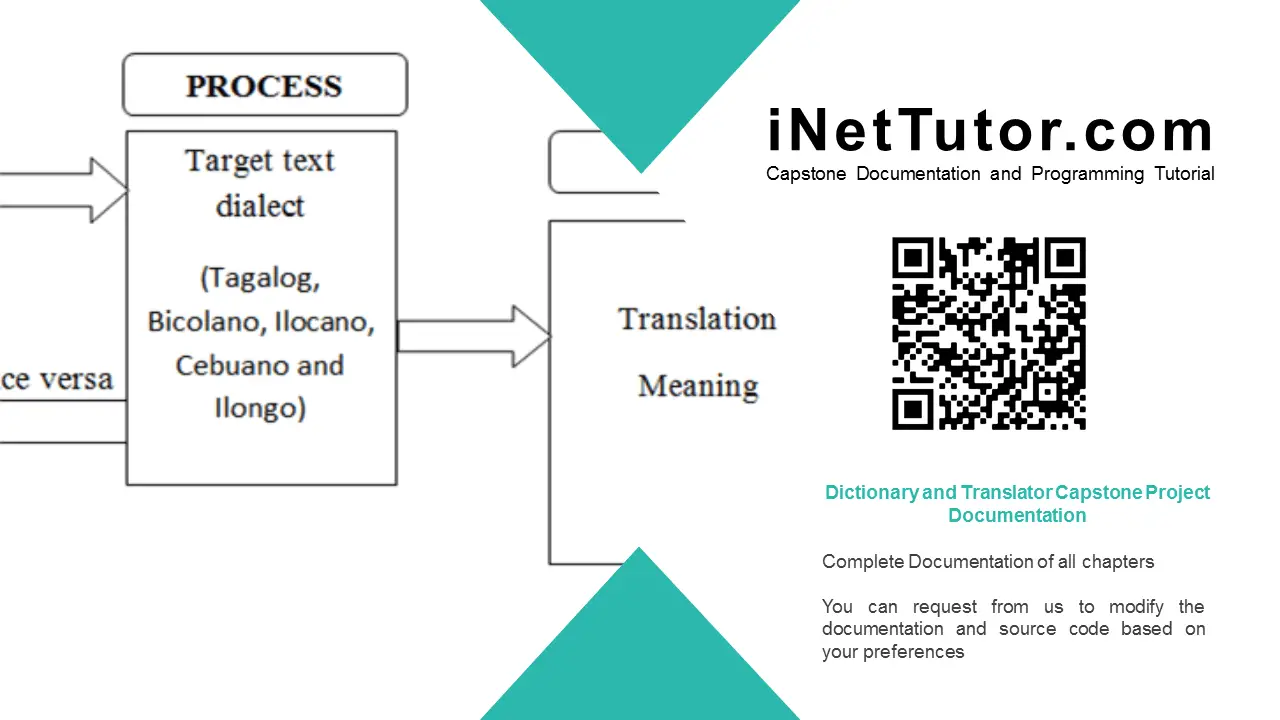 CHAPTER II
REVIEW OF RELATED LITERATURE AND STUDIES
This chapter contains the review of related literature and related studies that contains relevant and useful information in conducting the research.
Related Literature
Foreign Literature
Al-Jahid. The translator should know the structure of the speech, habits of the people and their ways of understanding each other.
Nelson Mandela. If you talk to a man in a language he\she understands, that goes to his head. If you talk to him in his language he\she understands, that goes to his heart. This simply means that he\she may understand what is being said but it simply doesn't go to their hearts.
George Steiner. "Every language is a world. Without translation, we would inhabit parishes bordering in silence". The internet has made reaching global audience easier than ever before. Those who believe in the mythical power of English to sweep aside language barriers may find themselves talking into a great wall of silence.
Belen Gonzales Cascallana. She focuses on the handling of cultural intertextuality in the Spanish translations of contemporary British children's fantasy books.  She concludes that that the translators overall orientation does not fully favor either the domestication or foreignization of source text features. Translators primarily aim to stay close to the source text and bring the experience of a foreign text of literary merit to the target child audience, but in other ways increasingly show a concern for the target reader's comprehension and their ability to enjoy the presence of cultural intertextuality.
Maria Birbili she said that languages are distinct and separate from each other. You can tell if one is a language if a person speaking it will not be understood by another person who speaks a separate language (for example, somebody from France who speaks only French will not be understood by somebody from Germany who speaks the German language only and vice-versa). On the other hand, dialects are variations of a language and, in the Philippines' case, are spoken in different regions. In contrast to various languages, people speaking in various dialects (that come from the same language) can understand each other.
Local literature
University of Toronto School of continuing studies (languages and translation) Languages & Translation courses and certificates at the U of T School of Continuing Studies are designed to help expand your language, cultural and professional boundaries. Taught by professional instructors who have years of experience in teaching, students will develop all aspects of communication – everyday conversation based on real-life scenarios, social business communications, cultural etiquette as well as grammar and pronunciation accuracy. This help bilingual people around the world put their language expertise to work as translators into their native tongue.
IMTRANSLATOR provides the most convenient access to the online translation services powered by Google and other machine translation engines for over 50 foreign languages. This translation tool includes online translator and translation dictionary.
SMS translator. This is handy and quick for conducting a text message conversation with a foreign language speaker. Type in English, add your correspondent's phone number, tap translate and hit send. You can translate any replies back into English. You can also switch translation engines between Google and Bing Translator, the engine that Twitter uses to translate tweets automatically.
Bing Translator is a useful application made by Microsoft which can perform translations in 43 languages. This application goes beyond the basic functions and allows three different input methods: keyboard, voice and camera. It has a simple and easy-to-use interface and it's able to automatically recognize the input language. When it's first opened, the application will ask for the input method and after that for the language settings. Once the languages are set, they can be easily changed between them with only a tap of a button.
Navita Translator is an award-winning application specialized in translating words and phrases between over 50 different languages. Basically, it has an English, Spanish or Portuguese interface through which you can choose to translate words using Google's or Bing's translating services. A nice thing about Navita Translator is that it allows translating and speaking words or phrases directly from SMS, e-mails, browsers or direct input. It's capable to speak in languages such as English, Portuguese, Spanish, Russian, French, Italian or German. Also, this application has an easy-to-use interface and the capability of sharing the translated words via Twitter, e-mail, SMS, pin or memo.
Related Studies
Foreign Studies
Master of Interpreting and Translation Studies .The Master of Interpreting and Translation Studies is aimed at students with advanced bilingual proficiency and seeks to develop their skills in translation and interpreting from English and another language, and their awareness of practical and theoretical approaches to translation/interpreting practice and studies. It focuses on Chinese, French, German, Indonesian, Italian, Japanese, Korean, Spanish translation. Students gain a foundation in theories of translation and interpreting and receive training in research in the field. Students are able to conceptualize translation/interpreting studies as an academic discipline in its historical, cross-disciplinary and Intercultural context.
MA in translation studies. The programmed aims to foster a new generation of translators and interpreters with a professional outlook, linguistic and cultural competences, as well as the skills and confidence to meet the challenges of both the local and regional translation markets in the years to come. It also aims to provide a comprehensive and in-depth study of the multifaceted issues in translation. On completion of the programmed, students are expected to have competence in the use of information technology including familiarity with translation software. They will have well developed intellectual qualities of reasoning, analysis and creativity; skills of research, enquiry and independent learning.
Computerized Scrabble Word Game in National and Regional Languages of Pakistan. A novel algorithm for the adaptation of scrabble to be played with the alphabet of national (Urdu) and sub-national (Sindhi, Pashto etc) languages of Pakistan has been proposed and implemented in Microsoft Visual Basic. The algorithm is also coupled with text-to speech conversation that enables the words to be pronounced correctly.
Antoine Berman "Translation and the Trials of the Foreign". The author presents his views in a logical, structured and convincing way, pointing out the causes and results of what he calls textual deformation. His observations seem to be accurate and quite interesting. He agrees that foreign is the best strategy in the translation of great classic prose and that the tendencies towards domestication may oversimplify its meaning and destroy the charm of the foreignness. Nevertheless, he was not convinced whether foreigns should be applied in the translation of each type of literature. In the case of lighter reading for less sophisticated readers, a certain level of naturalization or even domestication seems to be justified. It should be added that Berman's theory cannot be applied beyond the translation of literature. Still, Berman draws our attention to a very important problem and his analysis may contribute to the rise of quality of literary translation.
Translationand relevance by Ernst-August Gutt. In this study that the phenomenon commonly referred to as "translation" can be accounted for naturally within the relevance theory of communication developed by Sperber and Wilson: there is no need for a distinct general theory of translation. Most kinds of translation can be analyzed as varieties of Interpretive use. He  distinguish direct from indirect translation, where direct translation corresponds to the idea that translation should convey the same meaning as the original, including stylistic effects, and indirect translation involves looser degrees of faithfulness. He shows that direct translation is merely a special case of interpretive use, whereas indirect translation is the general case. More generally, the different kinds of translation, with the various principles and guidelines that have been proposed to account for them, can be explained in terms of the interaction between the principle of relevance and contextual factors, without recourse to typological frameworks. He ends by arguing that the communicative success of a translation is not determined by conformity to any stipulations of translation theory, but by the causal interaction between stimulus, context and interpretation rooted in the relevance-orientation of human cognition.
Local Studies
Tagalog Translate.com is an online machine translation just like Google Translate or Microsoft Translator. It helps you translating sentences or words from Tagalog to other Filipino dialect or vice versa. This site is not intended to replace human manual translation. It helps human to translate faster. Though it is faster, the result is less accurate, it still need to be revised manually. It is easy to translate using this site. Just type a word or sentence in text box above. Choose language target, and click Translate button.
Decipher Lexis Game is the game that will need the users to learn to sharpen their minds. This game will have a set of words to be translated.  Decipher Lexis Game is for the people who would like to enhance their vocabulary and entertain as well. It is suitable also for Filipino because it can be translated in Tagalog to English and vice versa.
Filipino English Translator. This free app is able to translate words and texts from English to Filipino and from Filipino to English. It is very useful app for easy and fast translations, which also works like a dictionary.
Google translate. Google is a tech biggie which has roots spread in every domain. It is able to reproduce translations aloud and supports more than 60 languages, while offering different input methods and a SMS translator. With only a couple of clicks on the screen select the input and output languages and then enter the desired text. In addition, it shows alternatives for misspelled translations and has a button to change from the input to output language very quickly. All searched words or phrases are saved in a history panel so that you can return and see them again.
iTranslate is an award-winning application which supports over 60 languages. It's one of the easiest, fastest and most accurate applications of its type and also has a big pack with different capabilities. The nice thing is that you will have only to speak and the application will automatically translate. Once launched, the application will show two circular microphones with a flag overlaid which indicates the input and the output languages. Click on the "Options" button from the left of the screen to select the desired languages.
CHAPTER III
RESEARCH METHODOLOGY
The topics are given in this chapter that deals with the methods of research used whether it may be historical, descriptive, or a case study. It consists of the research design, sampling method, data gathering procedure, software specification, hardware specification and Gantt chart.
Research Design
This research design builds on research done into use of technology. This discussion of the methodology attempts to present some of the specific tools and experiences used to inform the design of the research and development of an interpretation.
The researchers conducted a research for some information that will serve as basis and pattern in making the system. The researchers also asked some Filipino for their opinion. Personal experience and other information all help to form the basis for the selection and ongoing maintenance of the study.
Sampling Method
The research is based on purposive sampling technique. The samples are selected on the basis of the knowledge, connection and judgment of the researcher in the financial industry. This methodology, consist of a step-by-step either sequential or successive procedure. The methodology proposed and the corresponding evaluation processes are discussed, and the human profiles and the work facilities are defined. All the aspects presented and analyzed here respond to empirical matters.  A methodology allows the development of an effective and efficient transfer process from one language to another.
Data Gathering Procedure
In order to support the validity of the data, interview has been conducted to gather information. Collecting data in one language and presenting the findings in another involves researchers taking translation-related decisions that have a direct impact on the validity of the research and its report.
The researchers were also conducted in the internet, books and tutorials that are conducive in developing the application. The researchers have visited libraries to have detailed research and also read different materials that are relevant to the study being conducted. And later chose the best from those gathered information that would best serve in helping out the researchers in developing the application. The suggestion and opinions of others became their important source for the development and accuracy of this study.
Software Specification
Software specifications of the proposed system are presented to ensure that system will run properly.
Specification                                                                  Recommendation
OS                                                                                           Android
Hardware Specification
Software specifications of the proposed system are presented to ensure that system will run properly.
Specification                                                                   Recommendation
Memory                                                                                     1GB /Higher
 CHAPTER IV
THE PROPOSED SYSTEM
User and needs of the system
Filipino Dictionary and Translator  application was created for the ease not only for the students but also other Filipino who wants to learn the other Filipino dialect. This will help Filipino to easily communicate and understand each other.
General Features of the System
With the use of this application created by the proponents, this will help other people in communicating with each other. It encourages the user to learn new dialect in their spare time and to take up opportunities. Every translation activity has one or more specific purposes and whichever they may be; the main aim of translation is to serve as a cross-cultural bilingual communication vehicle among peoples.
It has a mini game that will surely enjoy by the user. Every level of this game has different games like multiple choices, fill in the blanks and etc. It is a reviewer that helps the user to sharpen their mind and memory. It will test their knowledge in translating the words into other Filipino dialect.
CHAPTER V
IMPLEMENTATION
Program Testing
Before we start the program we are looking and check the software the ability of this program testing is to find errors in program. After developing the system, it was tested on different computer units and android phones to determine its compatibility and to ensure that there will be no problem upon its implementation.
Documentation Plan
The researchers prepared and set a time to arrange the form of documentation and always browse the internet to gather more information. The researchers searched from any kinds of book and other printed materials about this topic. Some information gathered.
Data Management Plan
All of the data used in developing the system were gathered in the form of interviews, online and library researches. Then, they were analyzed and compiled together to determine the major factors that will contribute in developing the entire system.
Resource Management Plan
The resource management plan of the designed was based on the following criteria.
Current Capabilities
Collecting data in one language and presenting the findings in another involves researchers taking translation-related decisions that have a direct impact on the validity of the research and its report.
Application system (functional basis system, organizational strategy, maintenance need)
Analysis of hardware and software utilization
Quality Assurance Plan
The quality of plan of the proponents will cover the work of the designed phase cycle through the maintenance of on-going operations. Data flow diagram will be completed during the result of the analysis.
Training Plan
The training plan was very simple, the game contains level of difficulty and it's also having an instruction that was easy to understand by the user.
CHAPTER VI
MAINTENANCE
The only maintenance that the researchers can offer about this software is to follow the instructions inside the program. Make sure that the system is properly installed and it is accurate to your device.
Maintaining software is important for a few reasons. First, software and hardware constantly change. Therefore, it is important to keep applications synchronized with each other. An application's interface may need to be modified to incorporate new hardware or software features. Secondly, an application itself may require a new look and feel. Customer requirements change, therefore the application that once met their needs simply needs to be refined to continue to serve the customer's purpose. Another area that necessitates software modification involves debugging. Of course, software bugs are not desirable, but they often accompany applications. Even when solutions for bugs have been implemented, programmers unwittingly introduce new bugs. Method In order to compile a substantial document of the subject, Researcher visited multiple websites to gain insight into the different possibilities of software maintenance procedures and processes.
CHAPTER VII
SUMMARY, CONCLUSION AND RECOMMENDATION
Summary
Computer and android phones now a day's greatly affects the human lives. The ability of doing job a speed with that computer become very useful and the existence of the computer game for the engagement and recreation. This app is competitive enough for education.
The researcher's objective is to create an application that develops user's intellectual skills and gaining knowledge through an interesting pleasing manner. It will gathered sufficient information about software developers regarding some studies and steps. The researchers provide the questionnaires that is relevant and suggestion that will help to improve the system.
Conclusion
Based on the study done by the researchers and from the necessary information that have encountered the following conclusion were drawn.
An educational game. The user educates by playing this. It helps the user to developed intelligence, to improve their knowledge and typing skill.
This app helps Filipino to easily communicate with each other. A game that will surely enjoy them not only for fun but it also educated the user.
Recommendation
The study entitled Filipino Dictionary and Translator  application main aim is to serve as a cross-cultural bilingual communication vehicle among peoples, to develop educational game and practice the knowledge and conclusions, the following are recommended.
The study is recommended for all ages who are interested to learn different Filipino dialect.
Recommended for the people with interest in educational games. The researchers improve the software by adding rare words that will challenge the users.
Credits to the authors of the project.
You may visit our facebook page for more information, inquiries and comments.
Hire our team to do the project.