Computer Aided Instruction Review of Related Literature and Prior Arts
REVIEW OF RELATED LITERATURE
This article presents a review of literature concerning the use of technology in the educational system, relevant theories, and research and studies involving computer- assisted instruction.
Related Concepts of the Study
This includes the prior arts related of the study of CAI System. The information was taken from it is about the existing studies concerning Computer-Aided Instruction in books.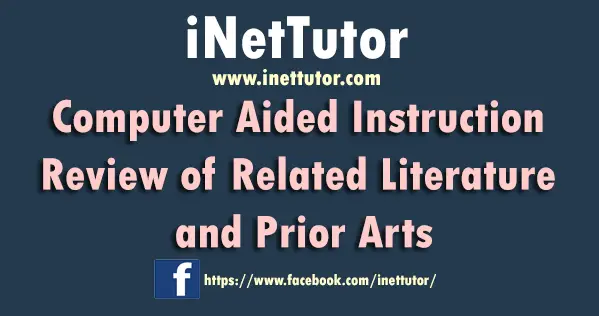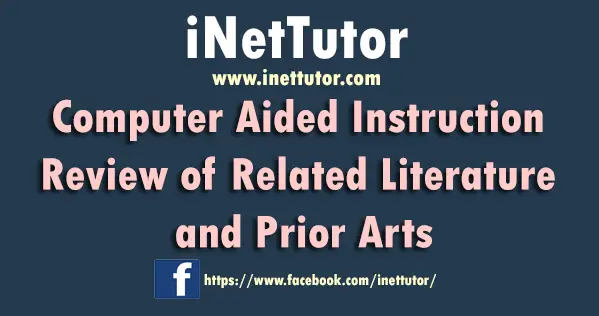 On Computer-Aided Instruction
Computer aided instruction (CAI) of writing is a big field and has generated a growing body of literature. Since it is also a relatively young field, much of the literature you will find is typical of that of any newer academic area in which theory, research, and practice are ongoing.
In other words, be careful what you read. Depending on what sources you review (and when they were written), it is possible to get a somewhat unbalanced view of CAI. For instance, many early articles about computer based writing instruction are perhaps overly optimistic about the effects it can have on the writing classroom, or maybe they simply grant computers greater power in writing instruction than they really deserve. Consider the following:
"The computer, more than any staff development program, journal article, or administrative mandate, has the potential to alter the environment of the classroom, and with it the role of both teacher and student" (Boiarsky 47).
"Networked microcomputers dissolve the proscenium classroom," juxtaposing the students-as-isolated-individuals situation in the traditional writing classroom with the students' new positions in the networked classroom as "knowledge makers and participants in the discourse of the community (as defined by the network)" (Barker and Kemp 16-17).
The computer-based community creates "an atmosphere of openness, informality, and conviviality. Such an atmosphere contributes much toward truly fostering an editor-writer relationship between teacher and students as well as a peer system in which students rely on one another" (Boiarsky 63).
"Now [in the computer classroom] situated for writing, the student may assume authority of his or her unmutilated text on the screen, the instructor occupying the background–questioning, coaching, offering consultation, and observing . . . ." (Sudol 334).
Along with the laudatory comments, a complementary body of criticism has arisen. In some ways, the field now seems to have experienced a pendulum swing, and many researchers seemed pre-occupied with the negative, or potentially negative, aspects of CAI.
Of course, computers are only one of a number of factors that affect the writing classroom, and this should be kept in mind as you review the literature of the field. Browsing the sources found through Related Links will give you an idea of the current discussions of computers in the writing classroom.
For instructors new to the computer classroom, Transitions: Teaching Writing in Computer-Supported and Traditional Classrooms offers a fairly comprehensive discussion of many of the areas of concern you might have, including comparisons and contrasts between traditional and computer classrooms, classroom dynamics, student writing with computers, dealing with technology, and teacher training.(http://writing.colostate.edu/guides/teaching/intro_pcclass/pop2c.cfm)
The use of computer is even more desirable to those engaged in college mathematics teaching, a task described either as very challenging or very discouraging. Many times, mathematics teachers feel they are a failure. Despite all the efforts they exert in teaching, the students hardly learn the concepts taught. The teachers realize that for them to be effective, they should be flexible in their teaching strategy. They should constantly create and devise classroom activities to challenge the inquisitive minds of the learner in the areas of cognitive, affective and psychomotor skills
As they continuously search for new methods and techniques, present day educators inevitably find the computer as a possible effective tool in teaching. Several studies have found that the proper use of computers can enhance mathematics learning at all stages
While traditional instruction is prevalent in the Philippine educational system, many educators agree that too much of the students' time is wasted in this approach. With the teacher doing the talking, this strategy can be boring and uninteresting unless the teacher is an excellent lecturer
Likewise, Miraflor's study presented that the traditional approach as used by many teachers assumes that all students have the same capacity and rate of learning so that in the same period of time they are supposed to be able to finish the same volume of lessons. The fact is that some students may be fast, but others may be average or slow learners. The traditional approach does not give an opportunity for the individual student to develop or improve according to his own capacity in understanding and completing a lesson.(http://www.oppapers.com/subject/related-literature-about-cai-in-phillipines-page3.html)
Computer-Assisted Instruction of Kathleen Cotton, revealed that the reasons why students like CAI over traditional learning are the following:
Computers are infinitely patient, never get tired, never get frustrated or angry, and never forgot to correct or praise, and are fun and entertaining.
CAI allows students to work privately and is self-paced.
Students who make mistakes are not embarrassed.
CAI makes it possible to experiment with different options.
Computers give immediate feedback and are more objective than teachers.
Computers are impartial to race or ethnicity and are great motivators.
CAI gives a sense of control over learning and is excellent for drill and practice.
Computers teach in small increments, help students improve their spelling.
Build proficiency in computer use, which will be valuable later in life.
Eliminate the drudgery of doing certain learning activities by hand (e.g. drawing graphs).
Work rapidly- closer to the rate of human thought.
Prior Arts
This includes the prior arts related of the study of CAI System. The information was taken from the internet for it is very difficult to find information about the existing studies concerning Computer-Aided Instruction and information system in books.
Computer-Aided Instruction: An Analysis
Yuehua Zhang revealed in his study that word processing software helps break down some of the barriers to writing that learning disabled students can experience. Many of the difficulties they must overcome when writing by hand, including poor penmanship, inability to stay within the lines of notebook paper, spelling errors, excessive crossing-out or erasing and disorganized writing quickly melt away when using word processing software. In this way application software can help learning disabled students or otherwise, move past the mechanical problems of writing and allow more time to address the macroscopic points of writing including structure, organization, and creativity.
Nada Dabbagh stated in his how students can use the software package Inspiration to create graphic organizers that enhance students' abilities to organize their thoughts, facts and ideas. Inspiration makes concept mapping easy to do without restricting users with the limitations of paper and pen; it is simple to use and was designed with students in mind. The process of concept mapping enables students to get a visual grasp on relationships of all kinds, think more deeply, organize thoughts, and be more effective writers.
Synthesis
The Computer-Aided Instruction will continue to be useful in the teaching learning process of the students. Computer technology is best tools that can boast the morale of an instructor as well enhance the academic performance of each student especially in mathematics.
Also, the benefits of using CAI are diversified. In a classroom the CAI can increase performance level of students; presentation of each topic is more easily accessible. CAI can also be used to facilitate a constructionist educational approach.
Credits to the authors and developers of the study and program.
You may visit our facebook page for more information, inquiries and comments.
Hire our team to do the project.