Web Based Fitness and Exercise System with Android App Support in Ionic Framework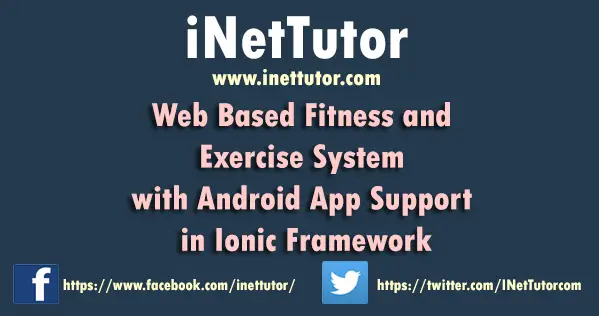 Web Based Fitness and Exercise System with Android App Support in Ionic Framework
Objectives
General Objective
To develop a web-based system and an android application that will simplify the records and file system, automatically evaluate and compute results, and monitor and register members' status
Specific Objective
To create a module that will handle the records and file system of Fitness and Wellness Club
To create a module that will automatically evaluate and compute the clients' results
To design and develop a mobile application for fitness and exercise using Ionic Framework
To create a module that will monitor and register the members' status
Statement of the Problem
How to develop a web-based system and an android application that will simplify the records and file system, automatically evaluate and compute results, and monitor and register members' status?
How to create a module that will handle the records of the clients?
How to create a module that will automatically evaluate and compute the clients' results?
How to create a module that will monitor and register the members' status?
Beneficiary
The Management/Gym Instructor – this is very helpful for the management part for they will no longer maintain the records of their clients in a traditional manner which is a paper and folder method. Records and reports can now be generated much easier and faster.
Clients – the project will offer interactive instruction of workouts and exercises both in web and mobile version of the project.
Features and System Modules
Admin Access
For updating the application, for registering, computing, monitoring evaluating clients
Maintenance and Security
User Access
Will be very beneficial to those clients who do not visit the NC personally
Company Profile
Background
Vision / Mission
Contact Information
Clients' Profile
Basic Information
Record system and automatic explanation of results
Evaluation and survey
Evaluation and Monitoring Form
BMI Calculator (Web and Mobile Version)
Through inner body scanner (results that came from the scanner will be inputted and the rest of the computation will be automatic)
Computerized computation (needs variables like age, gender and height)
Meal Plan suggestion (Web and Mobile Version)
First, computation of magic number
Meal replacements
Summary
For printing reports
Over all summary of results
Workout or Exercise
Products
List of all products and their description
Can order online
Automatic Computation of total price (and discounts if they have)
Android Application
Can be used offline for saving data, updating profile and computation
Cannot process videos without internet connection
Updates can by sync to the web based account when connected to the internet
Limitation
Online Payment – Do not accept online payment
Internet Connection
Web based system through online only
Android application can be offline but videos needs internet
Advantages
Advantages of the proposed Web Based Fitness and Exercise System with Android App Support in Ionic Framework are the following:
Automation means less paper work and will provide accurate reports.
The clients of the fitness club can keep in touch with the gym instructors via the website or the mobile app (Interactive engagement).
The workout and exercise lessons can viewed both offline and online.
Development Tools
PHP, MySQL and Bootstrap for web version
Ionic Framework and Apache Cordova for Mobile version
Comments
comments