List of 45 Best Nursing and Health Related IT Capstone Project
Since the inception of computers, technology has been an important factor in the healthcare industry. In the past, hospitals had to rely on doctors' notes and clinical references to find valuable information about a patient's condition. Fortunately for all parties involved, this is no longer necessary thanks to medical software programs that records and archives patient data. Some of these programs even have a set of alerts that notify doctors if there are any changes in the patient's situation or medications they were prescribed. This article will present a capstone project in information technology in relation to healthcare and how it has helped tremendously over time with regards to medical records and care coordination services as well as other aspects such as the implementation of machine learning, the internet of things, and many more.
Machine learning is a technology that distributes tasks between computers, rather than having them done by humans. This approach has many potential benefits for healthcare, including improved treatment accuracy and delivering better value for patients.
The goal of machine learning in healthcare is to be able to make predictive models based on current data sets. For example, if a disease is rare in the West but more common in other areas, using machine learning could help medical and healthcare professionals spot signs of the disease earlier or even send alerts to nearby doctors.
Our goal is to provide you with the list of 45 best nursing and health-related IT capstone projects. The capstone project ideas we have collected range from web applications, mobile applications, machine learning, and data-driven technologies that might provide an important and impactful role in the field of nursing, healthcare sector, and allied health sciences.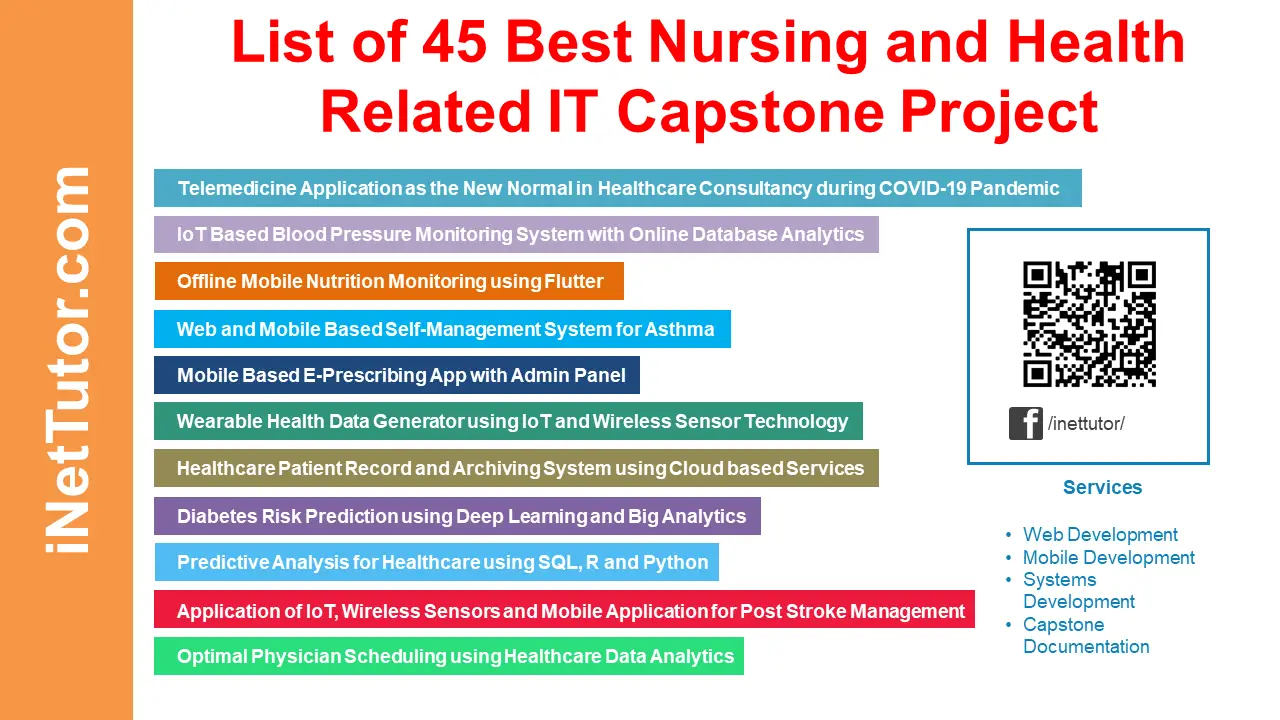 Here are the lists of 45 best nursing and health-related IT capstone projects:
Telemedicine Application as the New Normal in Healthcare Consultancy during COVID-19 Pandemic
The capstone project on telemedicine will discuss the usefulness and its impact during the covid-19 pandemic. In addition, it will also cover its potential in our technologically driven society. The future of telemedicine is very promising and will continue to advance for the betterment of health related services. Development of Digital Health Information and Ecosystem
Awareness and Prevention of Ransomware Attacks in Healthcare Sector
A Study on Cyber Security in the Field of Nursing and Allied Health Sciences
Impact and Role of ICT in Nursing and Healthcare Industry
Importance of Smartphone and Mobile Application in Disease Monitoring
Development of Online Expert Advice System for Physical and Emotional Health Management
IoT Based Blood Pressure Monitoring System with Online Database Analytics
Online Data Platform with Remote Monitoring for Patient with Chronic Dialysis
Offline Mobile Nutrition Monitoring using Flutter
Centralized Ecommerce Platform of Health-related items and products
Web and Mobile Based Self-Management System for Asthma
Online System on Reminders for Attendance of Healthcare Appointments with SMS Notification
If you are someone who is responsible for assisting people with their medical appointments, then you will know how difficult it can be to make sure that they turn up. One of the best ways to do this is using an online system on reminders. This capstone project is an online platform with SMS notification system which can be used by anyone, anywhere in the world – no matter what your level of technical expertise. PHP, MySQL and Bootstrap will be used for the design and development of the said project. Furthermore, iTexMo SMS Api will be used for the notification feature of the project.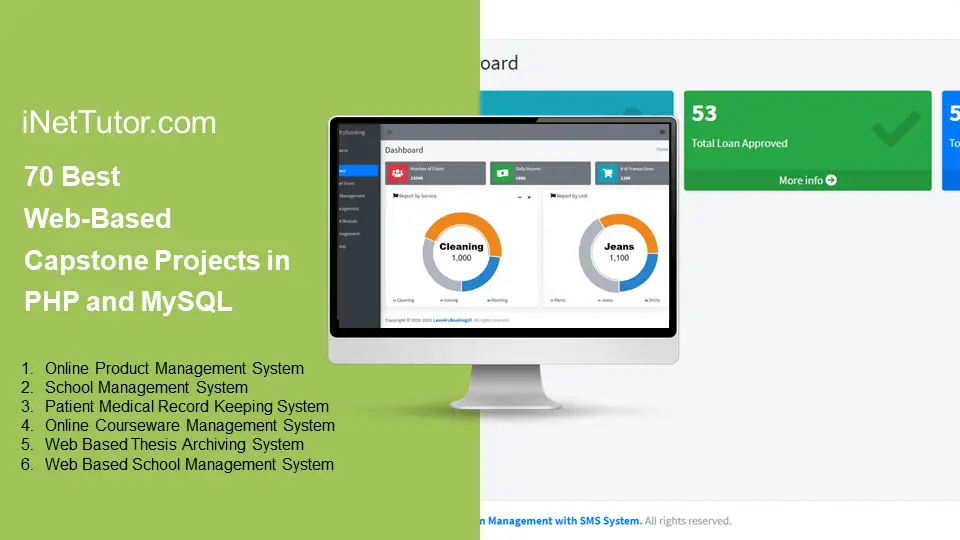 Development of Online and Mobile Application Solutions for Managing Mental Illness
Wearable and IoT Based Systems for Pain Assessment and Management with Data Analytics
Mobile Based E-Prescribing App with Admin Panel
Wearable Health Data Generator using IoT and Wireless Sensor Technology
Development of Health Library and Medicine Database System
The future of medicine is changing rapidly which gives us no more excuses to go without being informed. A new health-library and medicine database system will be able to provide information on both new and old treatments for a variety of medical ailments. This said capstone project will cover the development of the system, how it works, its possible future applications, and the result of expert testing and user acceptance.
The Role and Importance of Machine Learning in COVID-19 Pandemic
Healthcare Patient Record and Archiving System using Cloud based Services
Online Scheduling and Appointment System for Healthcare Related Practices
Spine Fracture Analysis using Medical Image Computing and Machine Learning
Machine Learning Techniques in Real-time Data Analysis used for Intensive Care Unit Department
Diabetes Risk Prediction using Deep Learning and Big Analytics
NurseGuide: Digital Health Application for Patient Monitoring
Technology Enabled Elearning Platform for Medical Students
A Study on Effectiveness of Web and Mobile Based Application to combat COVID-19
Implementation of Machine Learning Technology in Mobile App for Patient Tracking and Monitoring
Machine Learning Technology has been a fast-growing subject in the past few years. In this capstone project, we will discuss how Machine Learning Technology is implemented in Mobile App for Patient Tracking and Monitoring.
Contact Tracing Strategy with Decision Support System using Machine Learning and Artificial Intelligence Concepts
Usage of Healthcare Analytics for Hospital Budget Management
Predictive Analysis for Healthcare using SQL, R and Python
Early Detection of Lung Cancer based on Medical Image Processing Expert System and Data Analytics
Application of IoT, Wireless Sensors and Mobile Application for Post Stroke Management
Machine Learning Prediction Model on Breast Cancer Possibility using Analysis of Family Health Background
Centralized Medical and Health COVID-19 Patient Profiling as the basis for Decision Making
This project is a proposal to design and develop a unified database system for healthcare sector of one country in order to share crucial information which is very vital to craft protocols across the country.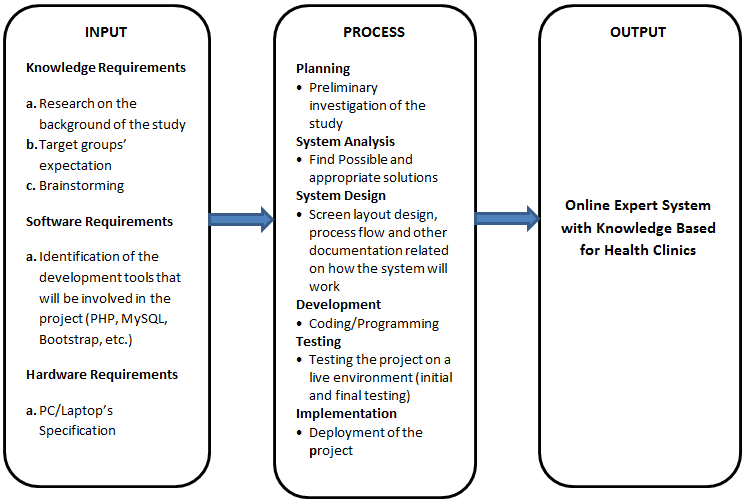 Development of Wearable Smart Device to Monitor Physical Activities
Web and Mobile Based Technologies for Mental Health Resources of Health Providers and Patients
Importance of Virtual Care and Telemedicine in the age of COVID-19 Pandemic
Detection and Classification of Diabetes Type based on Machine Learning Techniques
Optimal Physician Scheduling using Healthcare Data Analytics
Lifestyle Improvement Learning Materials using Web and Mobile Based Technologies
Health Insurance Database System using Cloud Based Services
Implementation of Consumer Health Technology using Data Analytics
Comparative Study on Mobile Based vs Traditional Diet Scheduling
IoT Enabled Devices with Online Data Analytics for Patient with Cardiovascular Disease
In this capstone project, the study will discuss an overview of the market for IoT-enabled devices with online data analytics for patients with cardiovascular disease. There are a lot of technologies that fall into this category and the proposed research introduces them briefly in an effort to demystify their use in healthcare. The research project will further explain how real-world data from IoT-enabled devices is analyzed using machine learning to help provide better care for these patients.
Summary
The healthcare industry is booming, but it's also changing. That's why the field of nursing occupies one of the most promising career paths today. Nursing IT professionals who are up to date on the latest tools, technologies, and trends are in high demand because they are needed to develop useful solutions to some of the most pressing healthcare needs.
Advancements in technologies have helped medical professionals when it comes to coordinating the services that patients need. For instance, medical software enables healthcare professionals to share important patient information when there is a need, regardless of where they are in the country. These technologies are very crucial and important since most of us are in lockdown due to the COVID-19 pandemic. The use of remote and virtual consultancy between medical professionals and patients greatly reduces the transport time required for essential documents to be transmitted between health care facilities. It also helps eliminate the chances of errors in data entry due to key codes or information not being transcribed correctly. This is because clinical software contains data descriptions and icons that help identify patients easily by health care providers wherever they are.
You may visit our Facebook page for more information, inquiries, and comments.
Hire our team to do the project.