Academic Website Review of Related Literature
REVIEW OF RELATED LITERATURE
This chapter presents significant studies on different perspectives of concepts and theories working behind the development of Academic Website. This serves as source of ideas and basis in the conceptualization of the study.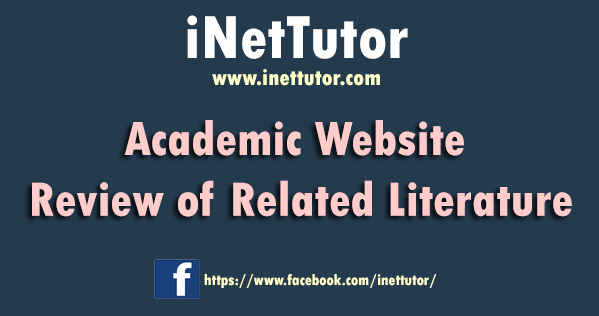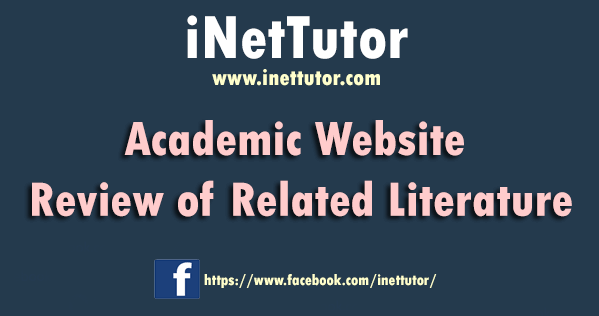 RELATED LITERATURE AND STUDIES
According to Christopher Heng (2011), he discussed the essential step-by-step guide to make your own website. First, get your domain name. Second, choose a web host and sign up for an account. Third, designing your web pages. Fourth, testing your website. Fifth, collecting credit card information, making money. And lastly, getting your site noticed.
Andy (2012) discussed about 10 ideas for an effective school website home page. He said that, "Your home page is the most important page of your school website. If people only ever see one page of your website, it is likely to be your home page. It should be immediately obvious from the home page what is unique and special about your school. And your home page needs to serve a diverse variety of audiences from current parents, prospective parents, staff, prospective staff, pupils, and to anyone with an interest." First, Add school name and logo. Then second, Position your school with a description or strap line. Then third, Use photography. Then fourth, Welcome. Fifth, news and events. Sixth, Channel your target audience. Seventh, Make navigation easy. Eight, video. Ninth, Social media. And lastly, other ideas.
Alta Justus (2014) posted about 8 keys components of having a successful school website. She said that, "There are a lot of website developers and creative agencies out there that will advise you on how to create a successful website. But at School Website we have the added advantage of having more than 10 years' experience in the education sector working with schools of all sizes and types. We know what attracts parents and more importantly what keeps them on your website and moves them from passive visitor to active parent. And it's with this knowledge that we've developed a benchmarking matrix identifying the key components of a successful school website and the effect they have in driving – and converting –website traffic."
In line with that, the first key of the 8 components of having a successful website she posted is the Audience Segment. She discussed that segmenting your audience not only allows you to clearly identify your current and prospective target audiences, such as existing staff, parents and alumni, and prospective parents / pupils, but it gives you the opportunity to develop your website with their needs in mind. Second key is the Customer Journey, In order to keep visitors engaged, your school website it should be optimized – and personalized – with each of your audience segments in mind. The third key is the Features, with the rapid advancement in web development it can be confusing which features to include on your school website. However the right features can not only create a positive user experience for parents and pupils but will result in less work for the school. A few essential website features include: responsiveness, payments, and forms. The fourth key is Integrations, Integration of various elements such as your Management Information System (MIS), calendar, school portal, registration and social media not only provide a one-stop-shop for parents and pupils but also reduces the administrative maintenance of your school website. The fifth key is Browser Compatibility, Each web browser interprets your website code in a slightly different manner meaning it can be displayed differently using different browsers. The sixth key is User Interface, Great user interface (UI) is all about helping parents and pupils to find what they're looking for as simply and quickly as possible. While the look and feel of your website is undeniably important, at the core of a great UI design is functionality. When designing a school website few of UI principals must be followed:  clicks to access all content, Call to action on homepage, 8 items per menu, Printer friendly pages, and High visibility version. The seventh key is Digital Channel Usage, The use of social media channels to connect with current and prospective parents, pupils and colleagues has been embraced by many top schools in the UK. Using social media such as Twitter, LinkedIn, Facebook, Google+ or Pinterest not only builds relationships and community, but can also further your schools reputation and brand. The last but not the least key component is the Search Engine Optimization (SEO), SEO is a crucial part of any digital marketing strategy and often the most under-used. With the sophistication of today's search engines it's essential to keep your site in tune with what search engines value in a website. Some SEO best practices to include: SEO friendly URL's, XLM sitemap, Unique Meta data.
Studymodes1987 (2013) posted in studymode.com about IHMC School Website. It is stated in there that, "So much information is now easily available in the internet and also, availability of internet access is growing exponentially. This resource, people rely too much on websites to retrieve information. And that probably is the reason why businesses are hiring web developers and designers so they can make people informed about their business. Through the use of having a company website, they market their business to a larger network of people, that is, people who have access to the internet which is very common at this age. IHMC is known for its preparatory to high school education but people who are familiar about the school are surprised when they are informed that college is also available in the school. There are several factors why college in IHMC is not yet known to many people but we'll focus upon lack of information."
Jermlaurie (2013) also posted in studymode.com about Fort San Pedro National High School Website. It is stated in there that, "In this era, where advance has become the part of each and every field of life and time has become one of the important elements of the success that people aim to achieve, the world needs something that works faster than ever. Here, the role of Information System can't be ignored. Information System can do things faster, do things better and do things smarter. These traits are possible because of two words; Information System is any combination of Information Technology and people's activities that support operations, management and decision making. In a very broad sense, the term Information Technology is frequently used to refer to the interaction between people, processes, data, and technology. In this case, the term is used to refer not only to the information and communication technology that an organization uses, but also to the way on which people interact with this technology in support of business processes."
One of the major problems of the society today is that, whether, it's a business or a school, modern organization had become more and more dependent on information system to deal 6with the complexity and changeability of the market. Up to date, complete and accurate information has become a necessity to survive in an increasingly competitive world.
What business did in order to cope up with rapid development of Information Technology is that made them Information System the center of their business. The largest growth in most economies is coming from Information industries. The success of such knowledge based organization lies in their Information System.
Synthesis
The above literature really gave the researchers additional information on what to include on our project entitled Academic Website. Our initial idea on the development of the system is somewhat similar to the existing studies. Lastly, in this age of digital information, the school really needs to establish their identity online.
You may visit our facebook page for more information, inquiries and comments.
Hire our team to do the project.