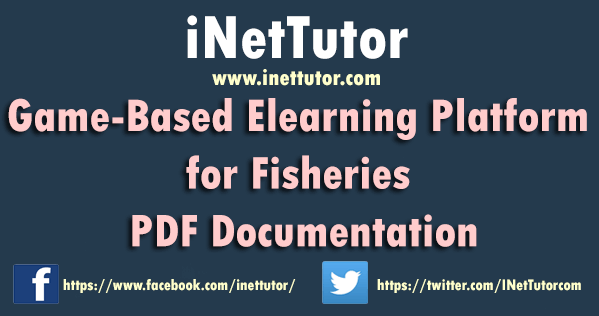 Version
Download

83

File Size

204.36 KB

File Count

1

Create Date

April 8, 2019

Last Updated

April 8, 2019
Game-Based Elearning Platform for Fisheries PDF Documentation
Game-Based Elearning Platform for Fisheries PDF Documentation
Game-Based Elearning Platform for Fisheries is an educational computer game was develop by the researchers and will make it accessible through the schools computer. The developed educational computer game shall be installed on computer laboratory. Researcher recommended that to improve students' academic performance, motivate learning and strengthen the interest in gaining knowledge of every students, this educational computer game should be implement and should be integrate into the students.
Visual Basic and MySQL were used as the Programming and Database of the said system. C# and Web Version (PHP, MySQL and Bootstrap) are also available.
The document includes the following topics:
Project Context
Purpose and Description of the Project
Objectives of the Study
Scope and Limitation of the Study
Technical Background
Software Development Life Cycle (Requirement Analysis, System and Software Design, Testing, Implementation, Operation and Maintenance)
System Functionality
Visit the online version of Game-Based Elearning Platform for Fisheries
You may visit our facebook page for more information, inquiries and comments.
Hire our team to do the project.