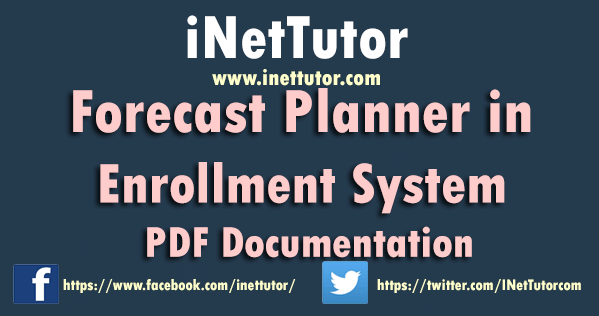 Version
Download

69

File Size

196.99 KB

File Count

1

Create Date

April 8, 2019

Last Updated

April 8, 2019
Forecast Planner in Enrollment System PDF Documentation
Forecast Planner in Enrollment System PDF Documentation
The Enrollment Forecast Planner for the student record with decision support system is a big help for the academic head, the faculty and the administrative staff. It is a great help for the school decision making for their students, the ease to keeping and accessing the student's records and it can guarantee a data integrity through its security features.
The features in the Enrollment Forecast Planner with Decision Support System which will help the school decide for their students in determining the population of a student or the number of the student failed, drop outs, repeater or outshine in a particular grading period through a summarized graphical presentation. Thus it could support decision-making.
Visual Basic and MySQL were used as the Programming and Database of the said system. C# and Web Version (PHP, MySQL and Bootstrap) are also available.
The document includes the following topics:
Background of the Study
Features of the project
Objectives of the Study (General and Specific Objectives)
Scope and Limitation of the Study
Significance of the Study
Visit the online version of Forecast Planner in Enrollment System
You may visit our facebook page for more information, inquiries and comments.
Hire our team to do the project.