Tourism Information Kiosk with Mobile App Support
Introduction
An Information System is a computer-based tool that provides a user with the information needed to do any task effectively and efficiently. Computer databases and paper records provide data, but information systems provide the appropriate data about each user's tasks in a format best suited to that user. Information systems can present real-time or archived data as needed and are adaptable to new or modified information requirements.
Tourism Information Kiosk is a solution to use as information points in public areas or business premises. It can effectively help visitors to the area to get a better idea of their location and direct them to various points of interest in the surrounding area. It can accommodate the travel needs of both local and international tourists to ensure quick, round-the-clock information about local business services, accommodations and places of interest.
It will also help to stand out and work as a marketing tool as well as a source for information. This kiosk provides a bright, clear, concise and up-to-date information and quick response application.
The kiosk will be installed on bus terminals, airports and seaports so that upon arrival of the guests, they can look for possible interesting destinations.
The said project has also a mobile based support in which the users or visitors can download the app and install it on their smart phone.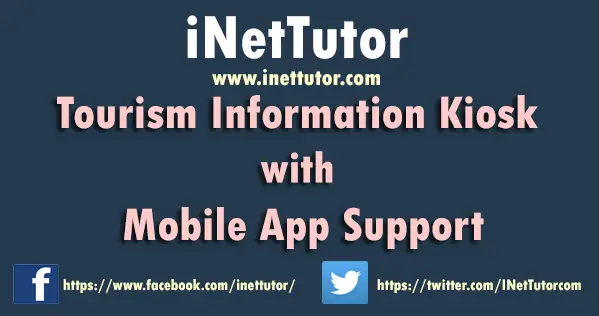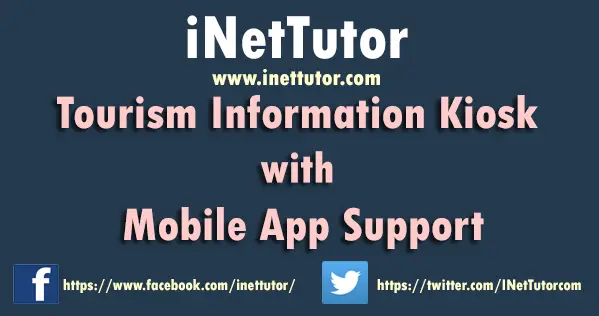 Project Context
When you arrive at your destination, you want to know information about the local attraction, historical sites and activities or events that are happening over the whole month at your destination, clubs and other venues. Usually this information is available in hotel foyers and holiday park receptions and at camping and caravan parks in the form of racks of leaflets and notice boards. However there is a more efficient way of presenting this information, which offers up to date information – The Tourism Information Kiosks.
Tourism Information Kiosk with Mobile App Support will greatly help to guide tourist and other people to have precise information about the City like the directions of different areas and locations of the factual sites. The Tourism Department will potentially benefited this system to control every activities happened in order to generate a sustainable competitive advantage. It will drive a new paradigm into the traditional environment of tourists and they are supposed to react with structural flexibility to the new tourist space that is more and more becoming a network of interactions.
Tourism Information Kiosk with Mobile App Support will provides descriptive information in order to have ideas about the City. It will engage new people to visit and discover famous landmarks even man-made products within the territory.
Objectives
The general objective of Tourism Information Kiosk with Mobile App Support is to have an efficient way to the public of presenting useful information, which offers up to date information as well as multimedia functionality. The research proposal had the following specific objectives:
To provide access to the City information, local area information, historical sites, information on events, facilities, community and more
To guide the tourist of the different attractions and convenient place in the city.
To improve their way in encouraging tourists and the growth rate services sector of City Tourism
Implementation and Maintenance
This phase is the final stage of the Tourism Information Kiosk with Mobile App Support System's System Development Life Cycle process. The system implementation means bringing all together the desired features and functionalities of the system to the end users. Among the four (4) types of maintenance, the researchers use the preventive maintenance in which the maintenance of the system is performed daily, the administrator will always update the system on a daily basis to prevent from system failure in case of multiple error occurrence. The administrator will also update the system by gathering and posting announcements which includes current and upcoming events, recent pictures and other news that draws cooperation among the visitors.
You may visit our facebook page for more information, inquiries and comments.
Hire our team to do the project.