Student Account Management System Review of Related Literature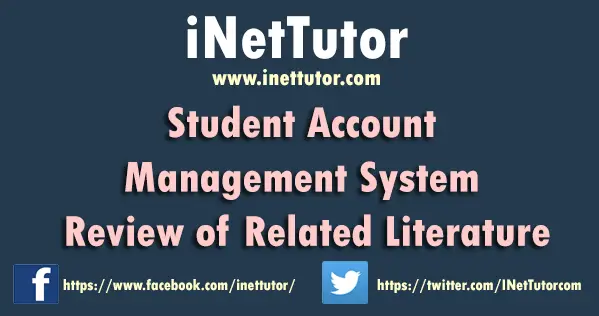 Project Title: Student Account Management System Review of Related Literature
Related Literature and Studies
This portion will present the related literature and related studies of the research work.
Related Literature
On Computers in Business. According to Breedon (2009) innovations in computer technology have revitalized and revolutionized business both in local markets and worldwide. The advantages computers provide to small businesses and major corporations alike are endless, and they have made it possible for small companies to expand into larger markets. Some of the advantages of computer use are the following: Multitask Capability, Cost Effective, Increased Access, and organization.
On Advantages of Computerized Accounting System.
According to  BCA.com (2006) the advantages of accounting system are as follows:  The advantages and disadvantages are as follows: faster and efficient in processing of information; automatic generation of accounting documents like invoices, cheques and statement of account; automatic generation of accounting documents like invoices, cheques and statement of account; with the larger reductions in the cost of hardware and software and availability of user-friendly; more timely information can be produced; No more manual processing of the data- all automatically been posted to the various ledgers/accounts and Many types of useful reports can be generated for management to make decisions.
Related Studies
On E-Bills.
According to USFSCO.uillinois.edu (2010) the University of Illinois creates official billing statements for all students. However, currently registered students (and Authorized Payers) must retrieve their billing statements online. An E-Bill is an official billing statement in PDF format that is available online for students and Authorized Payers to view, save, and print. The E-Bill includes all student account transactions such as: payments received, and charges and credits for tuition, fees, and housing.
On Features and Benefits of Automated Student Billing and Payment Processing.
According to UMASS.edu (2007) the Amherst Campus introduced QuikPAY®, an electronic system for all students to view their bills, print their bills and make payments online, that is convenient, easy to use, and secure.  Through the new QuikPAY® system, an email will be sent to each student's official UMass Amherst email address and any authorized payers email address every time a new Student Billing Statement is generated.  As a convenience during the transition to QuikPAY®, the student will receive both a paper and an electronic bill. Features and Benefits include: Easy access to QuikPAY® through SPIRE; the flexibility to view and print your bill electronically 24 hours a day, 7 days a week from any location via the internet; the ability to electronically pay your bill 24 hours a day, 7 days a week from any location via the internet with a bank account in the United States; make convenient electronic payments from a checking or savings account (banks in the United States only) – without using paper checks or money orders; payments made online are immediately applied to your account – no need to mail in payment; the option to authorize third parties to view and pay the bill, such as a parent, guardian or sponsor; and view your current bill plus invoice history online.
Synthesis
In relation to Automated Student Billing and Payment Processing, and E-Bills which give advance, accurate and fast processing of transactions, the proposed system – Student Account Management System is a system that allows students to view and print their own accounts which will help them determine their payments and balances.  The difference between the existing and proposed studies mentioned above is that it is not online, therefore there is no need to be published and it is not expensive.
The related studies and literature provide the researchers' concepts and ideas from various authors and professionals that are useful in formulating the general and specific objectives of the present study. These concepts and ideas are adopted to support the study and to establish references whenever the researchers need too. The related studies provide details and evidences that will guide the researchers on how to design the proposed system.
You may visit our facebook page for more information, inquiries and comments.
Hire our team to do the project.
Comments
comments