Memory game for Enhancing Learning Capstone Project
Introduction of the Study
The capstone project, "Memory Game for Enhancing Learning" is a mobile-based application intended to help users enhance their learning. The application will nurture the user's nurture their imagination, improve their ability to listen, as well as develop important cognitive skills that will aid their future development.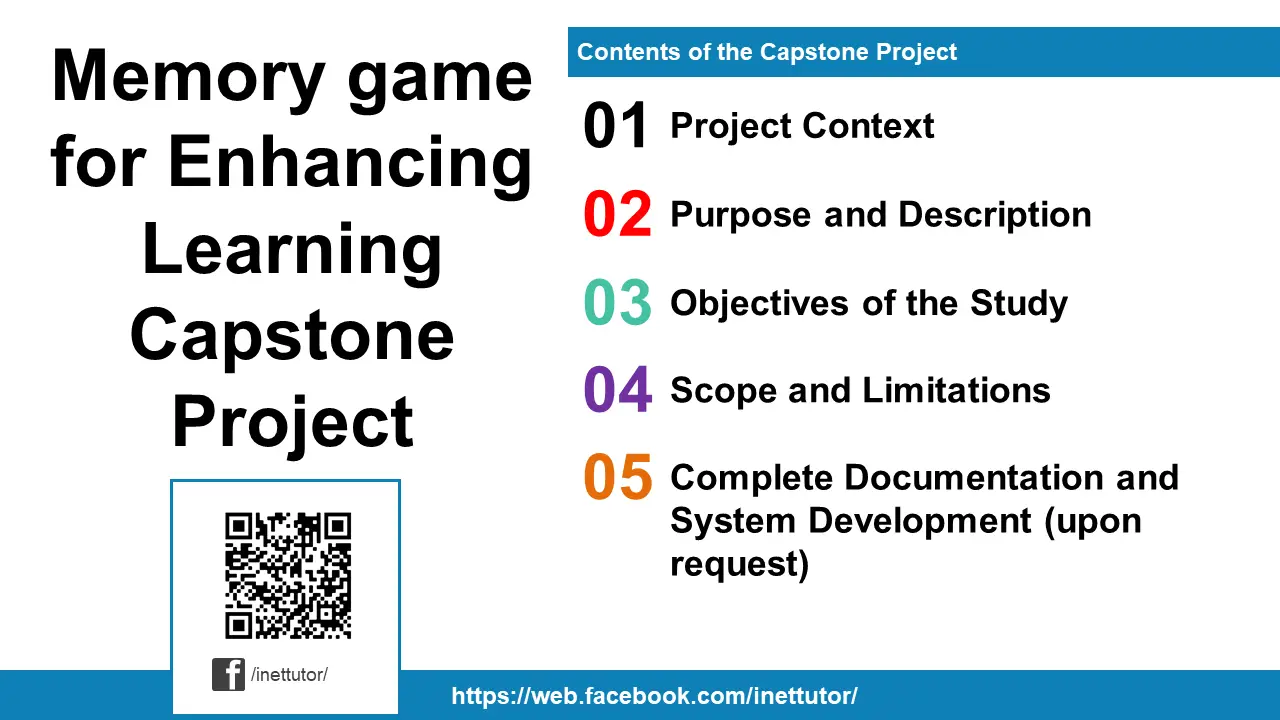 The young generation nowadays are already fond of using mobile phones, they play games to kill their time. Usually, they play mobile games that only bring them enjoyment and entertainment and some are already addicted to it. Some even sacrifices their time to study just to play games in their phones. What the children, teenagers, and young adults need nowadays in a game where in the users can use for enjoyment as well as they can learn for their future development.
Proposed Solution
The researchers of the study have seen this opportunity to develop an application to provide children and the youth an enjoyment as well as enhance their learning. The researchers aim to develop a memory game that can improve their brain functions, and nurture their imaginations. Memory games develop important cognitive skills that will aid future development. The application is accessible and available for them to download and use.
Objectives of the Study
General Objective – the main goal of the project is to design and develop memory game that will enhance the users learning.
The following are the specific objectives of the study:
To develop a memory game that will enhance the learning of the users.
The application will be efficient to use as an alternative for education.
The application will be available and accessible for all possible users.
The game will have a user-friendly interface for ease of use.
To identify the benefits of a memory game application for the learners/students
To produce documentation that records the phases, task and deliverables of the study.
Significance of the Study
The following individuals or group will benefit from the success of the study:
End-Users. The end-users of the project are those who are looking for enjoyment and at the same time enhancement for their learning. The memory game will train their minds and prepare them for future developments.
Researchers. The success of the project will help them develop more memory games that will enhance all aspects of learning in the user side.
Future Researchers. The study can help them design and develop their own version of a memory game.
Development tools of the project
The researchers may develop the memory game using the following development or programming environment.
HTML5 game development
Visual Basic
C#
Java
UNITY3D
You may visit our facebook page for more information, inquiries and comments.
Hire our team to do the project.