Solar Powered Smart Aquaponics System
Introduction/Rationale
With the fast pace of today's rapidly evolving tech world, "smart-technology" implies both the device and network connectivity. The term "smart" originally comes from the acronym "Self-Monitoring, Analysis and Reporting Technology". Smart Technologies allow sensors, databases, and wireless access to collaboratively sense, adapt, and provide information for users within the environment.[1]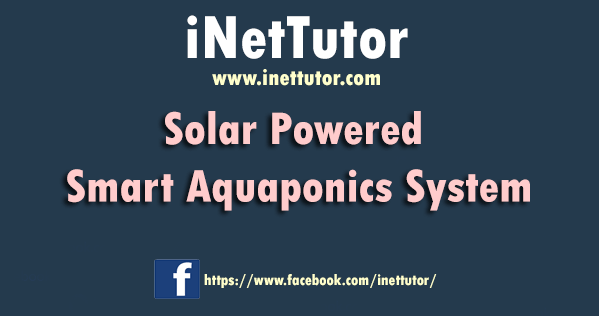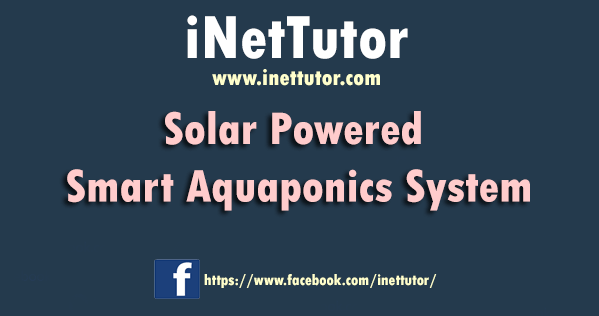 Aquaponics is a soil-less farming method that integrates growing of plants in hydroponic beds and fish in aquaculture tanks. In this system, ammonia rich fish wastes from the aquaculture tanks are pumped to the hydroponic beds. These fish wastes are converted by living bacteria in the beds into organic fertilizers needed for growing plants. In return, the plant roots filters and treats the water for habitation of the fishes, which is then recycled back into the aquaculture tanks. Aquaponics system allows plants and fish to co-exist in a symbiotic environment that promotes sustainability in agriculture and fisheries.[2]
Solar energy is a renewable free source of energy that is sustainable and totally inexhaustible, unlike fossil fuels that are finite. It is also a non-polluting source of energy and it does not emit any greenhouse gases when producing electricity.[3]
Solar power is ideally can be used in Philippines due to location factor and also give the benefit to the environment as renewable energy. This type of renewable technology will power our proposed aquaponics system.
Aquaculture contributes significantly to the country's food security, employment and foreign exchange earnings. Aquaculture is growing much faster than capture fisheries. However, the global position of the Philippines in aquaculture production has fallen steadily from 4th place in 1985 to 12th place today. The Philippines now contributes only a little over one percent of global farmed fish production compared to five percent previously.[4]
Agriculture and Fisheries Department are the two flagship programs for Research and Development and with the aforementioned technologies and based on the current state of our aquaculture here in the Philippines, the researchers will propose to design a cost-effective, renewable and smart aquaponics system.
Objectives
The main objective of the study is to design, develop and implement a Solar-powered Smart Aquaponics System.
Specifically, it aims to:
System based objectives
To design a sustainable and cost effective aquaponics system.
To integrate optimized electronic components into an existing design.

To monitor water temperature (cooling and heating systems)
To monitor pH level
To monitor water level
To monitor soil moisture
Research based Objective
Specifically, the study aimed to evaluate the Solar-powered Smart Aquaponics System in terms of functionality, reliability, usability, and efficiency based on McCall's Software Quality Model. Moreover, this project aimed to determine the level of satisfaction on the end-users based on ISO/IEC 25010 Quality in use Model.
Methodology
System and Methodology
In every research conducted, researchers follow a particular methodology that would help in the development of the study. The researchers decided to use the Rapid Application Development (RAD) Methodology which according to Kenneth E. Kendall (2014), RAD is an object-oriented approach to systems development that includes a method of development as well as software tools. The researchers will use RAD so that changes can be made in the previous phases while doing on the current stage and that any additional requirements could be done in the next step. The researchers found RAD advantageous for their study for it could save time, cost, and effort.
References:
What is Smart Technology? [Online]: Available: https://www.petra.com/blog/2018/11/20/what-is-smart-technology/ [Accessed: March 11, 2019]
Diver and L. Rinehart, "Aquaphonics – Integration of Hydrophonics with Aquaculture," NCAT, 2010.
RENEWABLE ENERGY AND ALTERNATE ENERGY SOURCES [Online]: Available: https://www.energymatters.com.au/components/renewable-energy/ [Accessed: March 18, 2019]
National Aquaculture Sector Overview of the Philippines [Online]:
Available: http://www.fao.org/fishery/countrysector/naso_philippines/en [Accessed: March 15, 2019]
https://en.wikipedia.org/wiki/Rapid_application_development
http://www.sqa.net/softwarequalityattributes.html
https://www.researchgate.net/figure/Model-for-quality-in-use-in-ISO-IEC-25010
Budgetary Requirement
Items
Quantity
Price
Total
Arduino Mega 2560 R3-Main Board
3
2600
7800
Arduino Uno Rev3-Main Board
3
1600
4800
Bluetooth Module for Arduino
4
1000
4000
Liquid PH Value Detection Sensor
Module Monitoring Control For Arduino BNC Electrode Probe
3
1000
3000
SIM900 850/900/1800/1900 MHz GPRS/GSM
Development Board Module Kit For Arduino
2
1200
2400
12V 100W Monocrystalline Flexible Solar Panel Portable
2
7000
14000
Solar Charger Controller 40A
2
1200
2400
200W 12/24V Permanent Magnet Electric Motor Generator For Wind Turbine Windmill
2
9000
18000
Soil Moisture Sensor Detection Module Hygrometer for Arduino
3
300
900
Float Switch Plastic Water Level Control
10
250
2500
Solenoid Water Valve Plastic
3
350
1050
Rain Water Level Sensor Module Detection Liquid Surface
5
110
550
100pcs Net Pots 3″ inch for Hydroponics or Aquaponics (Pack of 100)
1
2500
2500
Koi
20
80
1600
Red Tilapia (Freshwater)
20
50
1000
Automatic Water Pump Pressure Switch Electric Controller with Gauge Home Accessory
2
2000
4000
OutFlety 13 In 1 Fish Tank Filter Bio Balls Filter, High Performance Nitrifying Bacteria Ceramic Biofilter Media Bags for Aquarium
5
600
3000
3 Way Air Flow Control Distributor Aquarium Lever Pump Valve
2
200
400
2 meters long and wide 100cm about 24g / square glass fiber grid cloth
100
500
50000
Threaded Brass Fog Mist Nozzle Misting Fogging Spray Sprinkler Head 3/16"
20
50
1000
Chopped Strand Fiberglass Mat for Premix Polymer Resin 1kg
10
250
2500
Semiflex Resin Gallon w/Hardener pint
10
1300
13000
Ultra-quiet DC 12V 3M 240L/H Brushless Submersible Water Pump
4
400
1600
Circuit Breaker C65H-DC 2P 250V DC Solar Energy Air Switch Amps (16A)
2
500
1000
Total:
143,000
You may visit our facebook page for more information, inquiries and comments.
Hire our team to do the project.