Mother Tongue Mobile Application Review of Related Literature
REVIEW OF RELATED LITERATURE
This serves as source of ideas and basis in the conceptualization of the study. It also includes some operational technical terms related to the study.
RELATED LITERATURE AND STUDIES
Prior to the conceptualization, design, and development of the proposed mobile application "Fellowship Baptist College English – Hiligaynon Electronic Dictionary", the researchers had to take into consideration the following topics which could be useful in this undertaking:
Electronic Dictionary – this topic has to be taken into consideration since the proposed mobile application is an electronic dictionary
Technologies Integrated in an Electronic Dictionary – this topic will serve as the basis for the technologies that are to be incorporated in this proposed mobile application
Hiligaynon Language – the proposed mobile application is centered on the translation of the Hiligaynon word in to its corresponding English word
Mother Tongue – it is a subject in the K-12 curriculum of the basic education in relation to the use of the Hiligaynon language
Mobile Technology in Education – this topic has to be reviewed by the researchers since the proposed application is a mobile application
Android – an important topic that has to be reviewed by the researchers since the proposed mobile application targeted platform will be the Android platform and the proposed application is to be tested utilizing a device with an Android operating system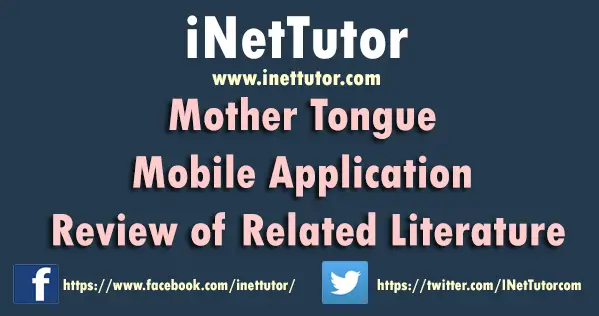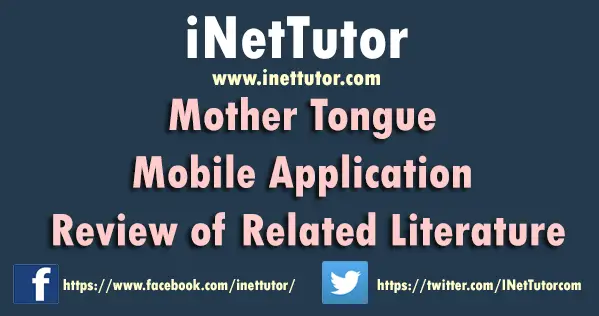 Electronic Dictionary
An electronic dictionary is a dictionary whose data exists in digital form and can be accessed through a number of different media. Electronic dictionaries can be found in several forms, as dedicated handheld devices, as apps on smartphones and tablet computers or computer software, as a function built into an E-reader, as CD-ROMs and DVD-ROMs, typically packaged with a printed dictionary, to be installed on the user's own computer, and as free or paid-for online products.
Most of the early electronic dictionaries were, in effect, print dictionaries made available in digital form. The content was identical, but the electronic editions provided users with more powerful search functions. Two obvious advantages are that limitations of space and the need to optimize its use become less pressing, so additional content can be provided, and the possibility arises of including multimedia content, such as audio pronunciations and video clips. (http://en.wikipedia.org/wiki/Electronic_dictionary)
With the above mentioned definition on the nature of an electronic dictionary, it is also fitting that the researchers had to look into the technologies integrated in an electronic dictionary as basis in the development of the proposed mobile application.
Common Technologies Integrated in an Electronic Dictionary
Several developers of the systems that drive electronic dictionary software offer API and SDK – Software Development Kit tools for adding various language-based (dictionary, translation, definitions, synonyms, and spell checking and grammar correction) functions to programs, and web services such as the AJAX API used by Google. These applications manipulate language in various ways, providing dictionary/translation features, and sophisticated solutions for semantic search. They are often available as a C++ API, an XML-RPC server, a .NET API, or as a Python API for many operating systems (Mac, Windows, Linux, etc.) and development environments, and can also be used for indexing other kinds of data.
There are differences in quality of hardware (handheld devices), software (presentation and performance), and dictionary content. Some handhelds are more robustly constructed than others and the keyboards or touch screen input systems should be physically compared before purchase. The information on the GUI of computer based dictionary software ranges from complex and cluttered, to clear and easy-to-use with user definable preferences including font size and color.
The technologies in which were the basis for the development of the proposed Fellowship Baptist College English – Hiligaynon Electronic Dictionary has been analyzed by the researchers, then another important factor needed in the realization of this project is the Hiligaynon language. It is where the main focus of this proposed electronic dictionary.
The Hiligaynon Language
In an article excerpt from http://www.omniglot.com/writing/hiligaynon.htm, Hiligaynon is a member of the Visayan branch of the Austronesian language family with about 11 million speakers in Western Visayas in the Philippines, 7 million of whom speak is as a native language. Most of the speakers live in the provinces of Iloilo and Negros Occidental. There are also speakers in the other provinces of the Panay Island group, such as Capiz, Antique, Aklan and Guimaras.
Irene Thompson in May 29, 2014 wrote in her article, "Hiligaynon", that Hiligaynon's closest relatives are Capiznon, Masbatenyo, and Porohanon. Hiligaynon is the fourth largest of the 175 languages spoken in the Philippines and there are 3 varieties of the Hiligaynon Language, Hiligaynon, Kawayan spoken in the island of Biliran, and Kari.
The local literatures clearly implied that Hiligaynon is the native language in Negros Occidental. Thus, it is considered as the mother tongue of the Negrenses living in Negros Occidental. In line with this fact, it is fitting that the researchers has to consider the mother tongue, since this mobile application will serve as a tool for the Grades 1, 2, and 3 in studying the native language, as part of the K-12 basic education curriculum.
Mother Tongue
Mother tongue or mother language refers to a child's first language, the language learned in the home from older family members. In some places, the term has taken on more of a culturally symbolic definition, so that an individual might say, 'I don't actually speak my mother tongue'. A related term, home language, refers to the language or languages spoken in the student's home.
In a dissertation paper, Mother Tongue-Based Multilingual Education in the Philippines: Studying Top-Down Policy Implementation from the Bottom Up (Burton, L.A, 2013) there is a growing trend around the world to support mother tongue instruction in the early years of a child's education. In Southeast Asia, this is apparent in a rising number of educational programs that utilize this approach. However, the Philippines is the only country in Southeast Asia to have instituted a national policy requiring mother tongue-based multilingual education (MTB-MLE) in the primary school years. While studies have long supported the use of mother tongue as the language of instruction, they have primarily been conducted in community rather than national settings. As such, little is known about how a national policy for MTB-MLE can be disseminated into contextualized local environments.
The dissertation paper examined how teachers and parents in one school district in the Philippines understand and enact MTB-MLE. Teachers and parents knowledge, beliefs, and practices were studied to identify how national language policy is appropriated at the ground level. In addition, the challenges to policy implementation were explored and analyzed. Utilizing a case study methodology, this research included focus groups, surveys, classroom observations, and individual interviews. Data were collected during a three week time period in June and July 2012, which was one month after the beginning of MTB-MLE implementation in the schools.
Results of the study from the dissertation paper of Lisa Ann Burton indicated that teachers' and parents' views of MTB-MLE focused on the short-term benefits of the policy and the long-term disadvantages. While both groups were overwhelmingly satisfied with the increase in student understanding, they expressed concern about the future implications for learning in Bikol rather than in English. They overtly supported the policy in terms of complying with the requirements, yet covert resistance was observed in their words and actions. The implications of these findings revolve around the way in which language policy is managed. Rather than a top-down approach that does not consider the local context, language policy must be implemented through interactions between the top and the bottom. (Burton, L.A., Mother Tongue-Based Multilingual Education in the Philippines: Studying Top-Down Policy Implementation from the Bottom Up, University of Minnesota, May 2013)
Mobile Technology in Education
An article in the February 25, 2003 edition of the Guardian begins as follows: "Imagine all those times in the day when we see groups of young people hunched over mobile phones, thumbs straining repetitively. Now imagine they are not texting friends or passing the time with a game, but are actively engaged in learning. If you are finding this hard to imagine, the researchers running the "m-learning" project are not." This clearly demonstrates that mobile technology is widely used in today's generation of learners.
Still on the use of mobile technology, the integration of technology in education was discussed in a study commissioned by UNESCO Asia and the Pacific. An axcerpt of the study states that (Farrell,G. and Wachholz,C. 2003) The rate of change in the nature of ICT infrastructure, combined with the stunning rate of global adoption, makes the development of policy frameworks very challenging. Historically and theoretically, the purpose of policy in educational environments has been to guide the adoption process; however, what we observe now is that innovation typically begins in the absence of any guiding policy, and policymakers find themselves in the position of scrambling to regain the leadership role. And they find that the policy development processes of the past, those based on careful, time consuming analysis, are a luxury that can no longer be afforded because the pace of change is so rapid. Policy makers need access to planning tools that enable them to assess needs, evaluate ICT infrastructure options, and make decisions within short timeframes. And they need to be able to continually evaluate the effects of policy and make adjustments as needed. Efforts to develop tools and training to assist policy makers to meet this challenge need to be "ramped up".
It is arguable that the adoption of ICTs in education has, in general terms, reached the stage of early adoption. Decision makers and teachers want to know how this innovation will increase access to educational opportunities, what the costs will be, and what the impact will be on the quality of content and the learning experience. They need to be convinced by evidence before making wholesale changes to the way schools function and the way in which available resources are allocated. (Glen Farrell, Ph.D. and Cédric Wachholz, Meta-survey on the Use of Technologies in Education in Asia and the Pacific, © UNESCO 2003)
According to research carried out by (Warschauer, 2011) to investigate the use of tablets in K-12 schools in the US, the following observations were made: In one private school in California, students had daily access to laptops and frequent access to tablets, thus allowing the researchers to compare the use of the two. In a science class that was observed, students unanimously stated that they prefer using the tablets to the laptops due to the tablets light weight, mobility, touch screen, and apps. Students used the tablets to read free open source Earth sciences textbook, investigate the elements and the composition of the Earth and galaxy via interactive apps, access the school's e-learning platform, log and analyze lab data, and produce lab reports. The researcher's observations suggested that the iPads were particularly helpful for laboratory work as the students carry the devices around to input data on the move. (Warschauer, M, Tablet Computers in Education, 2011)
Valk et. al. (2010) examined the extent to which the use of mobile phones helped to improve educational outcomes in two specific ways: 1) in improving access to education, and 2) in promoting new learning. They reviewed the evidence of the role of mobile phone-facilitated m-Learning in contributing to improved educational outcomes in the developing countries of Asia by exploring the results of six m-Learning pilot projects that took place in the Philippines, Mongolia, Thailand, India, and Bangladesh. They concluded that the analysis of these projects indicates that while there is important evidence in the developing world that mobile phones impact educational outcomes by facilitating increased access, much less evidence exists as to how mobiles impact educational outcomes by promoting new learning. (Valk, J-H., Rashid, A. T., and Elder, L, Using Mobile Phones to Improve Educational Outcomes – An Analysis of Evidence from Asia, Pan Asia Networking, IDRC, Canada, 2010)
On the potential problems with using mobile devices in education, (Nyaggah, 2011) argues that three factors need to be in place for a platform of this nature using mobile devices in education to scale in new emerging markets across the developing world:
1). The Infrastructure – all mobile devices need to be powered up. There's little access to grid power and green energy is expensive in many parts of the developing world. That said, a family has to decide whether to use the little money they have for a solar pack to power a (probably donated) mobile devices or buy food. Distributing mobile devices at a huge cost to taxpayers in developed and developing countries is the easy part. Once the device is powered up there's a need to download content onto it. While mobile penetration and coverage is pretty good in some parts of the developing countries, the same isn't true of other parts. The danger of mobile devices in developing countries that can't be powered up and onto which no content can be downloaded would seriously undermine any efforts.
2). The Technology – Mobile devices have come a very long way, very fast. However, I am yet to see one that can take the punishment of a school child's school bag, dust and fluid damage. M-Edge <source: http://www.medgestore.com/> has made admirable attempts but theirs is a retrofit solution. I would love to see devices that are built from the ground up to be rugged. Devices that are not designed for the realities of rural developing countries will need to be replaced or repaired extremely often. This is really just a design challenge that can be easily overcome but one that needs research to solve properly.
3). Content & Curators – publishers in developing countries have been characteristically suspicious of digital publishing and content for these platforms are hard to get. However, getting content created or ported to this platform and distributed somehow is probably the easy part. How do the teachers (the curators) use the technology to help children learn better? Not enough attention is being paid to this and yet this seems the only way to keep this kind of technology going. And again teachers become the focal point of this technology. In some countries, it might be mobile devices that become the preferred platform. While exploring the potential to use the technology, we need to ensure teachers can teach best with whatever technology they have to use wherever they are. Who knows what new device or platform will evolve into the next pen and paper? Teachers will be still here, invest in technology that helps them become better at teaching.
The advantage of not having to manage mobile devices has its own disadvantages. The technology is not in place, at least not yet to manage mobile devices via a remote network by anyone, so each teacher or student would have to create their own user accounts and manage their own apps. Since mobile devices will be used for anywhere, anytime teaching and learning. There would be a lot of frustrated users when they face the challenge of configuring their mobile devices. (Nyaggah, M., Tablets are Good, Content is Better, and Teachers are the Best Educational ICT Investment, July 12, 2011)
Android
An overview of the Android operating system, extracted from Journal of Engineering Research and Applications, Vol. 4, Issue 2 (Version 1), February 2014. "Android operating system is one of the most widely used mobile Operating System these days. Android mobile operating system is based on the Linux kernel and is developed by Google. Android operating system is primarily designed for smartphones and tablets. Since Android is an open source it has become the fastest growing mobile operating system. Due to its open nature it has become favorite for many consumers and developers. Moreover software developers can easily modify and add enhanced feature in it to meet the latest requirements of the mobile technology. Android users download more than 1.5 billion applications and games from Google Play each month. Due to Its Powerful development framework users as well software developers are able to create their own applications for wide range of devices. Some of the key features of Android operating system are: Application Frame work, Dalvik virtual machine, Integrated browser, Optimized Graphics, SQLite, Media Support, GSM Technology, Bluetooth, Edge, 3G, Wi-Fi, Camera and GPS etc. To help the developers for better software development Android provides Android Software development kit (SDK). It provides Java programming Language for application development. The Android software development kit includes a debugger, libraries, a handset emulator based on QEMU (Quick Emulator), documentation, sample code, and tutorials."
Another overview of Android operating system popularity, (EDUCAUSE, 2010) Android is a Linux-based, open-source operating system designed for use on cell phones, e-readers, tablet PCs, and other mobile devices. For users of smart phones, Android provides easy access to social networking sites like Facebook, Twitter, and YouTube and smooth integration with Google products like Gmail, Google Maps, and Google Calendar. While it is owned by Google, it should not be confused with Google's Chrome OS, a web-resident, thin-client operating system designed primarily for netbooks and tablets rather than for mobile devices. Android has been adopted by a number of manufacturers, including Motorola, Samsung, HTC, and Sony Ericsson. The expanding assortment of applications available on this platform suggests that Android-based phones will continue to be strong competitors in the smart-phone market.
Android is significant to the consumers since it is a free mobile OS. Being a free mobile OS, Android has been selected by many hardware manufacturers to run on a wide range of devices, including cell phones, tablets, e-readers, netbooks, and others. According to (Brähler,S, 2010), unlike on other mobile operating systems like Apple's iOS, Palm's webOS or Symbian, Android applications are written in Java and run in virtual machines. For this purpose Android features the Dalvik virtual machine which executes its own byte code. Dalvik is a core component, as all Android user applications and the application framework are written in Java and executed by Dalvik. Like on other platforms, applications for Android can be obtained from a central place called Android Market.
According to media.techtarget.com, Android is hailed as "the first complete, open, and free mobile platform."
Complete: The designers took a comprehensive approach when they developed the Android platform. They began with a secure operating system and built a robust software framework on top that allows for rich application development opportunities.
Open: The Android platform is provided through open source licensing. Developers have unprecedented access to the handset features when developing applications.
Free: Android applications are free to develop. There are no licensing or royalty fees to develop on the platform. No required membership fees. No required testing fees. No required signing or certification fees. Android applications can be distributed and commercialized in a variety of ways.
You may visit our facebook page for more information, inquiries and comments.
Hire our team to do the project.