List of 55 Best IT Capstone Projects on Business Administration and Management
Information technology (IT) is a broad subject and includes topics related to computers, the Internet, telecommunications systems, software applications, etc. IT can be used to create business solutions in various administrative fields. In this article, our team had listed 55 items wherein information technology concepts such as cloud computing, machine learning, and database management were integrated in the field of business administration and management.
Many people may not know that you can combine Information Technology and Business Administration and Management to create a great capstone project – one that will take both your IT skills and knowledge of business administration to the next level. We'll help you get started, as well as teach you some other ways to make this type of partnership work for you.
The introduction of information technologies has changed the way organizations operate their daily operations. It has also changed the manner in which they interact with customers or suppliers on a day-to-day basis. Organizations are now using IT solutions to automate processes that were previously manual tasks requiring physical presence at multiple sites during various hours of the day.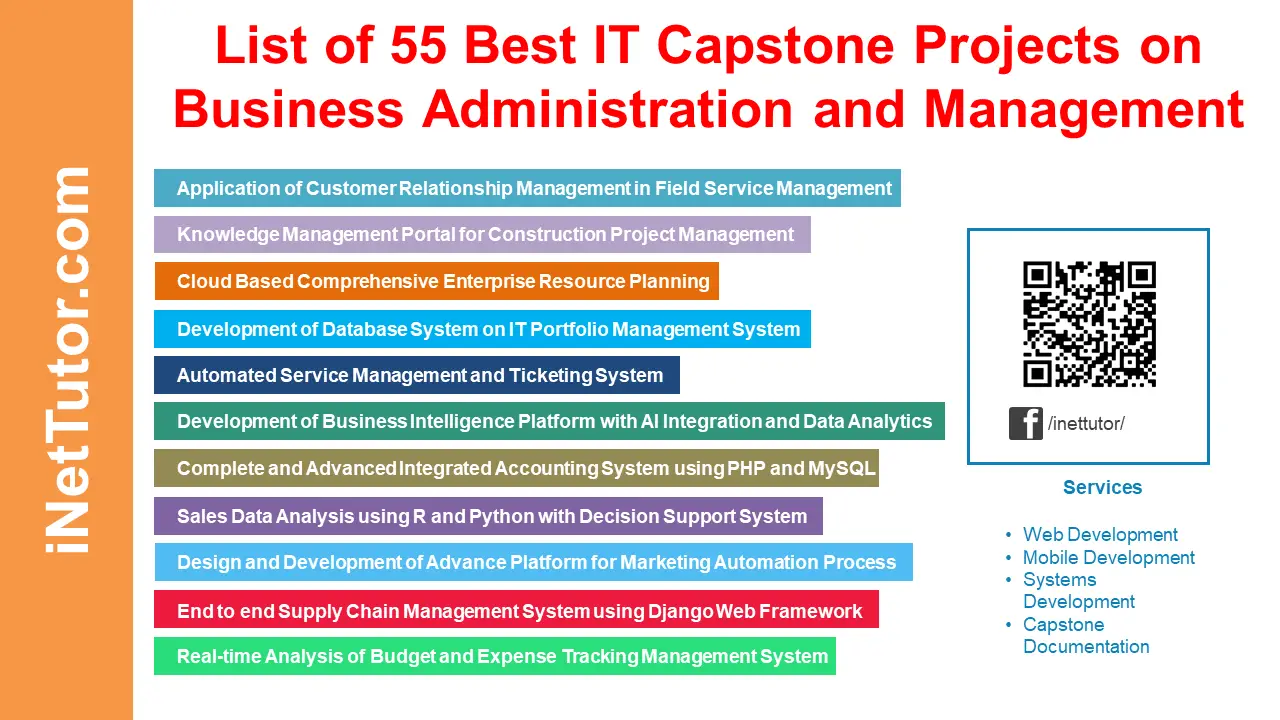 Here is the list of Information Technology Capstone Project in Business Administration and Management:
Cloud-Based Comprehensive Enterprise Resource Planning
Classifying unstructured data based on Pattern Recognition in Data Warehousing Project
A Study on Online Shopping Behaviours using Data Analytics
Learning Management Software with Skills and Certification Tracking and Monitoring
With a significant increase in the number of employers seeking certifications and degrees, many employees are eager to learn the skills and knowledge necessary to meet their employer's expectations in this competitive market. In order to accomplish this, they may turn to outside resources such as online courses and massive open online courses.  In addition to providing employees with the opportunity to learn at their own pace, these resources allow them to gain access to new training opportunities without having to take time away from their jobs. This is critical in the fast-paced world of technology that we live in today. This capstone project will be designed in PHP, MySQL and Bootstrap.
Smart Eye Tracking Application as the basis for click Prediction and User Experience in Web
Knowledge Management Portal for Construction Project Management
Application of Internet of Things (IoT) in Optimization of Energy Consumption in Building Planning
There are many different applications for IoT around the world, but it seems that it's most popular application right now is optimizing energy consumption in buildings. The proposed study is a combination of hardware and software components that will be integrated in the cloud environment.
Cloud-Based Help Desk and Issue Tracking Solutions
Development of Customer Relationship Management in Web and Mobile Technologies using PHP, MySQL and Bootstrap
Cloud-Based Business Process Management with drag and drop feature
Application of Customer Relationship Management in Field Service Management
Case Study on the Role of Information Technology in Human Resources Management
Development of Database System on IT Portfolio Management System
Remote Inventory Management System with Video Conferencing
Customer Sentiment Analysis using Text Analytics Platform
Customer sentiment analysis is a relatively new concept that examines the impact that customer reviews have on the overall reputation of a company, product, or service. It is defined as the study of the impact that customer reviews have on the overall reputation of a company, product, or service. Customer reviews play an important role in how people make decisions because they allow them to evaluate their own experiences. By utilizing text analytics platforms, you can gain insight into customer sentiment by utilizing data-driven methods and predictive analytics techniques.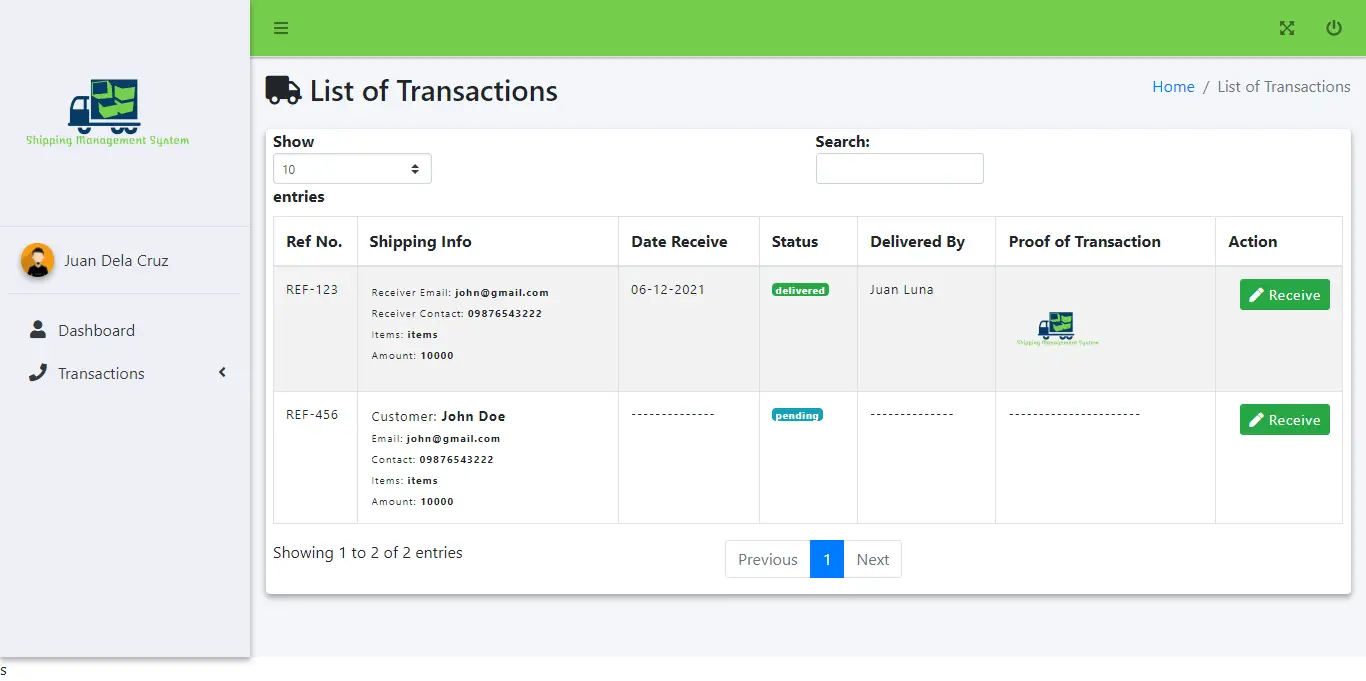 Cloud-Based Applicant Tracking Platform with Resume Builder
Enhancement of Human-Computer Interaction through Gamification of Online Surveys
End to end Supply Chain Management System using Django Web Framework
Integrated and Dynamic Web and Mobile Based Inventory Management System using PHP and MySQL
This capstone project is a web and mobile-based inventory management system, for enterprises and small to medium-sized organizations. It has the power, flexibility, and ease of use to make even the most complex inventory management challenges simple. PHP and MySQL will be used for the back-end while Bootstrap 5 is for the user interface or the front-end of the project.
Automated Service Management and Ticketing System
Development of Business Intelligence Platform with AI Integration and Data Analytics
Cloud Based Customer Support Application with SMS, Email and Live Chat Support
Materials Requirement Planning with Business Intelligence and Decision Support System
Automation of Recruiting Process System with Candidate Assessment Features
Laundry Booking System with Delivery Application using PHP and Kotlin
This capstone project is a web and mobile application that helps you easily book your laundry or dry cleaning. The said project can be accessed online and with the user's mobile device. Back office feature is also available such as appointment scheduling, sales report and list of laundry booking schedules.
Natural Language Processing integration Business Intelligence Software
Complete and Advanced Integrated Accounting System using PHP and MySQL
Accounting software is becoming increasingly popular among businesses as a means of improving the efficiency with which they manage their finances. It is possible to increase efficiency through the use of an accounting system in the following ways:
Faster and easier way to conduct and perform accounting related activities such as financial reports and check and balance.
Automation is always equal to accuracy
Data Mining Techniques in Sales Reporting and Income Management using Cloud Based Technologies
Fleet Management System with real-time GPS tracking of Vehicles using PHP and other web technologies
Utilization of Big Data Techniques and Machine Learning in Detection and Removal of duplicate values
Sales Data Analysis using R and Python with Decision Support System
Online Platform for Work and Job Order Management System with SMS Notification
Work and job order management systems, as well as an SMS notification option, are all available on this online platform, which can be accessed from anywhere. This platform was created in order to assist people in effectively managing their work and work-related activities. They have a mobile app that sends notifications to your mobile phone, ensuring that you are always up to date with what is the update or status of the specific task or job.
Advanced Customer Relationship System with Business Intelligence and Data Analytics
Design and Development of Advance Platform for Marketing Automation Process
Financial Services Management CRM (Customer Relationship Management)
Integration of Data Quality Tool in Enterprise Resource Planning (ERP)
Utilization of Social Media Marketing Software to generate additional website traffic
Cloud Based Sales Enablement with Content Management System
Customer Service Solutions with CRM Integration
Contract and Legal Documents Archiving and Management Information System
You're probably already aware of some of the advantages of implementing a legal document management system, such as increased efficiency, cost savings, and keeping your company out of legal trouble, among other things. The purpose of this capstone project is to design and develop a database-oriented information system to manage a contract and legal document management of an organization.
Real-time Analysis of Budget and Expense Tracking Management System
Web and Mobile friendly Application on Employee Performance Management System
Integration of Employee Learning Management System in HRIS
Tracking of Performance Indicators using Business Intelligence Tools and Data Analytics
Forecast Revenue Planner using Cloud-Based Business Data Analytics
Purchasing Patterns and Market Trends Analysis using Decision Support System with Machine Learning Techniques
A Decision Support System is a computerized system for assessing and managing the risks of decision-making with an ability to provide clarification and clarification with regards to data and information. The theory and technique of decision support systems and machine learning will be implemented in order to analyze the purchasing pattern of customers as well as the market trend. With these algorithms, the organization will be able to create and craft business plans and strategies to enhance their business operations in general.
Business Intelligence with Predictive Analytics using Machine Learning Algorithms
Supply Chain Management using Cloud or Online Analytical Processing (OLAP)
Data Visualization Feature in Enterprise Resource Planning (ERP)
Customer Dashboard with Visualizations in PHP, MySQL, and Bootstrap
Implementation of Data Warehousing technique in Online Transaction Processing System
Customer Behaviour Analysis using Predictive Data Analytics Tool
This capstone project highlights the importance of customer behavior analysis in order to better understand the market and what customers want. It explains how this can be accomplished through the use of predictive analytics tools.
Call Center Workflow Automation with Performance Management System
Cloud-Based Document Sharing Platform with Backup Utility
Cloud-based document sharing platforms offer users a robust, dependable, and secure document sharing tool that is accessible from anywhere. There are numerous features that any user would require in order to be successful in their organization, as well as a safety backup option that includes the ability to perform automatic backups.
Integrated Construction Management Platform using Cloud Technology with Mobile Access
This technology makes use of cloud-based applications, which allows it to be accessed from anywhere in the world. The goal of this project will be to provide some knowledge on what an integrated construction management platform is, how it works, and the benefits that come with using it.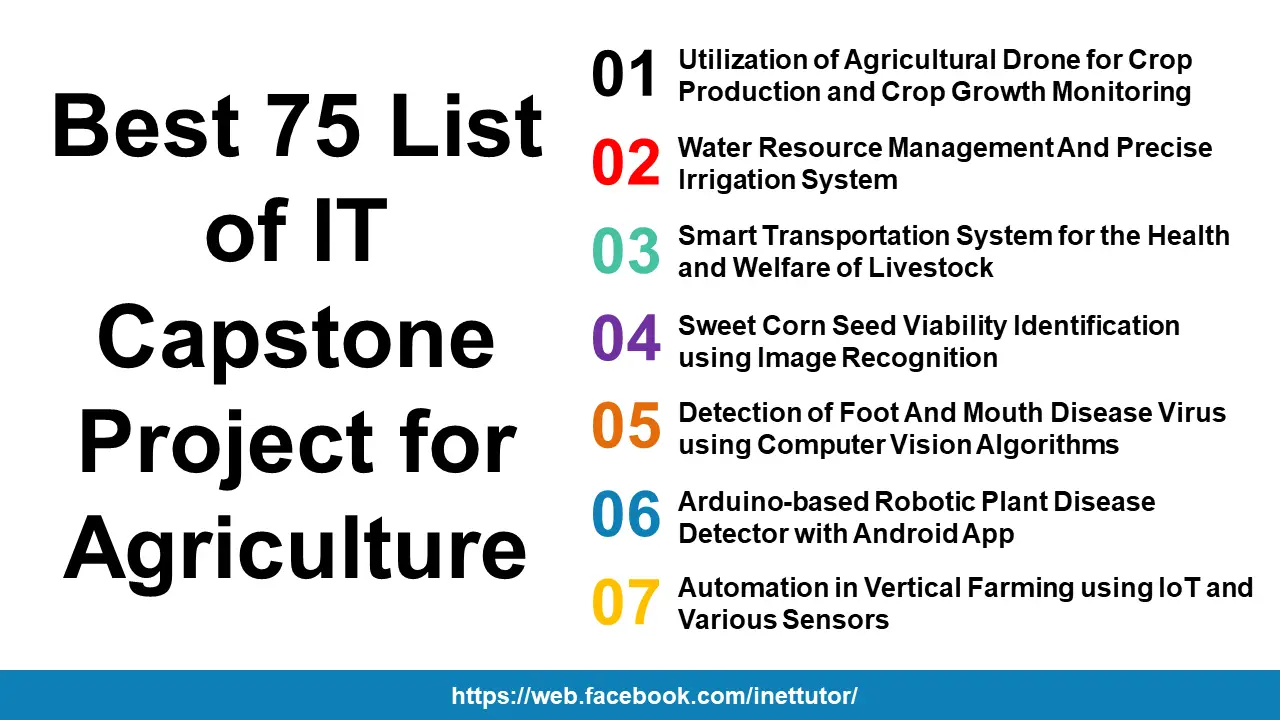 Conclusion
As you near the completion of your Information Technology degree, it is time to begin working on your capstone project! This is your opportunity to really push yourself and demonstrate what you are capable of. Whether you're working on a capstone project for business administration or management, the goal is to put what you've learned in the classroom to use while also pushing the boundaries of technology.
You may visit our Facebook page for more information, inquiries, and comments.
Hire our team to do the project.