High School Enrollment System Review of Related Literature
This article presents the review of the related literature and studies and the technical background of which will discuss the technicality of the project, details of the technologies to be used and the relevance of the project.
REVIEW OF RELATED LITERATURE/SYSTEMS
Computerized Enrollment System
According to one study posted in Studymode.com (2012) computerized enrollment system tends to replace what we called "Paper Less" transaction and also it will make any transaction easier and faster. Also it tends to lessen manpower and human efforts in terms of processing any transaction in regards with enrollment transaction.
(http://www.studymode.com/essays/Computerized-Enrollment-Thesis-927388.html)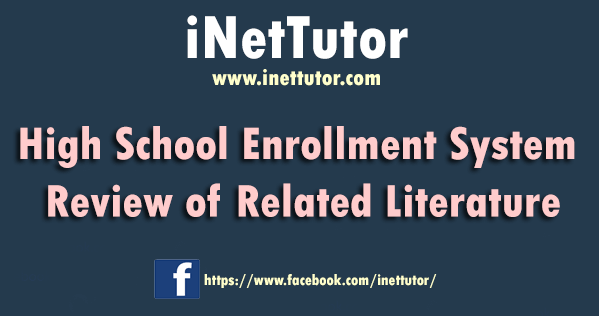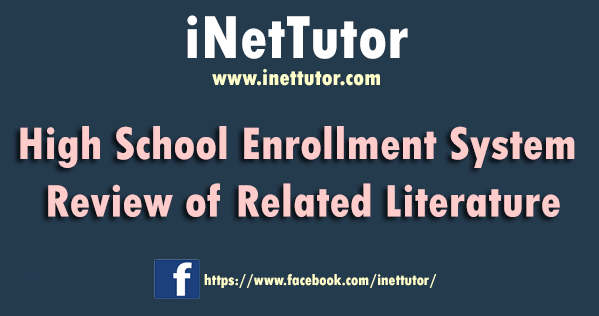 Record Keeping
According to Chifwepa (2009) records have a dual function. Not only do they enable a school to have a clear picture of what is available and what is required, but they also provide justification of certain needs. Furthermore, they serve to extend the memory by which persons and/or organizations can pass their cultures and achievements on to future generations. Record keeping is vital to an education system's information cycle as a whole, because of its fundamental role in the process of efficient information production and collection. Since some of the most crucial information is produced at the school level, the importance of creating a systematic record-keeping culture at that level cannot be stressed enough. (http://www.adeanet..org/adeaPortal) 
Importance of Record Keeping
In the study conducted by Adebowale and Osuji (2008) it investigated the record keeping practices of primary school teachers in selected local government areas in Ondo state of Nigeria. Data were collected with a questionnaire titled "Questionnaire on Record Keeping Practices of Primary School Teachers" and data were analyzed using descriptive statistics. The findings showed that although the teachers were familiar with some principles of record keeping they were not proficient in most of the operational procedures and did not demonstrate the knowledge of using record keeping to further the development of teaching and learning activities. Equipments that could be used for safe keeping of records were not available. Recognizing the importance of record keeping towards the successful implementation of the country's Universal Basic Education programme, the researchers recommend that teachers should be given regular in-service training in record keeping and retrieval. Development of record keeping skills should also be included in teacher preparation programmes. (https://www4.nau.edu/cee/jep/journals.aspx?id=183)
Student Information System
According to Schoolcomputing.wikia.com (2012) Student Information Systems (SIS) manages student records and information. A SIS may handle course management, scheduling, personnel records, grades/comments, room/resource management and more. They can be used to run complex enrollment reports, admissions, course schedules, grades and more. A SIS helps schools manage various operations including student data, administrative, and fundraising operations. A SIS allows for the quick and accessible flow of information. By implementing a SIS to manage daily school needs, teachers and administrators can save time and have immediate access to a variety of student data. These systems are needed for all parties involved in education – parents, children, teachers, administrators, alumni, etc. (http://schoolcomputing.wikia.com/wiki/Student_Information_Systems)
Synthesis
The abovementioned concepts on the computerization of enrollment system and record keeping is relevant to the present project because these serve as foundation in the development of an enrollment system for High School that will minimize the time consumed and effort exerted by the staff in updating student records and record keeping. The concepts also point to the features of the present study such as the users' module and database maintenance that will be integrated by the developers in the proposed system.
The concept on record keeping, importance of record keeping, and its fundamental role in the process of efficient information production and collection is used as basis by the researchers in the formulation of the general objectives and important factors to be considered in designing the features that should be included in the development of the proposed enrollment system.
The related studies on the managing of records and information, and record keeping practices provide details and evidence that guide the researchers on how to design and develop an effective enrollment and record keeping tool.
You may visit our facebook page for more information, inquiries and comments.
Hire our team to do the project.