Complaints Handling and Evaluation System with Business Analytics
Review of Related Literature
Complaint Management System in ASP.NET:
The Indian railways are the fourth largest rail network in the world and the largest civilian organization under a single management. It is crossing the vast geographical area of our country .It's covering almost one lakh kilometers with a work force of 1.65 million across the country.
In most of the cases the railways are the cheapest means of transportation in the developing country like India approximately 12000 trains run all over the India daily.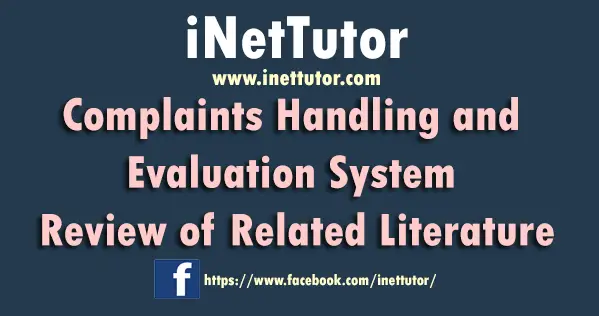 The complaint registration management is web enabled, centralized information and management application to build good relations among the railway department and   its customer community by providing faster mechanism to track the deficiencies and customer grievances .
The CRM is an implementation towards easy registration of complaints for railways. It is designed using ASP.NET as front end and MYSQL as backend.
Any user can access the CRM website by logging into it. The user can simply enter the station name or code and click on submit for logging on .It also invites topics for discussion through web forum irrespective of the language as it has a multi language support .So people from any part of India can participate in the discussion forums, they also have a freedom of making suggestions to the management .CRM is mainly designed for the railway customer satisfaction.
(http://1000projects.org/complaint-management-system-asp-net-project-report.html)
Online Complaint Management System
Many authors extended the work of Berenbeim, Rowe, and Rowe and Baker, on the topic of internal complaint systems. They included: Douglas M. McCabe, William J. Ury, Jeanne M. Brett, and Stephen B. Goldberg. Cathy Costantino and Cristina S Merchant, and Karl A. Slaikeu and Ralph H. Hasson extensively explored issues of designing conflict management systems. The concept of an integrated conflict management system was conceived and developed by Mary Rowe, in numerous articles in the 1980s and 1990s. She saw the need to offer options for complainants and therefore a linked system of choices within an organizational system. The idea of a systems approach has endured well. In recent years however, there has been discussion as to whether conflict should be "managed" by the organization—or whether the goal is to understand, deal with and learn from conflict. There is also concern about practical and theoretical issues in "integrating" a system, with some observers referring the idea of "coordinating" a conflict system. However 2012 research by David Lipsky et al., suggests that an increasing number of corporations see themselves as having "integrated conflict management systems," or "ICMS."
(Osman Nasr , Enayat Alkhider)
Consultants working on commercial projects often fail to take account of the deep and broad academic literature on the topic on which they are working. Because of his position as a hybrid academic and consultant, the author is obliged to keep closely in touch with the different literatures for the areas in which he teaches – broadly marketing, customer relationship management, customer service and branding. As the number of management journals increases, so the supply of research-based articles increases, and it becomes harder for practitioners to stay in touch with it. The author has therefore identified that a critical role in his research projects for clients is to review the academic and other literatures for clients. This particular literature review was part of a white paper project commissioned by a hi-tech client to help them understand how the management of problems affects the management of customer relationships. It excludes a section on social media, which was too client specific and therefore confidential to be published. Social media will be the subject of a later paper.
(http://link.springer.com/article/10.1057/dbm.2011.16)
Complaint Management Systems
From an operational perspective, the complaint management process may be divided in three sub-dimensions (Johnston 2001): complaining accessibility, retailer-customer interaction and compensation policy. We present our review along these same headers.
Accessibility
Receiving few complaints can lead organisations into a false sense of security, believing that customers are largely happy; whereas dissatisfied consumers may be simply switching to a competitive retailer without voicing a complaint (Stephens and Gwinner 1998; Goodmann 1999). Dissatisfied customers may hesitate to contact the organisation if complaining causes discomfort, or if they had a previous unpleasant experience (Tax and Brown 1998; Johnston 2001; Grougiou and Pettigrew 2009). Customers may also refrain from complaining if they lack clarity about where and how to deliver the complaint, or doubt the firms' interest in hearing from its customers (Singh 1990; Johnston 2001). It is crucial to have the right means of communication in place. Research findings indicate that customers looking for compensation opt for interactive channels such as face to face or telephone, whereas customers who want to express their frustration lean towards remote forms of communication like letters or e-mail messages (Mattila and Wirtz 2004). Best practice companies also seek innovative ways to capture complaints. For instance, Fizzback captures customer feedback through a wide array of channels, including customer text messaging.
There is uncertainty regarding the impact of high-rapport between customer and employee on complaining behaviour. On the one hand, rapport attenuates the negative feelings associated with service failures. On the other hand, customers have difficulty delivering bad news to members of staff they have affinity with and, consequently, may switch rather than complain (DeWitt and Brady 2003). Given that the majority of dissatisfied customers never complain to the source (TARP 1986; Richens 1987; Mattila and Wirtz 2004), firms need to implement alternative mechanisms to capture information about customer dissatisfaction. Best practice firms develop internal complaints systems whereby staff submit information about issues encountered and/or suggest improvements (Johnston and Mehra 2002).
Interaction
Research shows that customers make separate determinations between the fairness of the process and the actual outcome (Singh and Widing II 1990). They may even be more concerned with obtaining a fair and serious procedural treatment than a specific result (Lind and Tyler 1988; Greenberg 1990; Saxby, Tat et al. 2000; Davidow 2003). That is, the customer-firm interaction is a critical aspect of complaint management.
Johnston and Mehra (2002) advocate a combination of centralised and decentralized complaint handling approaches. Decentralised units collect information and deal with the problems where they can, whereas central departments analyse trends, develop policies and oversee improvements, where relevant. However, centralisation needs to be tempered with the knowledge that complaining customers accept decisions better when they feel a measure of process control and are able to refute or appeal the decision (Saxby, Tat et al. 2000).
Perceived employee competence is another important variable in the customer-firm interaction. When customers perceive frontline employees as competent, they feel secure that staff will be able to handle and ultimately solve their problem (Gruber, Szmigin et al. 2006). Specifically, complaining customers value employees who are genuinely friendly, courteous, honest, listen carefully, who are open to suggestions and give the impression of being motivated and willing to help (Saxby, Tat et al. 2000; Gruber, Szmigin et al. 2006)
Outcome
Compensation serves a double purpose: to compensate the customer for the real loss experienced, and to re-establish confidence in the organisation (de Ruyter and Brack 1993; Hui and Au 2001). Companies need to know what complaining customers expect. Yet, satisfaction is a subjective evaluation process, where customers compare the perceived outcome with their expectations of the complaint handling activities (Stauss 2002).
Customer facing employees act as key determinants of customer perceptions (Hartline and Ferrell 1996) and play a critical role on the successful outcome of the process (Boshoff and Allen 2000; Maxham III and Netemeyer 2003). For instance, contact employees can adapt their behaviour to customers' underlying expectations and, thus, impact positively on customer satisfaction (Botschen, Thelen et al. 1999).
The role of MIS in decision making process
The MIS and its organizational subsystems contribute to decision making process in many basic ways. Nowadays, some of the organizations use MIS to assist managers for decision making. For example, to assist decision-makers in extracting synthesized information from a massive database such as the Current Public Transport Record (CPTR) of Durban (CPTR), the Durban Unicity Council decided to make use of a Public Transport Management Information System (PTMIS) developed by Stewart Scott. This system is for use by transport planners and managers (Louw et al, 2001).
Power (2002) has stated that making decisions is an important part of working in business environment. Companies often make decisions regarding operational improvements or selecting new business opportunities for maximizing the company's profit. Companies develop a decision-making process based on individuals responsible for making decisions and the scope of the company's business operations. A useful tool for making business decisions is a management information system (MIS). Historically, the MIS was a manual process used to gather information and funnel it to individuals responsible for making decisions.
Organization–wide information resource
The MIS is an organization – wide effort to provide decision making process information. The system is a formal commitment by executive to make the computer available to all managers. The MIS sets the stage for accomplishments in the other area, which is DSS, the virtual office and knowledge based systems.
Situation analysis, problem identification and understanding
The main idea behind the MIS is to keep a continuous supply of information flowing to the management. Afterward by data and information gathered from MIS system, make decisions.
Decision Support System (DSS)
A decision support system or DSS is a computer based system intended for use by a particular manager or usually a group of managers at any organizational level in making a decision in the process of solving a semi structured decision (Figure 7). The DSS produces output in the form of periodic or special report or the results of mathematical simulations (Raymond, 1990). It is difficult to pinpoint that are completely structured or unstructured. The vast majorities are semi structured. This means that the DSS is aimed at the area where most semi structured decision is needed to be made.
Credits to the authors and developers.
You may visit our facebook page for more information, inquiries and comments.
Hire our team to do the project.