Augmented and Virtual Reality Capstone and Thesis Project Ideas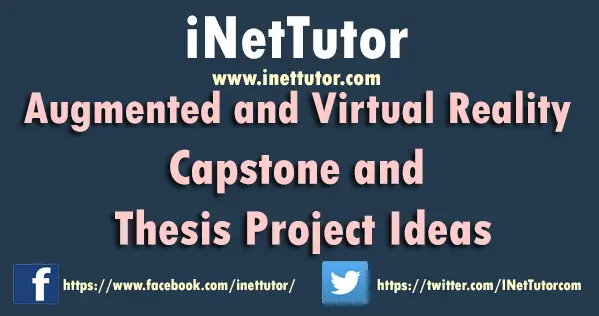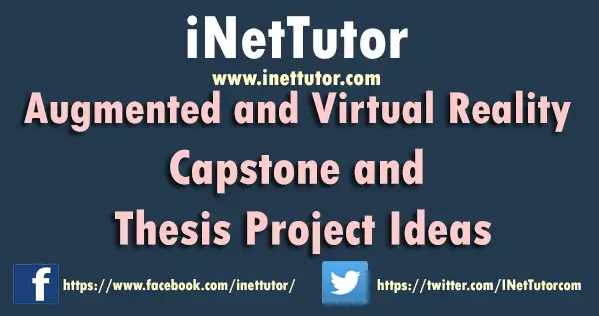 List of Augmented and Virtual Reality Project Ideas
Virtual Reality Platform for Educational and Learning Purposes
Virtual Reality Campus Tour Experience using Unity3D
Development of Interactive Lesson Material for Biology using Virtual Reality
Virtual Reality Project for Diagnostic Imaging
Interactive Museum Tour using Virtual Reality Technology
Application of Virtual Reality in Physics Related Experiments
Virtual Reality Earthquake Drill
Design and Implementation of Virtual Reality Systems for Driving Simulation
Augmented Reality for Learning Human Body
ClassAR: An Augmented Reality Classroom
Interactive Hotel Tour through Virtual Reality
The use of Virtual and Augmented Reality in the area of e-commerce
ARonDGo: AR Mobile Application for e-commerce
Virtual Reality Based Integrated Traffic Simulation Project
Advance Navigation and Direction for Tourism using Augmented Reality
Augmented 3D model for Jewelry Shop
VRHome: a Virtual Reality Experience for Real Estate Industry
VRStories: Virtual Reality Story Telling App
Building Virtual and Augmented Reality Museum Tour Experience
Augmented Reality Home Assistant
Augmented Reality vs Virtual Reality, AR vs VR
Virtual reality takes you away from the real world and completely blocks your sight with another digital environment. It is used in architecture, tourism, rehabilitation, healthcare, sports, entertainment.
Augmented Reality brings non-existent objects into the real world transforming the surroundings with overlay imagery. It is used in education, arts, marketing, military, media, business.
https://thinkmobiles.com/blog/ar-vs-vr/
Tools for VR development
Unity 3D
Cryengine
Lumberyard
Unreal Engine
Blender
Autodesk 3ds Max
SketchUp
Tilt Brush
Autodesk Maya
AppGameKit -VR (AGK)
SDK for developing AR applications
Apple ARKit
Google ARCore
Vuforia
Wikitude
EasyAR
Kudan
ARToolKit
MaxST
AR Lab
Pikkart AR SDK
Motive.io
You may visit our facebook page for more information, inquiries and comments.
Hire our team to do the project.