Android Based Radio Broadcasting App Review of Related Literature
This capstone project cited books, articles and related systems, which are relevant to the present study. It is composed of related literature and studies, both local and foreign, which contain facts and information significant on the design and development of the new system.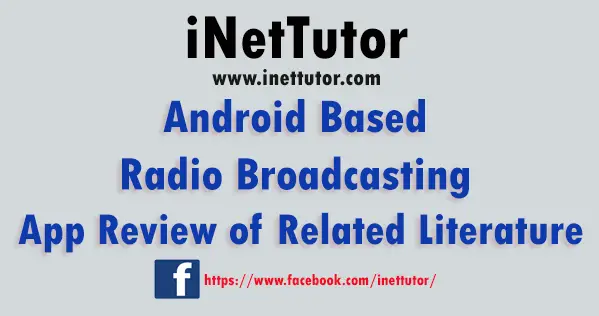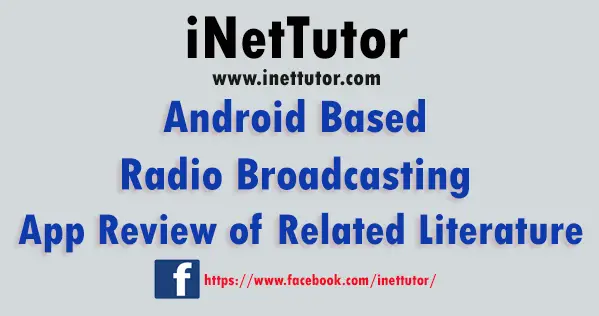 Tune-in Radio
Created by independent iPhone developer Ben Alexander, Tune In is the first internet radio application to turn the iPhone or iPod Touch into a DVR (Digital Video Recorder) for radio. Users can paused; rewind and record live radio programs, and search for music and programs by names of artist or on air personalities, specific songs, station call letters and genre. Other features that integrate other technologies include using the iPhone's GPS or WIFI capabilities to automatically detect local stations. Its support for international radio stations enables users to get connected to distant radios no matter where users travel.
(http://web.stanford.edu/class/ee204/pdf/Finding%20a%20Partner%20Model%20with%20Broadcasters%20at%20TuneIn%20com.pdf)
Multi-platform development of applications for mobile devices
According to Mattias Sjodin (2012) the thesis begins with an investigation of the possibilities for multi-platform development of applications for mobile devices. It is concluded that there is a wide range of available development frameworks that target several mobile platforms. It is decided that an HTML/CSS/JavaScript-based framework is most suited for the application to be developed. Therefore four HTML/CSS/JavaScript-based multi-platform development frameworks targetting mobile devices are analyzed more closely, namely jQuery Mobile, PhoneGap, Sencha Touch and Appcelerator Titanium. jQuery Mobile and PhoneGap are chosen to develop the application, and the thesis describes the development work as well as the resulting application. It is concluded that HTML/CSS/JavaScript-based frameworks can provide a nice touch screen optimized user interface that is consistent across platforms with e.g. jQuery Mobile, as well as access to native features and the possibility to package a web application as a native application with e.g. Phone Gap.
(http://www.essays.se/essay/ee338349c1/)
Earbits Music Discovery Radio
Earbits is a free music discovery app designed to make it dead simple to find new bands and connect with them. If you are tired of ads and commercials on Pandora give Earbits Radio a try. It is 100% commercial and ad free. There are no listening restrictions, interruptions, or subscription fees, only great music. You'll be able to choose from over 400 channels, handpicked and curated by our team of editors.
The Earbits Android radio app analyzes the songs from your phone and recommends channels you'll like based on your taste. It intelligently blends your own songs into those channels. The result is a curated music discovery with your favorite tracks mixed in. You'll love Earbits if you are looking for: commercial free radio, radio app, independent music, radio music, internet radio.
(https://play.google.com/store/apps/details?id=com.earbits.earbitsradio&hl=en)
Android Apps for Music and Audio
Pandora One highly appreciated Android Must Have Music Apps is none other than the Pandora app. Pandora is basically an internet based radio service. With this app, you can easily create a radio station around a single song or cluster of songs based on your likes and preferences. You are likely to be exposed to both paid as well as unpaid versions of the above app, thus giving you two alternatives to choose from. Similarly, you can find music of your choice using this app. Apart from the above features, you also enjoy the opportunity of rating the music tunes with a thumbs up or a thumbs down with the Pandora app.
(http://techmotus.com/10-must-have-android-apps-music-audio/)
According to Modern Trends in Broadcasting- in the Philippines, local broadcast stations, apart from having interactive websites, maintain their own social networking accounts, where they can show plug materials and information about their shows. Web broadcasters offer dozens of specialized music / news/talk formats with limited or regular commercials -targets audiences who listen to radio at workExamples: radio simulcasts-www. gmanews.tv and dzbb, www.dzmm.com.ph
(http://www.slideshare.net/themaninprimarycolors/modern-trends-in-philippine-broadcasting)
Internet and Radio Broadcasting: The Situation Today
In 1999 nearly half of the 12,500 radio stations in the United States had an Internet Website. Yet only about 9% of those were offering their audience the option of listening to their programming online. In contrast to traditional radio stations being slow to start delivering audio programming over the Internet, new companies are springing up with radio-like formats.
In 2001, online radio broadcasts are being delivered by providers as varied as non-media businesses and newspapers to pure Internet broadcasters ranging from NetRadio (www.netradio.com) to home-based operations such as Neurofunk (www.neurofunk.com). Even at this nascent stage of Internet penetration there is a sizeable market for Internet radio programming. Audiences are apparently prepared to use the Internet to listen to the radio. In 1999 6% of all Americans (or approximately 16 million people) had listened to radio programming over the Internet.
(http://ebusiness.mit.edu/research/papers/131%20Compaine,%20Internet%20Radio.pdf)
DZMM Teleradyo                                  
The award-winning AM station DZMM 630 launched "DZMM TeleRadyo" on April 12, 2007 through a live video broadcast of its radio feed aired on cable television. With the advent of new media, "radio in the Philippines and even in the US is somewhat declining. Even in the National Association of Broadcasters. Convention in America, the main concern is reinventing and reigniting radio," Musngi says. Another challenge for DZMM is tocapture the younger generation, as AM radio usually caters more to adult listeners.
With "DZMM TeleRadyo," listeners now associate a face with the voices they used to only hear on radio. This gives more personal touch and adds texture to the news as "DZMM Teleradyo" provides footage, photos and other visuals such as traffic updates with their audio content.
(http://lopez-holdings.ph/…/267-dzmm-teleradyo-radio-reinvented-4925-kb?)
iFM Cebu 93.9 DYXL live(Website)
Is a radio station owned and operated by Radio Mindanao Network. iFM Cebu is broadcasting at the frequency of 93.9 in the FM band, reaches worldwide listeners through live audio webcast. The station broadcasts a masa format that mixes Filipino music with some international pop and classic hits.
(http://www.streampinoy.info/ifm-cebu.html)
MOR 101.9(Website)
DWRR 101.9 has changed face once again for the 6th time since it started using the DWRR call letters in 1989. After sporting the Tambayan 101.9 monicker, it finally gave in to unifying its national FM network of MOR stations or My Only Radio.
May this year, DWRR dropped using Tambayan and aired 101.9 as its station ID, the same thing they did when they transitioned from 101.9 For Life in 2009.
ABS-CBN's radio division adaptation of its regional MOR branding which has been used for years now is clever and cost effective.
The difference between the above mentioned studies and the proposed study is that the researchers develop the mobile android application in order to upgrade the radio stations live broadcast. Through this, listeners can be updated not only with the news delivered by the radio station but also by its website.
The proposed system entitled "Android Based Radio Broadcasting App" is a dual purpose because the listener can listen to the said station using their android phones and also by using their respective units by visiting the Radio stations website. There are some content which are similar but not all because our proposed system has additional features in android phones.  You can see the gallery, map, and also the history.
Credits to the authors and developers of the project.
You may visit our facebook page for more information, inquiries and comments.
Hire our team to do the project.