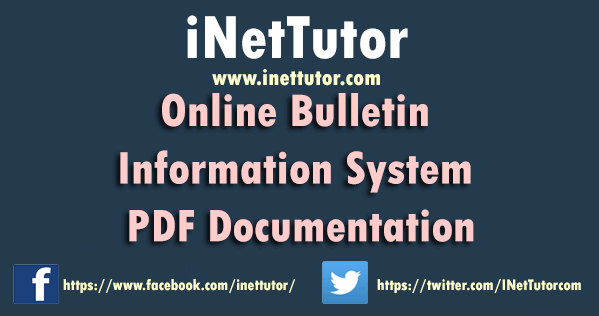 Version
Download

104

File Size

174.41 KB

File Count

1

Create Date

March 23, 2019

Last Updated

April 8, 2019
Online Bulletin Information System PDF Documentation
Online Bulletin Information System PDF Documentation
The project entitled Online Bulletin Information System was developed in PHP, MySQL and Bootstrap. The said project will allow the school administrators and the management to post important updates, news and other activities. Different stakeholders will be able to view the updates online and they will receive information via text and push notification.
This system aimed to provide updated and reliable information for students, faculty and staffs. The problem on the schedule is one of the factors that can affect the system. Approving of the activities being proposed is time consuming because the OIC will check whether the activity is appropriate and needed to be confirmed or rejected. Emergency updates and announcements are also part of the problem because the administrator can hardly post this emergency updates and announcements.
The document includes the following topics:
Project Concept
Problem Statement
Project Scope
Schedule Issues
Human Issues
Financial Issues
Technology Constraints
Project Strategy
Project Documentation and Communication
Project Organization and Staffing Approach
Visit the online version of Online Bulletin Information System
You may visit our facebook page for more information, inquiries and comments.
Hire our team to do the project.