Inventory Management System Review of Related Literature
The inventory management system is available in Visual Basic and C#, databases used are MS Access and MySQL. This article will enumerate some of the previous research study that is related in inventory management, the following studies and systems were used by the researchers as their references in the conduct and development of their own inventory management system.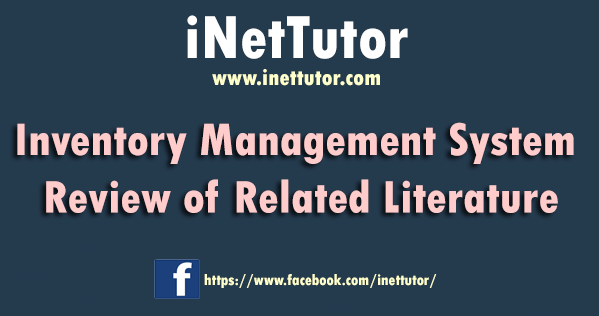 Foreign and Local Related Literature
RCCola Automated Inventory System
According to Amelounate, RC Cola Orani Enterprise was established on January 2008 catering to 20 sub dealers all over Bataan and 50 stores from Orani to Balanga. The manner of operation is manual, thus every transaction is recorded and solved manually. In terms of supply ordering process, all emptied bottles/cases are delivered to the mother company located at Lubao, Pampanga; this is done if they reach the maximum cases of 1,720 needed for hauling. When it comes to operation, the number of cases of goods delivered to the sub dealers and stores are written on Daily Remittance Report. However, the report cannot monitor if how many cases are available on the warehouse or how many bottles/cases are missing.
The problem mainly concerns on the inventory. They are relying on physical count of incoming goods and recorded on a piece of paper and transferred to a columnar book. Every transaction on the outgoing of goods is being recorded to a Daily Record Book and transferred to Daily Remittance Report. However, this process provides redundant records, inaccuracy on their daily reports and make it   hard for the management to determine how many cases are still available in the warehouse and if this stocks are enough to sustain the needs of their customers. If operations will stop due to availability of stocks, It cost the company an estimated value of P 20, 000.00 losses on their income.
Bell Electronics Inventory System
According to Bchaney, Bell Electronics Lab Corporation situated in Calamba, Laguna is engaged in testing and assembly of optoelectronics and sensor devices. The company is concentrating on its resources in program is towards the development of other types of optoelectronic and sensors device packaging to support their customer requirements. The PDA module is composed of bar code scanner to scan issued and received items, and a Z8F6423 Zilog micro controller to sore the information. A Product Inventory System (PIS) application program is also discussed to show how the PDA module can be interfaced with the PIS. Test results presented in this paper will show apparent improvement of company's inventory system.
Inventory system is an effective way for monitoring and tracking different materials that are transferred in and out of a company's warehouse or establishment usually for accounting purposes. It is also important for a company to monitor all the transactions and movement of goods in order to keep an account of all their stocks. However in some establishments, the inventory of materials is done manually in such a way that an employee writes down the information of different materials every time it is transferred in and out of the room. The same case applies in Bell Electronics Corporation; and as a result, the inventory system becomes prone to human error and would be more time consuming which will most likely be a loss for the company. In Bell Electronics Corporation, there is a corresponding form for every incoming or outgoing item (from the stock room). These forms serve as the basis of comparison when inspecting; that is, the amount of item that goes in or out must tally with those written in the forms. After-wards, all the transactions will then be encoded.
Ocampo's Incorporated Inventory System
Information technology (IT) is concerned with improvements in a variety of human and organizational problem-solving endeavor's through the design, development, and use of technologically based systems and processes that enhance the efficiency and effectiveness of information in a variety of strategic, tactical, and operational situations. Ideally, this is accomplished through critical attention to the information needs of humans in problem-solving tasks and in the provision of technological aids, including electronic communication and computer-based systems of hardware and software and associated processes. IT complements and enhances traditional engineering through emphasis on the information basis for engineering. Professional activities in IT and in the acquisition of IT systems range from requirements definition or specification, to conceptual and functional design and development of communication and computer-based systems for information support. They are concerned with such topics as architectural definition and evaluation. These activities include integration of new systems into functionally operational existing systems and maintenance of the result as user needs change over time.
The researchers will study the inventory system of OCAMPO's Incorporated in the City of San Fernando, La Union. The study will conduct an interview to identify problems of their system, analyze and interpret to be able to address the problem. The proposed system should include the following: Client or server selection process asks the user if the computer is a server or a client. The selection prepares the system for the network connection; User registration and validation process creates users for the system. The administrator has the control on the users and assigns a role in the business; Log-in/log-out process separates the roles of the administrators and its fellow users.
Exact Globe Inventory System
Based on research by Exact Holding N.V.,Exact Globe Inventory System is an advanced information system and it is a fully integrated solution where orders, receipts and deliveries are entered and available in real-time, presenting costs and quantities at the time of inquiry. It saves time, eliminates confusion and gives you the power to make decisions based on up-to-the minute information. It has Full Serial and Batch control for trace and recall purposes and it can make use of 30 user-defined fields at the item level to further describe inventory related properties .A Strong ability to perform ABC analysis for fast / slow moving inventory management. Manage inventory in multiple warehouses for costs and quantities as well as planning and production data Associate approved suppliers with inventory, along with different supplier price lists. View detail Bill of Material information within the main item master Assign landed costs for inventory purchases for extraneous costs such as demurrage. Advanced functions for bar coding and track & trace.
Wal- Mart's: SMART Inventory System
According to Seanferd, Wal-Mart uses the SMART inventory system which is basically a tracking system that keeps track of all of Wal-Mart's inventory as well as it automatically reorder products that the store is either low or empty on. The SMART system is though the Telxon which is a 900 MHz wireless hand held terminal equipped with bar code scanners. When the bar code is scanned the number of that item will show up instantly as well as a short description of the product.
The advantages of the SMART system is that it has to be huge because products that Wal-Mart do not carry will still scan and give out the relevant information so that it is easier for people to return products. The SMART system is linked to the cash registers as well as inventory is automatically update as products are sold. Hand counts are updated as well as some products automatically updated. The main disadvantage of the SMART system is that everything has to be coded with bar codes. Which can lead to additional cost but the main key to an effective bar code system is to get as close as possible to the bar code data source.
RFID Inventory System
According to Riordan Manufacturing inventory System: RFID-based Tracking, the primary weak-link in the value chain of Riordan Manufacturing is the manufacturing process of raw materials inventory tracking. This system continues through the chain of manufacturing from the point the raw materials arrive until the final product has been assembled and shipped. This method yields a system that is data redundant, prone to human error on the data entry level, and presents an opportunity for the data to be misinterpreted by the Inventory Clerk for the raw materials ordering. Additionally, few to zero records are being produced that will enable analysis of inventory levels (Riordan Manufacturing).
The purpose of this project will be to improve the manufacturing process by implementing a new computer-based resource tracking system that will eliminate the need for the Inventory Clerk to           re-produce the forms into the Inventory PC. The new system will allow the Inventory PC to do the tracking of raw materials upon all throughout the manufacturing process. Raw Materials can then be ordered based on known inventory levels, historical data of typical customer orders, and a number of other factors that will be immediately accessible through the new system.
The new system will immediately be able to identify lost inventory, managers can immediately track the inventory down and be able to identify trends if materials are repeatedly lost at a certain point in the manufacturing process.
Credits to the authors and developers of the project.
You may visit our facebook page for more information, inquiries and comments.
Hire our team to do the project.