Online Grade Inquiry System Review of Related Literature
This project was designed and developed in PHP and MySQL; it is a platform that will replace the manual process of grade inquiry system. This article will present studies and systems that will serve as the basis in the development of the online grade inquiry system.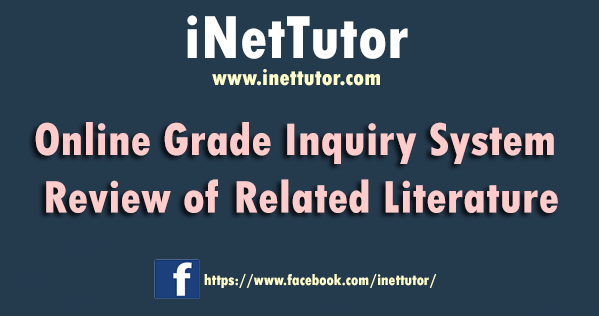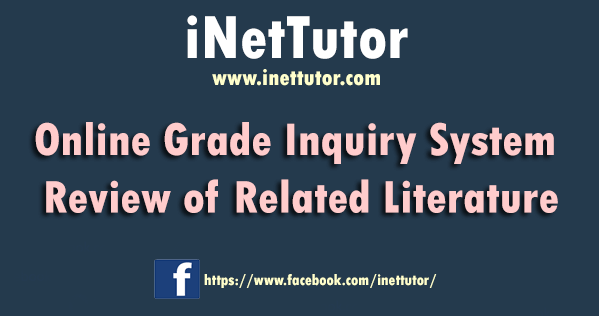 REVIEW OF RELATED LITERATURE AND SYSTEM
Foreign Literature
Furtwangen University automated grade inquiry
According to Dr. Rolf Schofer on March 3, 2013, the Furtwangen university offers an automated grade inquiry service using telephone available at  +49(0)7723 920-1212 around the clock, except between 2:00am and 4:00am. Their system is available in two lines. They ask callers to hung up once they have heard their current grades to allow to other students to use the service. Grades are sorted according to the dates they were entered to read first the new entries about their grades. To use the service, the students will need to enter student's registration number and a four digit Pin using the telephone keypad. Students can find their four digits PIN under Meine Noten (My Grades) in the studi-portal at http://studi-portal.hs-furtwangen .de. The grade inquiry pin is not the same as the F card PIN.  If any of the students will want to change their grades inquiry pin, they are allowed to change it anytime using telephone. This is how their system works: first obtain the pin from the student portal at https://studi-portal.hs-furtwangen.de. Then, from internal university phone, call extension at 1212 free of charge. Nest thing to do id to call + 49(0) 7723 920-1212, if the line is busy, they can try it dial later. Then, follow the instruction given over the phone then enter the registration number and PIN, the press * after each entry. Lastly, grades entered for the current exam semester will be read out.
The online grade inquiry system also offered online grade inquiry service using computer. The student will pass their full name, student number, course, year and section during the inquiring of their grades. Each student's grades are already saved in registrar's computer. The difference between the two system is that in the online grade inquiry system, students can check their grades anywhere while Furtwangen University automated grade inquiry students do not have to go to school to check their grades; instead they are using the telephone.
http://studi-portal.hs-furtwangen.de.
College of Albemarle
According to Dr. Kandi Deitemeyer on August 6, 2012, the College of Albemarle online grade inquiry system needs to log in their websites "campus cruiser" with user ID and password. Students must have the school password and provide all the information needed by the system. This system is to benefit by the students and school administration.  Using this system, students can print their official grades and transcript. Unlike other school, the College of Albemarle online grade inquiry system provide grades available by viewing online after faculty submits  grades and posted within 48 hours. The College of Albemarle online grade inquiry system can locate students with any type of financial restriction and students cannot view their grades or even a transcript.
www.albemarle.edu.com.ph
Portland University
According to Jeff Gewing, Ph.D. on June 2, 2008, the Portland University online grade inquiry system is an online grades inquiry which offers an online view of grades every term-Fall, winter and spring term. Every term there is a deadline for submitting the final grades. After a day students may already view their grades online. Portland university online grade inquiry is developed for faster and easier way of distributing grades to their students. Students will not be in a hurry going to school just to check out their grades. All they need to do is to log in their school websites and fill out the needed information. Portland university online grade inquiry helps the school to be well organized in giving grades with minimum effort.
www.pdx.edu/registration/online-grading/
Local literature
University of Perpetual Help delta system
According to Dr. Jisefina L. Tamayo, on February 5, 1975, the online grade inquiry provides services to every concerned student in the said university.
Their online grade inquiry consists not just students' grades but can also check out any pending account balances of students, if any, and the subjects which have not been taken up yet.           Another advantage in their system is those two features are updated from time to time. For this reason, their students will not rely on checking their balances and spending much effort and time going to school. All they need to do is to access their account and provide the needed information; i.e. last name, student number, and birthday.
The online grade inquiry system is also a system that offers exam and final grades result for every term or semester but accessible only within the school of city college. The difference of online grade inquiry system to "UPHSD's online grade inquiry" is that online grade inquiry system is designed only for local area networking and intended only for College registrar.
perpetualdalta.edu.ph/admission/why-perpetual?
Local System
Caraga State University
Ampayon,Butuan City
According to Steffen Lamparter and Lars Jordan on September 2, 2011, the university as an educational institution has a lot of valuable information which can be provided to students such as grade release, enrollment information and university announcement.
The Caraga State University Short Message Service based grade inquiry system was proposed to have a more convenient, faster and easier way of transactions. This study is concerned on how to provide a service to students residing in remote areas where internet connection is not available.
Since the text based technology is one of the popular ways of communication. It also helps the students access the information in anytime-anywhere basis at their own convenient time, money and effort by just typing in at their mobile phone the keyword together with their ID number and password. Furthermore, these systems provide a convenient way of inquiring grade with just press and send way.
The proposed system is offering the SMS service which can be used by all mobile phones. The user only sends the SMS to the system and the system will reply the answer back to the user as SMS also.
www.studymode.com/subjects/caraga-state -university-sms-base-grade-inquiry page1.html/
Far Eastern University Online Grade Inquiry
According to Viekdyoll on August 2012, the Far Eastern University Online Grade Inquiry is an online grading inquiry for those interested students who wanted to know their grades status. Students may use this online grade inquiry by logging in at (Error! Hyperlink reference not valid. their school website. Right after the students enter into the website they need to click the "view grades" and click the "here" button. Then they also need to enter some specific information for them to view grades. Far eastern university online grade inquiry is a big help to the school for allowing the students to view grades online. Then this system is also a big help for far eastern university in dealing students questions about grades, students are not even obliged in going to the school just to view grades.
www.feu.edu.ph/Veikdyoll /August 2012
Credits to the authors and developers of the project.
You may visit our facebook page for more information, inquiries and comments.
Hire our team to do the project.