Email and SMS Marketing Solution in Laravel
Project Context
Information and text are crucial components of a firm that sends and receives information, particularly when dealing with the marketing department. A company's marketing strategy aims to reach a diverse group of consumers with its marketing concept. The gaps between business and technology have been closely closed up where each uses the other's strengths to manage their respective fields. The researchers use a platform called "Email and SMS Marketing Solution using Laravel" in this context, which streamlines SMS and Email services as a marketing idea solution. On this platform, organizations of enterprises can sell their products by sending bulk or group SMS and email messages to recipients. This will act as their platform for marketing and for quickly and efficiently sending information to a recipient. By successfully and efficiently communicating with each consumer, the company may improve sales and revenues as a result of the technology that has been introduced. Because SMS may be sent and received without an internet connection as long as there are smartphones or other devices, this platform is unique in that it supports both Email and SMS in a flexible manner. Two platforms can be used to sell the business when the internet is accessible, which is advantageous and like killing two birds with one stone.
Businesses used physical platforms to disseminate information about themselves or they used TV commercials or ads, which tend to reach a small number of people. This approach was a waste of time, energy, resources, and labor. Knowing that this method of marketing makes a company less likely to have a platform where they can simply share marketing information without having to physically knock on doors because of hard tasks and jobs. The motivation behind the researcher's suggestion was to assist large corporations in marketing their products.
What is Email Marketing?
Email marketing is often a type of marketing strategy or solution that makes use of emails to inform people on a specific email list about new products, specials, discounts, and other services offered by a business. Digital emails are used as a potent marketing tool to advertise the company's goods and services. The corporation can target their audience through direct marketing in order to sell and educate them about the items, maintain their interest, and keep them informed of any product developments. Utilizing email marketing software helps increase audience engagement and produce sales.
Readers are also interested in: Marketplace Platform in Django Free Source code
What is SMS Marketing?
Short messaging service, or SMS, is a platform that uses SIM cards to convey information via text message. SMS marketing is a platform that advertises products or uses SMS to promote a business. Customers are sent promotions and information about specific products by text message or SMS using the text message marketing technique. In contrast to email marketing, where a large number of customers or people can accept the email, SMS is a quicker method and only a small number of contacts can receive the information. To send such information, our platform does not require an internet connection.
Objectives of the Study
General Objective- the main goal of the study is to develop the platform Email and SMS marketing Solution using Laravel in a very effective and efficient.
Specifically the study aims to:
To provide a platform that makes it simple to notify customers about a product's markets.
To make marketing ideas and solutions more efficient, hassle-free, and effective.
For both sides, the platform will result in convenient and quick transactions.
To create a controlled information-sending system that will allow businesses to directly educate their clients while also automatically promoting their products.
To develop a platform that boosts the business's sales and profits the most.
Importance and Significance of the Project
The importance and significance are intended to the following group/individual:
Organizations or Companies: The platform is particularly helpful to them since they can use it to spread information about specific products to direct customers and the correct audience rather of focusing their marketing strategy on advertisements. It is a tailored solution that allows them to communicate with the precise audience. Due to the fact that this kind of platform can speak to a sizable portion of the audience in one location, they can also save money and labor.
Employees: they can only monitor their approach, which entails posting, emailing, and sending SMS messages about how to promote a product immediately so that it can reach the audience quickly and efficiently.
Researchers. The accomplishment of this assignment will advance their coding knowledge and abilities.
Future Researchers. If they want to do a comparable study, they can utilize this research article as a starting point.
Readers are also interested in: Top 25 Ecommerce Project Ideas
Features of the System
Dashboard: This is the system administrator's home page, where the most important system records are listed for easy access and management. They can access everything on the technology from here. In this module, the admin can view, update, and delete.
Email Sender and SMS Gateway: This function enables users to send emails and SMS via phone instead of using computers or other devices. a feature that does not require or require software.
Contact Management: This module controls contacts that have been generated via emails and SMS messages. This module can display the phone numbers and emails of each consumer that required to receive a promotion, giving the business a well-organized list of contacts to use when disseminating information.
User Account Management- Users can effectively access the platform and it has a management where it can view the accounts and manage it to monitor the whole process.
Reports Generation – The platform also generates reports, which is a great feature because it allows businesses to have copies of transactions and processing because reports are generated automatically.
Screenshots of the System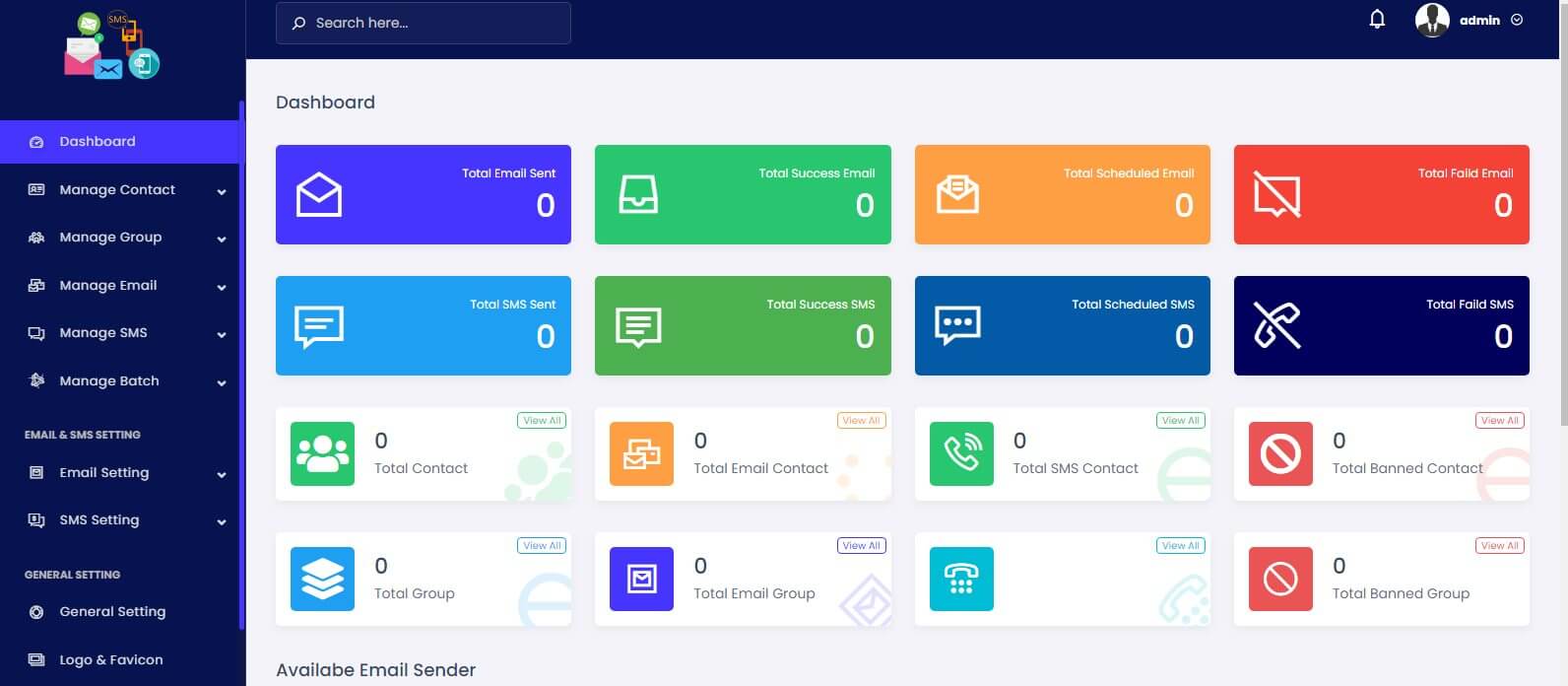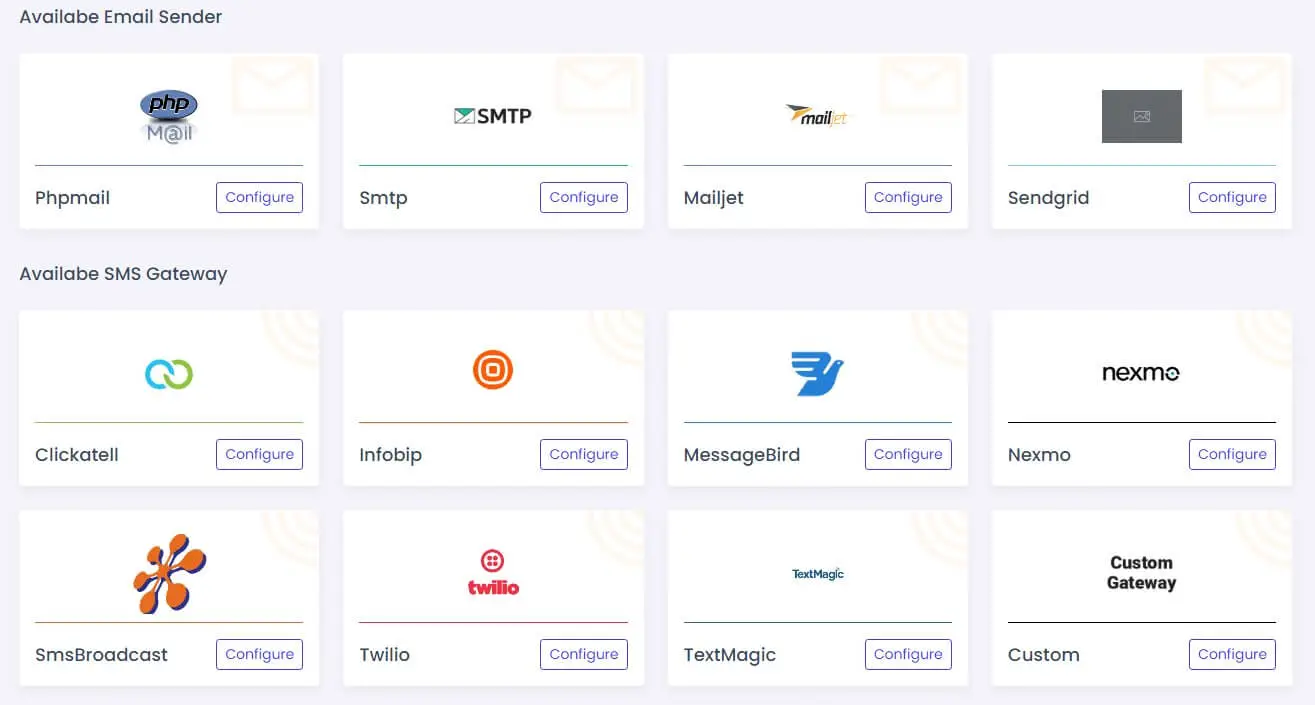 Credits to the developer
Demo Link: https://emailsms.scajk2021.com/
username : admin
password : admin1234
Conclusion
The platform is important and essential to have in a business that runs business for it to be nice and beneficial in terms of handling their marketing strategy and solutions; it was noticed and observed throughout the study. It was discovered that the traditional and outdated methods of product promotion are unproductive and inefficient, which is why the researcher is pushing for their adoption due to their advantages and benefits. SMS and Email Marketing Solutions do provide a commercial platform for promoting goods in a very direct and efficient way.
The researchers came to the conclusion that it is crucial to construct the Email and SMS Marketing Solution using Laravel. The study's findings demonstrated that the "Email and SMS Marketing Solution using Laravel" satisfied the needs of both its intended audience and the respondents. The vast majority of respondents and prospective users saw the platform's potential to replace the manual technique of processing and run smart marketing to promote the goods and services.
Readers are also interested in: 50 Best Django Project Ideas
Recommendations
The project should be used by organizations or businesses to manage their marketing strategy internally, according to the study's researchers. The system will simplify the way that things are marketed and who is promoted using SMS and Email Solutions. The system's installation will greatly assist enterprises by giving them a practical and quick way to conduct business and inform customers and audience about the items. The researchers strongly advise businesses or organizations to use the system to make it easier for them to promote their goods and services with a single click. And the system is strongly advised because it will make employee work and tasks simple, quick, and hassle-free.
Summary
Organization is a vast industry with a vast array of operations depending only on the type of business; therefore, a platform that makes it simple and quick to advertise products is crucial. The most advanced and cutting-edge method for all business sectors to rapidly and directly market their products to their target audiences is SMS and email marketing. The platform "Email and SMS Marketing Solution using Laravel" is leading the way to revive and improve previous techniques for promoting advertisements and goods to consumers. The development of the platform to aid businesses in their marketing plan was one of the main goals. The researchers encourage implementation of the system due to its long list of benefits and advantages because it truly provides a solution for all business sectors in the industry.

You may visit our Facebook page for more information, inquiries, and comments. Please subscribe also to our YouTube Channel to receive free capstone projects resources and computer programming tutorials.
Hire our team to do the project.