Web and Mobile Product Brochure and Appointment Scheduler for Optical Clinic
Problems Encountered
Optical Clinic is a shop that offers a different type services like Pediatric and Adult Eye Examination, Binocular Vision and Orthotics, Management, Amblyopia and Strabismus Treatment and Optical Clinic offer various type of eyewear, eye drops, contact, etc.
Optical Clinic can only handle 1 customer at a time; a customer must go to the clinic to look for an eyewear and other related products available and to set an appointment as well. The records are also kept in manual process (folder and cabinet method) which is very prone to data loss and proper data archiving is less efficient compare to the automated one.
With the current flow of transaction, it is really troublesome on the side of the customer and to the management of the optical clinic.
Purpose (Proposed Solution)
To solve the above stated problems, we have come up with an idea to create and design a web and mobile product brochure and appointment scheduler application.
The purpose of this project is to design a system that will help the optical clinic resolve their current problems and to help them manage their appointment records in an electronic manner.
Benefits
 With the proposed Web and Mobile Product Brochure and Appointment Scheduler Application, the following will be the beneficiary of the project:
The Optical Clinic Management: the said project will satisfy their needs in terms of organizing their appointment schedules and manage their product brochure online. Smooth flow of transaction is also one of the benefits of this project and this will lead to quality service to the customer.
Customers: the application will provide them a hassle free appointment reservation. The traditional way of having an appointment to the clinic is no longer necessary.
Conceptual Framework (IPO-Input-Process-Output)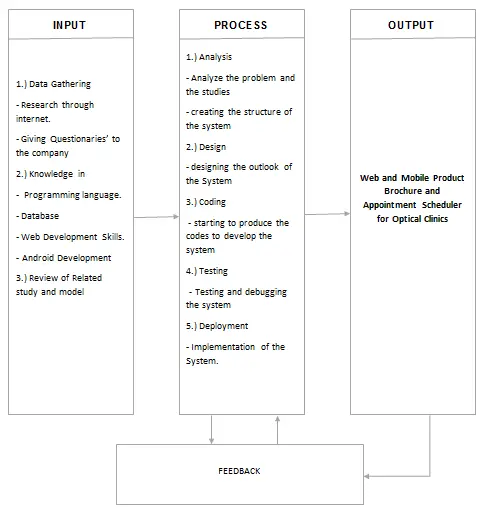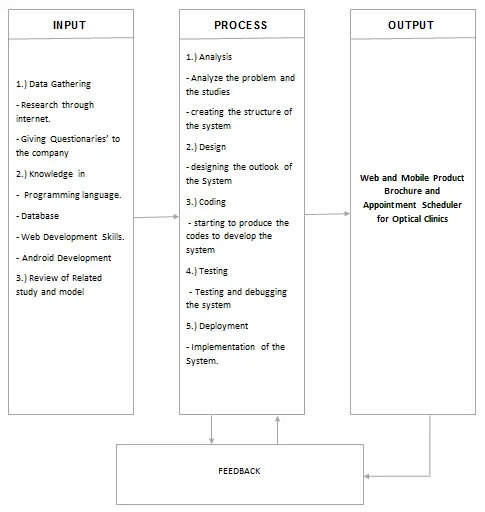 Objectives (Features of the System)
The following are the list of possible features of the project:
Web Module (Administrator)
Manage List of Clients/Customers
Manage List of Products (Archiving)
Manage List of Reservations (Approve, Cancel Reservations)
Mobile/Android App (Client)
Browse product brochures and services
Sets an appointment with the optometrist
Can make a product/service review with the use of the app
Scope and Limitation
 Limitations of the proposed project:
The mobile app is only available in Android platform
The inventory of the products is not part of this project
The mode of payment is not online
Development Tools
For web module:
PHP, MySQL,Bootstrap(HTML, CSS, JS), Javascript
For mobile/android module:
jQuery Mobile/Framework7/AngluarJS, Apache Cordova