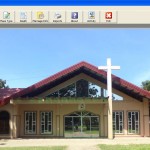 Features of the System
Baptismal Records – Record, Update and Print children baptismal information (child name, date of birth, place of birth, parent's information, and sponsor information). Retrieval and extracting of information is made easy because searching feature is included.
Schedule of Mass and Blessings – Record, Update and Print schedule of mass and blessing (Date, TimeStarted, TimeEnded, Language, Type of Mass).
Marriage of Contract – Record, Update marriage contract information (Husband Information, Wife Information, Place of marriage, Date of marriage, Witnesses).
Death Records/Certificate – Record, Update, Print death information (Name of person, Address, Age, Date of Death, Cemetery).
Parish Special Activities – Record, Update, Print information of activities (Activity name, Date of activity).
Comments
comments