Computerized Library System using Visual Basic 6.0 as front-end and MS Access as the back-end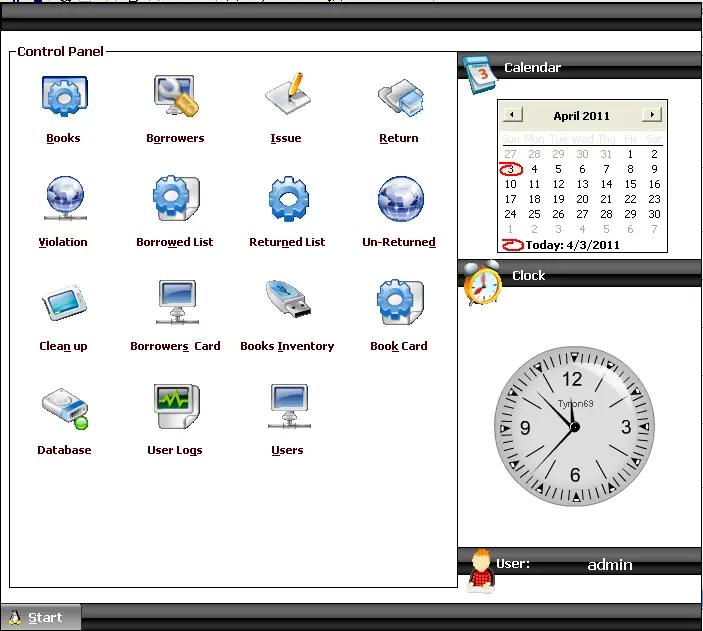 The system would provide basic set of features to add/update student's information, add/update books information, search for books and manage check-in/check-out processes.
 System's Mechanics:
The following are the mechanics of the system with its corresponding description.
Log-in/out Menu – In log-in option the system verifies the user account information and grant access to the application if the information such as username and password are correct. Log-out option is used to exit or close the application.

User account – User accounts allow you to add, edit, update and delete users to the system. There are two types of users; the administrator and the users. The administrator's type of users has complete and unrestricted access to the application. The user type of user possesses some restrictions.
Note: You must log in as an administrator
Back-up – It allows the user to securely copy all the data in the system that is stored and in order to use it for future purposes.
Restore – It allows the user to return records to its place or to put back records into their original position.
Books Information – Books allow the system user to add, edit, update and delete record of books. It also enables the user to view the record of books.
Borrowers Information – Borrower's information allows the user to view the record of the borrowers and as well as to add, edit, update and delete their records.
Issue Book – In this section the system user enables to issue a particular book available in the library to the particular borrower. In addition you can view the books that have been borrowed in the library.
Returned Book – In this option the user enables to accept a particular book that have been borrowed and determine if the book was returned before its due date. In addition you can also view the record of unreturned books.