Web and Mobile Medicine Information System Capstone Project
Abstract
The new technology has the potential to alter how people connect, transact, and even discuss data and information. The web and mobile medicine information system provide a fast response to patients, medical professionals, and even ordinary people in their medication adherence, particularly with medical prescriptions. The system in this study provides every detail of information for any type of medicine that the end-user may encounter. This will act as a guide for the end-user in obtaining pertinent information about the prescribed medications. The project addresses a gap left by the former system in terms of obtaining medical data. The system will be developed using the Software Development Life Cycle (SDLC) method. The researchers will gather a sample size of participating students, teachers, and other end-users to test and check the system. IT experts will assess the system to make changes. The researchers will improve the system based on the suggestions of specialists.
Introduction of the Study
Technology objectively gives its purpose to every wide range of aspects of human lives. The potential of the techno products and systemized functions brought the challenges that arise in a human environment into a solution based on more accurate and logistic. In the health care industry, it ended up and addresses some of the challenges in providing cost-efficient, effective systems and high-quality services. This platform entitled Web and mobile medicine information system provide accurate information on every kind of medicine together with its uses, definition, and purpose, this also includes information about the illness so that every end-user would know exactly the medicine they are looking for. The researcher decided to make it accessible and make the system to be available website and on mobiles. This is to get the word out to the less-known, remote, and underserved communities.
As we all know, the majority of patients and guardians, as well as the general public, are unfamiliar with medical medicine and lack proper knowledge of that treatment. Especially, in isolated places where medical assistance and support are scarce. The hospital personnel, too, occasionally performs their jobs inefficiently due to jumbled information, causing them to forget and generate an inaccurate prescription. They will be overworked and lose time attempting to bind and discover the exact information for that particular medicine if they do not properly store information. This is where the project takes shape: to create a platform that ordinary people can use to find out the particular details of a medicine they are unfamiliar with, without having to physically visit a hospital to inquire. To create a platform for medical workers to discover and find information more easily without adding to their workload.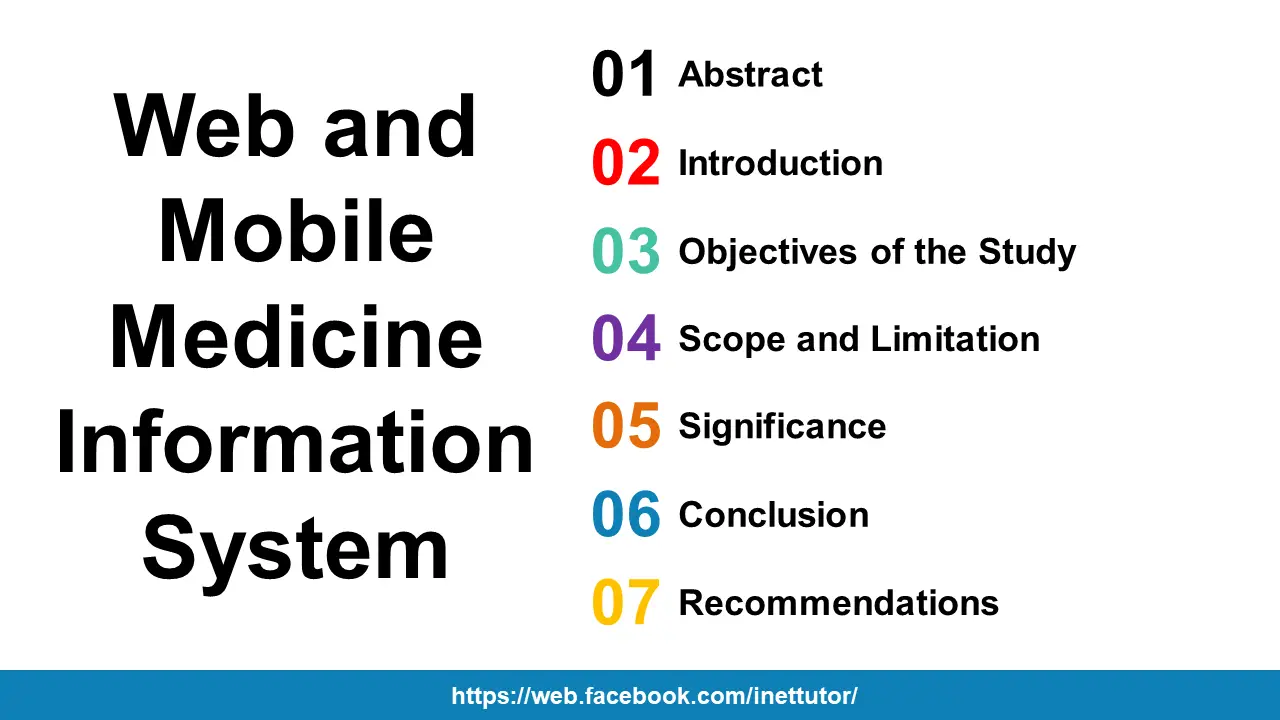 Proposed Solution
The "Web and mobile medicine information system" was developed to address the existing gap, challenges, and concerns in the medical industry, namely the access to information in medicine. Medicine nowadays is so difficult to pronounce, define, and comprehend that even medical professionals are unable to deliver precise information about the medicine to patients for them to understand it fast. This approach is suitable for providing them with a less time-consuming and more efficient means of locating and providing precise information regarding drugs for their health. The system will deliver precise information to the end-user by just typing the pharmaceutical appellation, and then displaying the medicine's details. Then, for the majority of people to grasp medicine, the medical colloquial language will be replaced with more understandable words.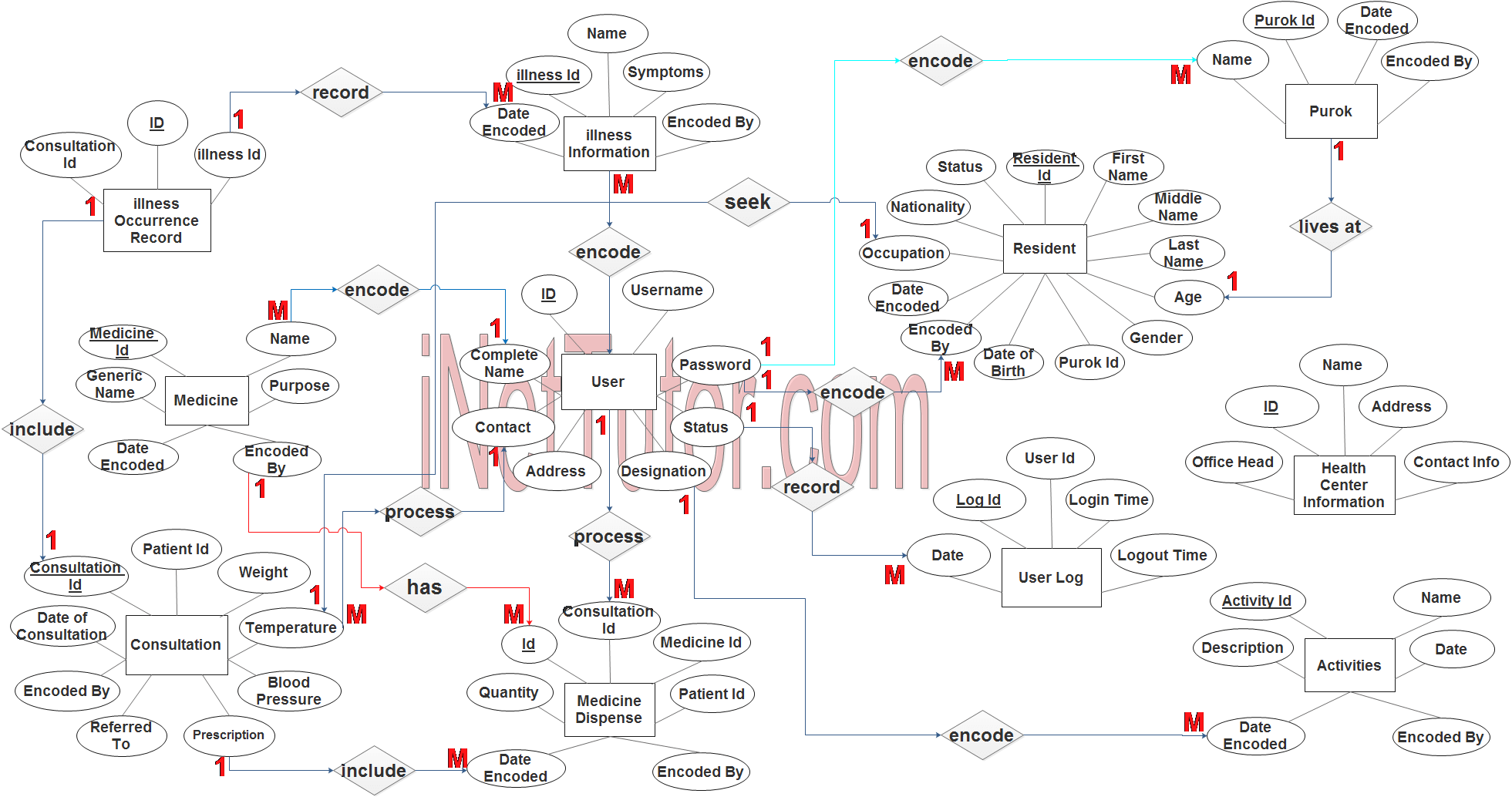 Objectives of the study
General Objective– generally this platform aims to furnish easy accessibility of relevant information of medicine to ordinary people and medical workers.
Specifically Objectives:
Specifically, the study aims to develop a web and mobile medicine information system.
To create a platform that could be utilized by people even to an obscure place without the hassle of visiting hospitals regularly.
To give residents some informative learning in medical-related information at an efficient and reliable pace.
To develop a platform for the medical workers to lessen their workloads and to execute their performance excellently.
To provide a standpoint of each home, analyze the system's acceptability, efficacy, quality, timeliness, and productivity.
Scope of the Study
The project entails the creation of a mobile and web-based medicine information system. This system is designed for the end-user who needs this platform. The goal of the study is to allow ordinary people to gain access to some basic information about a particular medicine, as well as medical professionals to assert their work quickly and accurately. All people who require information about that particular medicine are included in this study. It accepts a wide range of people as long as the medicine's cognition and comprehension are taken into account.
The internet is a valuable source of information, opportunities, and technological advancements. It is the ideal location for medical professionals to find the information they require in order to feel confident in their decision-making processes. This will continue to change how healthcare is delivered online for years to come as big data, cloud computing, and digital health care systems become more widely adopted.
We hope that this article will assist you in understanding how these changes are enabling patients to more easily access high-quality healthcare.
Significance of the Study
The project's success is vital to the following persons or groups.
End-user (Patient): The project's development will assist the end-user in comprehending their prescribed drug without having to question the doctors or physically visit the hospital to inquire about the medicine's details. Everything will be accessible with a single click, and all necessary information regarding the medicine will be displayed on mobile devices, allowing them to stay informed and provide updates for their aid.
Doctors/Hospitals: Doctors will undoubtedly benefit from this platform because it allows them to deliver precise information to their patients. It will make their work easier. To the hospitals as well, because this platform will make them well-known for giving patients simple access to information on the next medicine cost-effectively and efficiently. The project will also assist them in improving their overall performance.
Ordinary people: People in the community can also learn about other types of medicine. Because the disease is unavoidable in the home, this will assist them in being informed. They can only prescribe a medicine to a family member if the information on the medicine requires it.
Researchers: The researcher's knowledge and abilities will be enhanced as a result of his or her involvement in the project's conception and implementation.
Future Researcher: The study will provide them with information and serve as a guide for their future project research.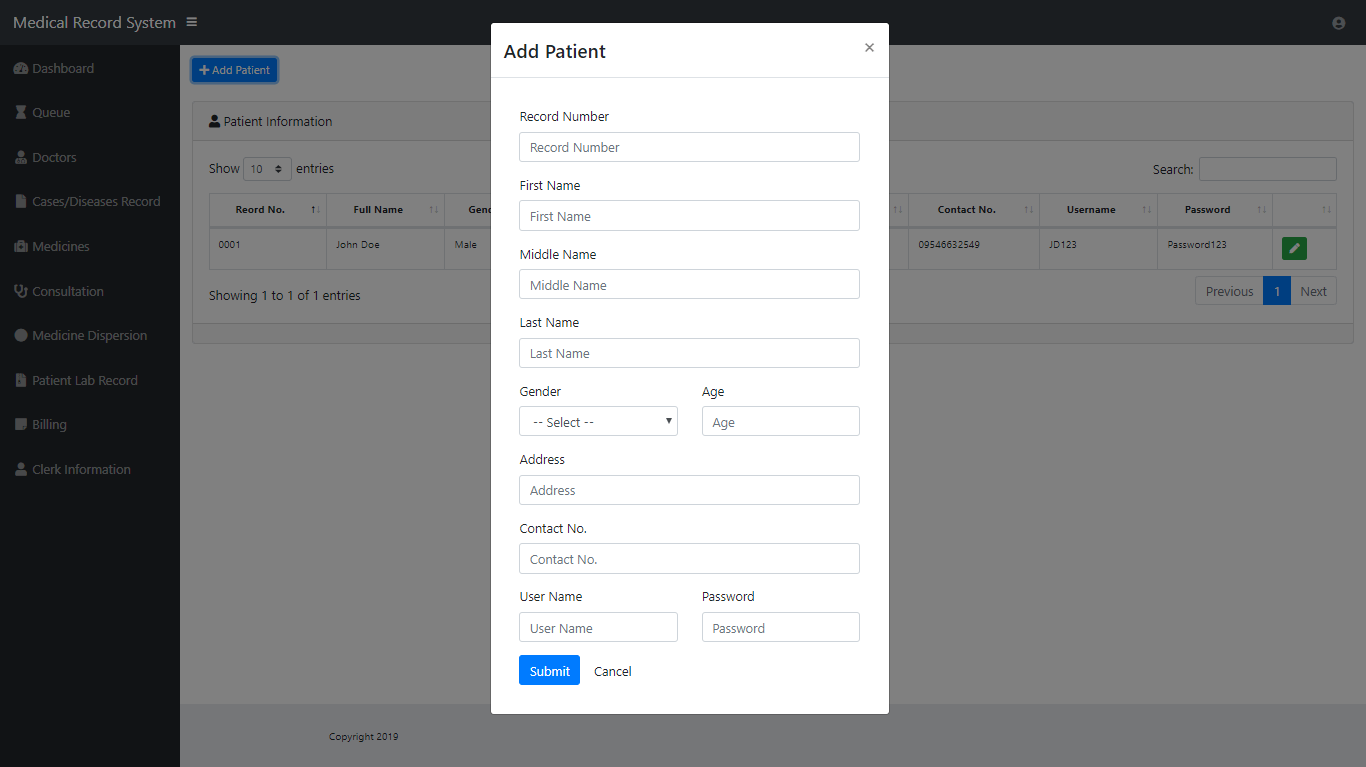 Conclusion 
This research provides secure and accurate information about any kind of medicine and displays every detail found in that particular medicine to avoid confusion and errors. We also discuss in this research the different advantages of the implementation of the project Web and mobile medicine information system that could help numerous people in the society. The researchers designed, developed, and implemented a Web and mobile medicine information system as part of their research. The study's intended users and responders were given access to the developed system. The respondents and intended end-users rated the system highly in terms of user acceptability, efficacy, reliability, and cost-efficient. The majority of responders were aware of the system's potential. This concludes the potential purpose of the said project.
Recommendations
The findings of the project encourage the researchers to push the system's implementation to the limit. The project has a big impact on end-users in terms of aiding their health by locating precise information on certain medicine. Every person's health should be prioritized, and the project's execution is a small step toward providing them with the appropriate treatment for their sickness. This will make it easier for them to understand the side effects of the medication. Society and much of the field industry must place a premium on healing illness and being prepared in the event of an emergency. The system is highly recommended because of its effectiveness and dependability, which may be offered to individuals who require prompt assistance.
The following are the researchers' primary recommendations:
End-user must consider installing and utilize the project for them to have easier access to taken prescriptions and to be prepared in terms of emergencies.
Hospitals must have this system for it provides easier work and lessens their workloads.
Society must adopt this kind of techno-based system in assisting a person's medical health and medicine, to have an efficient response to someone's illnesses.
You may visit our Facebook page for more information, inquiries, and comments.
Hire our team to do the project.