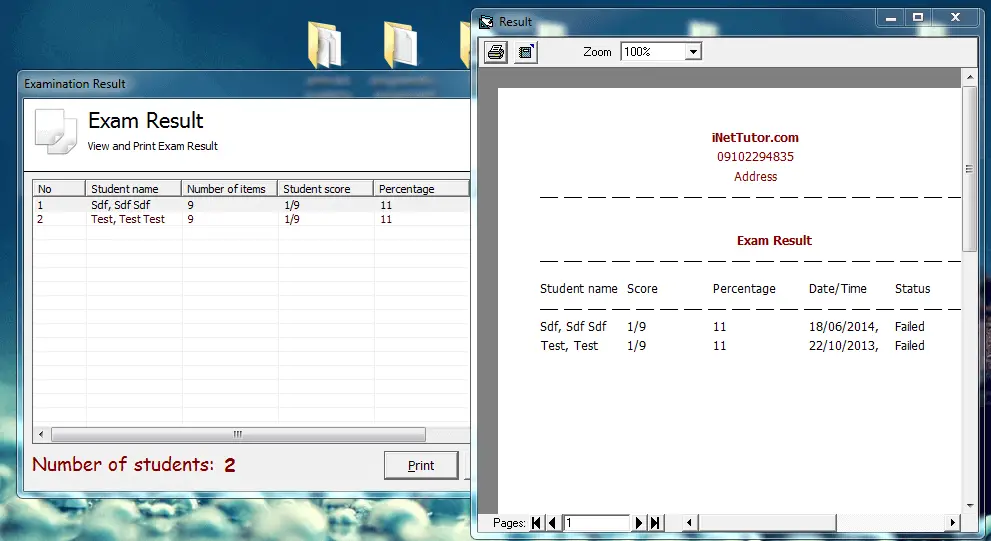 Version
Download

4460

File Size

1.46 MB

File Count

1

Create Date

August 13, 2015

Last Updated

July 21, 2018
Free Download Visual Basic Entrance Examination Complete source code
Free Download Visual Basic Entrance Examination Complete source code
The examination system has two types of users:
Administrator - the one who manages the student records, results of exam, question bank and backup and restore database.
Students – the one who will take the examination

System Features
Question Bank - list of questions (question, choice1, choice2, choice3, choice4, correct answer)
Student Registration - list of students who have registered to take the exam (studentid, name, address, contact)
Test Module - the module in which the students will take the exam in multiple type of test.
Exam Result - reports on the exam results of the students (passed, failed, score)
Backup and Restore Database – for security purposes, file backup or database back up is really necessary in any form information systems.
Username: admin
Password: admin
For the students
Username: test
Password: test
Download the source code of entrance examination system for free.
Message us @ our facebook page for the download passkey/password
Comments
comments