Kiosk Based 3D School Tour Chapter 1
CHAPTER 1
Introduction
Every institution aims on providing excellent service to their clients. One of the common problems is the lack of information and miscommunication leading to inconvenience. Correct information matters most. All companies use information to accomplish business objectives.
Every day, people need reliable information to improve the standard of living to come up with the correct solution in solving complex problem in schools and in society. Having sufficient and reliable information can boost confidence and security to every individual. An information kiosk is one of the many sources of information to the people.
In information technology, a kiosk is a small physical like structure (often including a computer and a display screen) that displays information to people walking by. Like in North America, kiosks are commonly seen near the entrances of shopping malls, schools, and public amusement parks where they provide people with directions and specific information offered by the kiosk. There are different kinds of kiosk; like interactive kiosk, electronic kiosk and information kiosk. All these provide different services. Our proposed Kiosk Based 3D School Tour is one of them, it is designed to provide students and visitors the sufficient information about the college and it accommodates users to interact with the system. It performs different functions where users can ask questions, get directions, search for information they needed. By the use of computer, there's no area where information kiosk cannot be used for a better user satisfaction.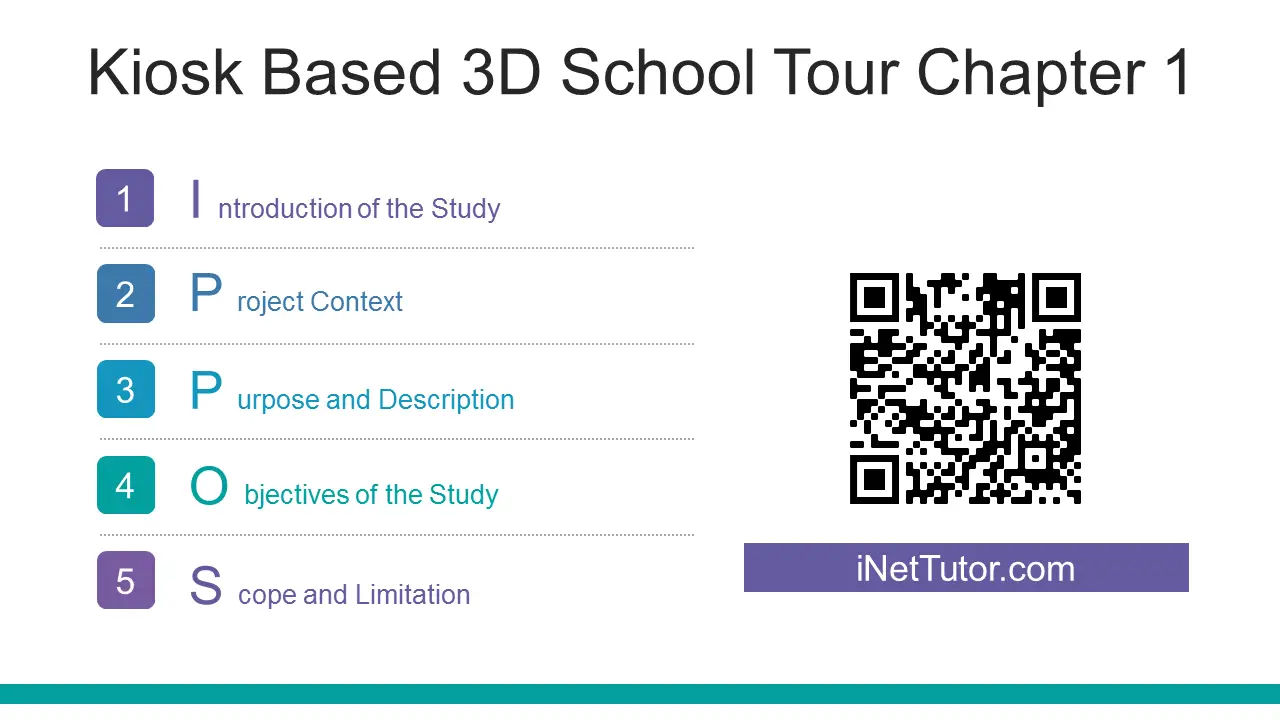 Project Context
Kiosk Based 3D School Tour is a computer-based application used to guide neophyte students and visitors of the school in finding personnel, departments and offices via 3D mapping of the school and its external campuses. It can help students and visitors familiarize the offices, departments, department chairs, external campuses, faculty and staff especially for new students.
This project aims to provide reliable information to increase self-confidence and security particularly for the incoming freshmen students and visitors. It is designed to cater convenient, sufficient and consistent information to end user to help strengthen and enhance the service of the college to students and visitors as well.
Purpose and Description
Kiosk Based 3D School Tour is an interactive system wherein students and visitors can ask questions related to the school such as the faculty and staff in the main and external campuses. It displays map on the computer screen that represents the college and its external campuses.
It has a virtual tour that can guide visitors to a specific location the like offices, departments, external campuses of the school. It provides instructions on student enrollment flows, information of various departments and offices, department chairs and their VMGO's, faculty and staff profile.
Objectives of the Study
The main objective of this study is to develop a functional Kiosk Based 3D Tour that could:
Help students familiarized the administration, faculty and staff as well as the offices, departments, external campuses.
Give information to visitors to specific location and actual view of the school campuses.
Provide reliable information to the students and visitors in a timely manner.
Help strengthen and enhance the service of the college to its clientele.
Scope and Limitation
The system focuses on the easy access of information through mapping and information kiosk. It enables to search and view important information of faculty members related to the college, path to a particular building/department, offices as well as the external campuses and other useful information that can help students and visitors familiarize the school. It is different from a website because it can be accessed without the use of the internet connection.
Credits to the authors of the project.
You may visit our facebook page for more information, inquiries and comments.
Hire our team to do the project.