Category Archives:
Projects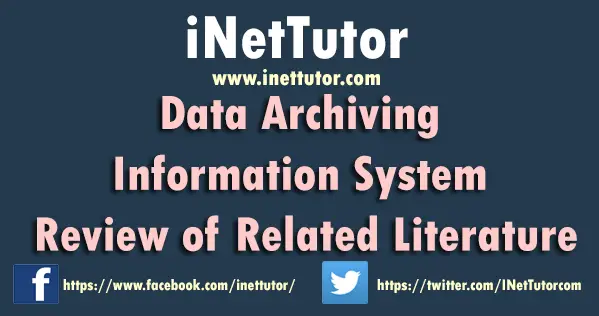 Data Archiving Information System Review of Related Literature
REVIEW OF RELATED LITERATURE/SYSTEMS                                                       
This capstone project cited books, articles and related systems, which are relevant to the related study. It is composed of related literature and studies which contain facts and information significant on the design and development of the data archiving information system.
REVIEW OF RELATED LITERATURE
The Evolution of Data Archiving
According to Ortiz (2009) over the last few years there has been an increasing amount of interest in data archiving.  Factors such as the explosive growth of data quantities on corporate networks along with the need to retain more and more of this data for longer periods in order to meet various legal and corporate governance requirements, and the need to reduce costs wherever possible, are driving this growing interest. Along with this growing interest the evolution of data archiving that has now culminated in Cloud Based Archive Solutions.  The most common method of achieving this goal is through the process of archiving, which, unlike backups, moves inactive data from primary disk-based storage to an easily accessible, less expensive secondary storage tier then deleting it from the disk source locations. This can help realize the objective of cutting costs by freeing up expensive primary storage, reducing backup windows thereby increasing operational efficiency and providing reliable protection of the data for the long term.  A viable and effective data archive should provide: scalability, cost effectiveness, availability, and secure long term protection for the data.
(http://www.storage-switzerland.com)