Category Archives:
Projects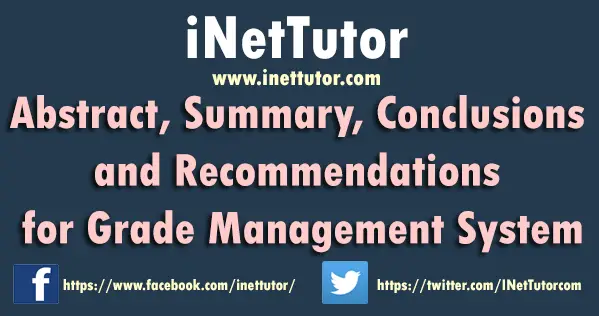 Abstract, Summary, Conclusions and Recommendations for Grade Management System
This article will provide you with a sample abstract, summary of findings, conclusions and recommendations of the study for Grade Management System.
ABSTRACT
Generally, the aim of the study is to develop a Student Grade Management System that will promote awareness and transparency for the students, faculty, and school administrators in order to help improve in monitoring of the students' academic performances. The modified waterfall approach was used in the design and development of Grade Management System utilizing a validated survey questionnaire to determine the end user requirements for the system. The system also underwent a series of evaluation to check as to whether it adheres to software quality standards using the criteria set forth by McCalls. Likewise, a User Acceptance Testing (UAT) was also conducted to determine the system's acceptability based on the variables under studied and the end-user requirements. There was an evident need to develop the student grade management system based on the data gathered from the three different survey instruments such as: Importance of Grade Issuance to Students; Experiences of Faculty When Computing, Writing and Managing of Students Grades; and the Extent on the Need for the Development of Grade Management System.