Category Archives:
Projects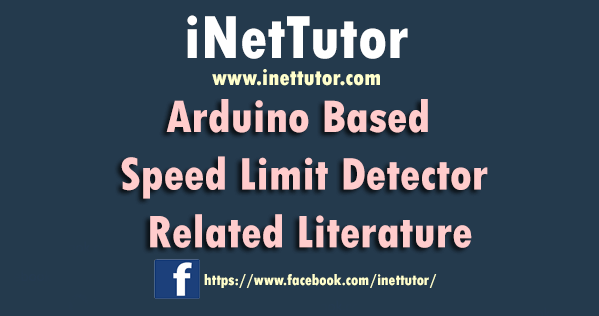 Arduino Based Speed Limit Detector Related Literature
REVIEW OF RELATED LITERATURE, STUDIES, AND PRIOR ART SEARCH
This article presents the list of related literature and related studies that will serve as basis of the researchers in the development of the system.
RELATED LITERATURE
Vehicle over Speed Detection for Restriction Area by Using ARDUINO
According to the study of Dr. DY Patel (2013), that one of the main problem is accidents happened per year and happened at traffic signal about 4, 40, 123 accidents happened in India and about 1, 3, 000 people are dying only because of road accidents. 16 children die on India roads daily. At Every 4 minutes an Indian losses life just only because of road accidents. Bribe taking one another big issue found a traffic signal by Traffic Police then how can we recognize the irresponsible people. The design project called "Vehicle Over Speed Detection for Restriction Area by using ARDUINO" presents a device to detect over speed of vehicle on restriction area and to alert the RTO Office  case of any violation or any rules are not follow. The proposed system checks an over speeding vehicle or rash driving by calculating the speed of the passing vehicle using the time taken to travel between two set points (at a fixed distance). As set point consists of a pair of sensors comprising an ultra-sonic transmitter and ultra-sonic receiver and each pair is installed on either side of the road at a fixed distance. Speed limit is set by the police people who used the system depending upon the traffic at that location. The time taken by a vehicle to travel from one set point to the other calculated by a control circuit. Based on that time, the system then calculates speed and captures the image by a camera and save data Moreover, if the vehicle crosses the set speed limit, a glow led as a just to capture the image. This concept can be extended in future by integrating a camera with the system that will capture the image of that vehicle which is violation of rules on restriction area and send it to the RTO office through email and whatever action will be done by the RTO Officers on that person who are not follow the rules. India is country where the maximum number of deaths occurs due to road accidents and most of these occur due to over speeding. Various attempts have been made to produce reliable and efficient means of detecting over speeding vehicles.