Barangay Health Center Records Information System Free Download Source code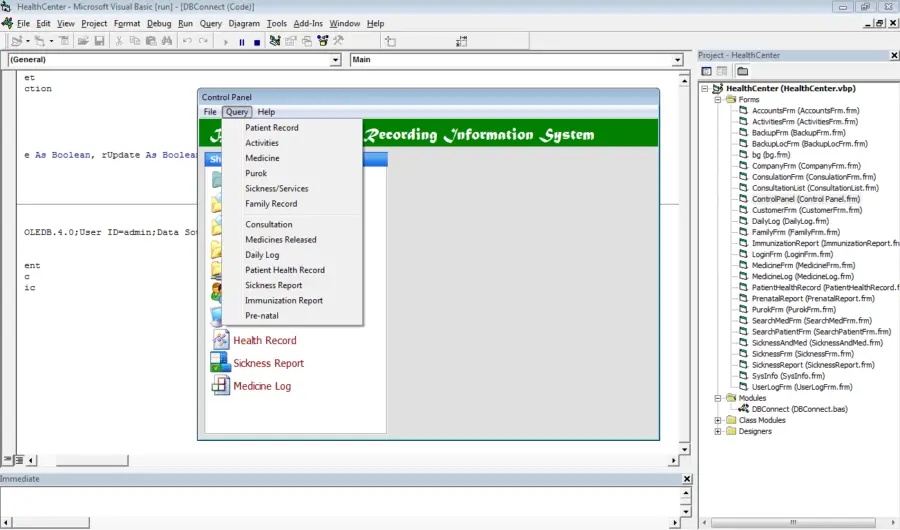 | | |
| --- | --- |
| Version | |
| Download | 1282 |
| Total Views | 0 |
| Stock | ∞ |
| File Size | 1,009.43 KB |
| File Type | |
| Create Date | May 25, 2017 |
| Last Updated | September 24, 2018 |
Download
TECHNICAL BACKGROUND
The Barangay Health Center Records Information System is a system that can be installed in a stand-alone computer and in local area networks.
With the use of the proposed, Barangay Health Center Records Information System every transaction will be automated and there will be fast response and efficient service given to the patients who will avail of the services in the health Center.
The Barangay will guarantee a better service to the people/the patients of Barangay Health Center provided that the authorized person who manipulate at their management is proficient enough in computer.
Hardware Requirements
The following are the specifications as shown below:
Processor : Intel Dual Core 2.0Ghz or higher
Memory : 1GB DDR2 (Recommended)
Disk Storage : 500 GB (Recommended)
Drive : CD/DVD-RW 60x or up (Recommended)
Video Card : 1GB GeForce VC (Optional)
USB Slot : USB Port 2.0 or up (Recommended)
Staff Requirement & Qualification
The system design and uses suit the need of the Barangay health canter particularly to provide an accurate and reliable health profile report and a user-friendly presentation that provides the user an easy and quick access of information for every transactions do at barangay health canter itself.
The system is intended to the persons who have direct involvement in the processing of health programs, medical services, monitoring and profiling.
Comments
comments