Monthly Archives:
February 2020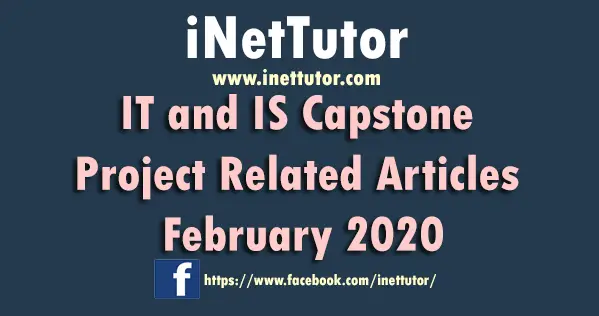 IT and IS Capstone Project Related Articles February 2020
1. Church Information Management System Review of Related Literature
This article deals with different literature and studies based on different sources such as books and internet. This related literature in system involves System Monitoring and Maintenance, Information Systems, Database Management System and Recording System.
2. Web Based Project Monitoring System Review of Related Literature
This article contains different studies about web-based monitoring and evaluation system the researcher can have new or additional ideas about the proposed system. It is a guideline on how to develop a better Web-based Monitoring and Evaluation System and give satisfaction requirements of our proposed system to the client.
3. Online Platform for Year Book Compilations
The objectives of the study are the following:
To help the college management, staff and student alumni easily access schools year book.
To create system that would help for the availability of the year book.
To provide schools a platform that would let organization of year books convenient.
To provide fast and efficient way of accessing year books.