Monthly Archives:
June 2019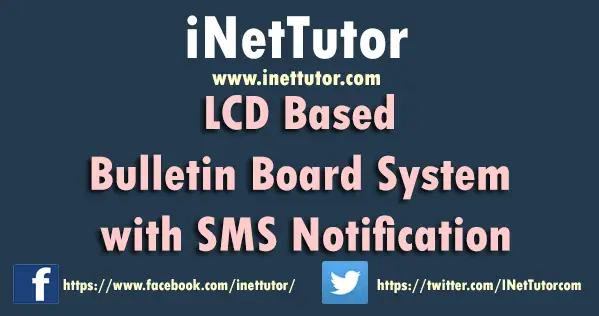 LCD Based Bulletin Board System with SMS Notification
The following sources/references will serve as a guide for the researchers in the development of the research entitled LCD Based Bulletin Board System with SMS Notification
Review of Related Literature
Local
Electronic Bulletin Board for SLSU Gumaca
According to Briane (Feb. 2013), as the trend of technology rises, there is a lot of improvement and other modifications has been taken place in every technology systems that are existing. Through the creative thinking of the people nothing is impossible when it comes to developing or improving new technology. Delaying information using communication devices, equipments and gadgets is not new anymore in the world of communication. It is very important to be transmitted must reach its recipient in the shortest possible time in order to obtain the essence of the information. A bulletin board (pin board, pin board, notice board, or notice board in British English) is a surface intended for the posting of public messages, for example, to advertise items wanted or for sale, announce events, or provide information. Bulletin boards are often made of a material such as cork to facilitate addition and removal of messages, or they can be placed on computer networks so people can leave and erase messages for other people to read and see. Bulletin boards are particularly prevalent at universities. They are used by many sports groups and extracurricular groups and anything from local shops to official notices. Dormitory corridors, well-trafficked hallways, lobbies, and freestanding kiosks often have cork boards attached to facilitate the posting of notices. At some universities, lampposts, bollards, trees, and walls often become impromptu posting sites in areas where official boards are sparse in number. Internet forums are becoming a global replacement for traditional bulletin boards. Online bulletin boards are sometimes referred to as message boards. The terms bulletin board, message board and even Internet forum are interchangeable, although often one bulletin board or message board can contain a number of Internet forums or discussion groups. An online board can serve the same purpose as a physical bulletin board. Magnet boards, or magnetic bulletin boards.