Monthly Archives:
November 2018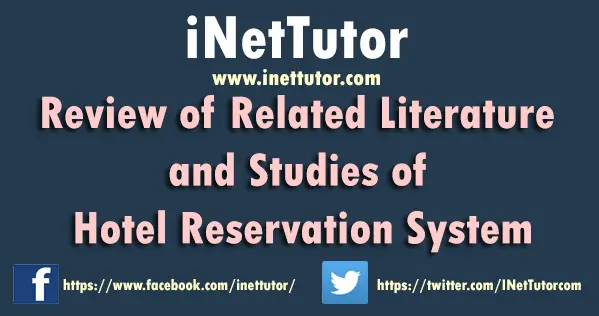 REVIEW OF RELATED LITERATURE AND STUDIES OF HOTEL RESERVATION SYSTEM
This chapter presents the review of related literature and studies that supports the theories and concepts that are discussed in the study.
RELATED LITERATURE
Here in the Philippines, the biggest hotels are using the same technology. But, in some far flung provinces, some hotels are still using manual reservation system. They use signage and some print advertisements for their marketing; and log books and some paper works to record customers' data. Hotel reservations systems, commonly known as Online Reservation System is a computerized system that stores and distributes information of a hotel or other lodging facilities. It is an assistant for hoteliers to manage all of their online marketing and sales, where they can upload their rates and availability to be seen by all sales channels that are using an online reservation system. Sales channels may include conventional travel agencies as well as online travel agencies. Hotelier using an online reservation system eases his or her tasks for online distribution, because an ORS does everything to distribute.