Monthly Archives:
September 2011
This is a sample of an Automated Class Scheduling System developed in Visual Basic and MS Access.
Download the source code below.
System's Mechanics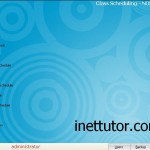 The following are the mechanics of the system with its corresponding description.
Log-in/out Menu – enables the users to access the system depending on the type of account the user has.
Log-out menu enables the users to exit or close the application.
Users Menu – allows the user to add, edit, update and delete certain username and password. This menu could only be access with an administrator account.
There are two (2) types of user accounts the user account and administrator account. The user account can log-in/out using the menu and can print all class schedules while the administrator account can access all menus in the system.